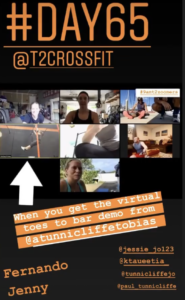 A thought on which to ponder: T2 is a community, made up of many people from many different walks of life. We support each other, workout together and when allowed, meet up at a building we call a box. T2 is the people; the building plays a small part in the whole.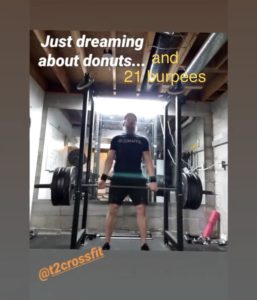 We all want to be back in the gym, even outside the gym and we want to do it right as in correctly. Anna made many enquiries and ended up calling the State Health Department, explained the situation, pleaded our case but got a resounding NO. We are doing research into finding out if there is a legal way to make it happen but as of now we have had no luck. We will keep looking. If we do operate while not being permitted, T2 could lose its permit to operate. For now, T2,  as a community, will continue to abide by the PA Governor's ruling and will continue to meet via virtual, text, FaceTime, and generally stay in touch using social media, emails, telephone calls, etc. 
T2 owners, Anna and Brad, are so fortunate to have you as members and although Thank You seems very inadequate, we all say thank you for your continued support and for sticking with them.
***********************
Hands up those of you who use the first round of the WOD as your warm-up when you are working out on your own and not in the virtual class? 🤚 
Make sure to check out the short video Anna put together showing how to do a truncated warm-up if you are in a time crunch. (YouTube)
Another fun-type of warm up, a little different but using many of the movements/stretches we do in class, is the CrossFit SLIPS warm-up. No, not slipping and sliding on the floor. S – scales (forwards and backwards); L-sits – parallettes, on the floor or a box; I – inversion (handstands, loading up the shoulders for stabilization); P – plank, leading to stretch with opposite hand/leg off the floor; S – stretches. All totally scaleable and modifiable to fit your own limitations and skill level.
All these movements work from the core/midline out to the extremities. No good having strong extremities if the trunk is weak. 😊 
CrossFit Warming Up With SLIPS
*************************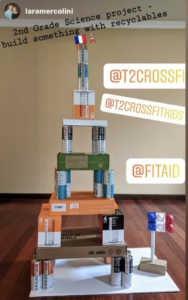 While working out at home using what you have, here is a good addition – your very own sandbag. CrossFit Do It Yourself Sandbag
Do you have an old backpack lying around that you have been meaning to throw out but haven't got around to it? Then don't. Repurpose. Watch the video.
If your 25#KB no longer cuts it for the cleans, you really should watch this and help yourself out. And seeing as the big box stores are open, you should have no trouble obtaining the raw materials. (Sarcasm intended)
*************************
Remember to log your scores. It counts towards the month's Commitment Club. And it really helps set the target for those who workout later in the day; gives them an idea as to how many rounds, reps and time. 
Days and times for classes: check your email and the website where you log your score.
T2 Kids, Preteens and Teens: separate workout emails sent out.
SWEAT: 7:30am Tuesdays and Thursdays
Memorial Day Virtual Classes: 9:00am only (no early morning, noon or pm; nor Kids,Preteens,Teens) so let's make it a big one.
*************************
SATURDAY FREE COMMUNITY CLASS 9:00am  link: https://zoom.us/j/97279530377
I checked this one; it is correct. 😊 
************************
Recipe For The Week: White Chicken Chili by ChelseaMessyApron.com recommended by Kedra M. I know chili is really a winter food but there are still a few cold damp days ahead that this recipe might cheer up just a little.
**********************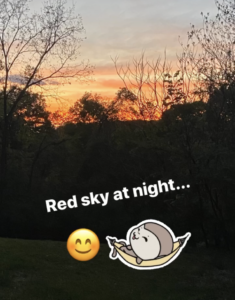 Trivia/Not Trivia: Monday is Memorial Day
Originally Memorial Day was known as Decoration Day, meant to honor the Union and the Confederate soldiers who died during the American Civil War. By the 1900s it had become a day to celebrate all American soldiers who died while serving in the military. It wasn't until 1967 that it was legally named Memorial Day.
And 5 things to not do on Memorial Day:
Don't wish anyone a "Happy Memorial Day" This is not Christmas – Memorial Day was not founded in joy with the promise of bringing glee each year. …
Don't thank the current troops. …
Don't disregard its importance. …
Don't forget it exists. …
Don't let politics keep you from rendering respect.
**********************
Stay active. Encourage others to move, join the Free Community Class, check in with someone. #maychallenge : almost over. And thanks again. 
Joanna
T2 CrossFit Team
Veteran-led