Find your POWER; but make sure your mechanics are perfect first. If you have ever taken a FREE Saturday Community Class, you will know that the coach goes through the mechanics of each movement every week. She/he will teach you the correct way to perform an air squat, a burpee, or whatever the required movement. It is very important to have good mechanics in a movement to avoid injury. We practice, slowly, under the watchful eye of the coach and are corrected when we wander off course. And then we do the workout – as fast as we can. 
Be honest, what happens to our mechanics during the workout? It goes to pieces. Why? Because we are focusing on speed (in this example) and increasing our reps per round rather than on good form. 
And here is where the good coach comes into his/her own. He/She will tell you not to slow down but to correct your technique. And when it starts happening again, don't slow down – correct your technique…. Until you reach the point of going so fast that you are unable to make the correction.  Then coach will tell you to slow down. 
At that point you have reached your maximum intensity or power. And we all know that
Power = force x distance/time
(where force = athlete's body weight; distance = from standing to the floor x repetitions) You do the math. 
If you turn up regularly and consistently, you should see your scores improve. This is a measure  of your increased power and as such are working more intensely. And that's progress.
Given the present situation, use this time as an opportunity to perfect your mechanics. You may not be able to increase the weight of your dumbbell but you can improve your mechanics and thus your efficiency so when you are able to get back in the gym, your gains will be impressive.
Mechanics, Consistency, Intensity: What does it mean?
Defining CrossFit: Part 2 Intensity
*******************
Virtual Class Times – check your email and the website where you look up the wods. Remember to log your scores
Kids/Preteen/Teens virtual class times: Monday & Wednesday 
Kids 5:00pm     Preteens/Teens 5:30pm  Check your email for the Zoom link.
SWEAT virtual class times: 7:30am Tuesdays and Thursdays check email for link.
*********************
Saturday 9:00am Free Community Class – this is open to anyone of any skill level. No equipment needed. And modifications and scales to the movements will be made to match your ability. This link is also on T2 CrossFit FB page and here Saturday Free Class. If you are not on FB and would like the link emailed to you, please send a message to Anna at 412 772 4624 or email her. (It is a different link each week.) Please share the link on your social media. Let's get the world moving.
*********************
Commitment Club continues for May. Congratulations to April's committed athletes:
Andrew Hartman, Becky Young, Ben Camacho, Ben Sanko, Bryan Medvec, Corinne White, Deanna Shuba, Donnie Morris, Erin Gazda, Fernando Acevedo, Gregory Redlinger, Harry Walagura, Jane Damico, Jen Fell, Jen Milavec, Jennifer Liokareas, Jessica McNeely, Jessica Petrie, Jessica Sanko, Joanna Tunnicliffe, Joerg Buttler, Justin Linette, Katlyn Taueetia, Kedra A Morris, Kelly Beale, Lara Mercolini, Megan Doyle, Michael Miller, Nicole Paloney, Paul Tunnicliffe, Ryan Estabrook, Scott O'Neal, SPM, Stacey Hook, Wade Roth, William Best 👏 👏 👏 
Want to strengthen your core? Try a HomeWod. You will be pleasantly surprised. 😮 
Saturdays – Members' WOD (usually as a partner wod – I go/You go) but an individual option is also published. Message, FaceTime, Zoom – tag someone. Also, every week Anna needs a partner; watch social media for her question of the week. 
May's Burpee Challenge: 7th May = 7 burpees; 8th May = 8 burpees …..
*********************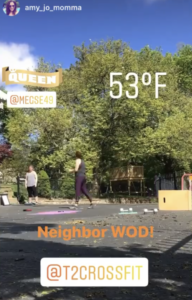 April's Personal Goal just became the practice for May's Personal Achievements. Write it/them on a post-it and put it on your fridge, mirror, somewhere where it will be noticed on a regular basis and keep you honest.
******************
Food for the Week: because we need some healthful comfort food
Stacey Hook : I've made these using my own fav protein and regular chocolate chips
Protein Cookie Dough Bites  IsaGenix 
1 scoop IsaLean Pro French Vanilla
1tsp honey
4Tbsp coconut flour
3 Tbsp oats
1 egg white
2 chopped isadelight plus
1-2 Tbsp natural peanut butter
Splash of almond milk
Mix all ingredients together and roll into bite sized balls. Enjoy
Please continue sharing and adding them to the 'Virtual Cook Book'.  They don't have to be Paleo; just your favorite.
*****************
Trivia Night : I hope that those who joined in had fun. I know I laughed a lot.
Trivia for the Week : there is nothing trivial about Mothers. However,
Why Flowers on Mother's Day? (Mother's Day Fact, Trivia and Lore)
Social distancing be damned, flowers are good; so is chocolate.
"….first and foremost who does not enjoy receiving flowers? Flowers have traditionally been a way of conveying feelings and letting the recipient know how important a role they play in the senders life. When it comes to playing an important role in an individuals life, it's hard to top Mom!
Secondly, flowers come with some direct benefits over and above a thank you, a hug, or a smile. There has been a great deal of research showing the health benefits associated with receiving flowers."  (and/or chocolate)
******************
Be careful. Stay safe. Stay home. Cook, Bake. Check in at T2. Wash your hands. Hopefully see you at the gym soon. And remember to log your scores whether you workout on your own or in the virtual class.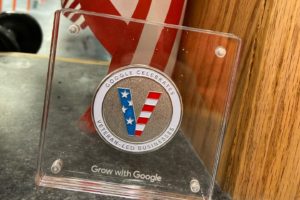 Joanna
T2 CrossFit Team
Veteran Led