Dry erase Whiteboard
Gather round info ready
Share our fears and joys
(Inspired by T2 members' Haikus earlier this week)
T2 has a whiteboard. Actually it has several depending on whereabouts in the building you are. All of the whiteboards convey information – what's going on, different workouts, protocol schemes, Kids/Preteens/Teens workouts. All very useful and necessary but the best thing about the whiteboard is that it is a gathering place. We really do come together at the whiteboard. It's the place where we side-chat to friends, bitch about the workout, heckle the coach (actually that's kinda frowned upon and usually has consequences), ask for and receive advice on safe practices, and then we all disperse with a common goal – to get the work done and survive. As we finish, we go back to the whiteboard to record our scores, be it, time, rounds and reps, caught or not by the clock. And whatever our scores, we know we all gave 100% effort and celebrate each other's achievements.
I think we are having withdrawal symptoms; people need the whiteboard. Recently, I have noticed more and more posts/pics on social media of whiteboards being used to record daily workouts. Hang in there. We will come out the other end of this situation. We will meet again at the whiteboard.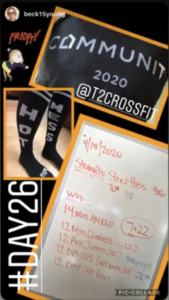 In the meantime, keep using your individual whiteboard (or equivalent) for wods, recording scores, and when you are finished, log your score on the website, answer the QOD, write a message on your board, take a pic of your message and post tagging @t2crossfit  Motivation is sometimes lacking at home; let's help keep people moving. 😊 
*******************
Trivia Night : Friday, 24 April (aka tomorrow) 7:00pm Mark The Date
Details : Begin checking in around 6:55pm 
(See This Week's Trivia below for info on how to login to Trivia Night)
You are welcome to form teams of up to 6 people. If you form a team, please have one person email me the names of the people on the team so I can make the group the night of for the breakout rooms to discuss answers. If you would rather just show up, that's no problem, we will form teams on the night.
We are going to do somewhere between 50-60 questions with a tie breaker question at the end. Details on how we will score it and all that are coming.
The winning team will receive a case (24 cans) of a LifeAid beverage of their (the team's) choice (I know it's nothing crazy or fancy, just a little prize for winning). The main goal is to hang out, have fun and have some laughs with each other!! Snacks allowed.
*******************
Virtual Class Times – vary each day. Check out the website where you login for the workouts and record your scores. There is just an audio link; you hear the coach just no visual. As it is in the gym, no-one except coach is watching you; no judging.
Kids/Preteen/Teens virtual class times: Monday & Wednesday 
Kids 5:00pm     Preteens/Teens 5:30pm
SWEAT virtual class times: 7:30am Tuesdays and Thursdays : see social media, email or text Anna for the sign in link if you need it. The classes are led by fantastic coaches and are FREE.
*********************
Saturday 9:00am Free Community Class – this is open to anyone of any skill level. No equipment needed. And modifications and scales to the movements will be made to match your ability. This link is also on T2 CrossFit FB page and here Saturday Free Class. If you are not on FB and would like the link emailed to you, please send a message to Anna at 412 772 4624 or email her. (It is a different link each week.) Please share the link on your social media. Let's get the world moving.
*********************
April BINGO Challenge – hopefully most of your squares are full.
Commitment Club – one of the BINGO squares – log 16 scores during the month of April.  Is your name on the board yet? There is still time for a few more workouts.
If you would like to see that animals make workouts more fun, check out Anna's explanation videos showing all movements, standards, alternatives, scales and modifications, depending on any equipment you have.  This is to give you the opportunity to do the workout in your own time. And then log your score. Either workout works – gym or home.
Want to strengthen your core? Try a HomeWod. You will be pleasantly surprised. 😮 
Saturdays are still programmed with the Members' WOD (usually as a partner wod – I go/You go) but an individual option is also published. Message, FaceTime, Zoom – tag someone.
*********************
Did you achieve your April Goal? The one you wrote out and stuck on your refrigerator, "By the end of April, I will ……." If you did, comment on our Facebook Page; we love to celebrate people's successes. 😊 
******************
Food for the Week: Chicken Nachos courtesy of Stacey H. See photo for the recipe. If you need a larger copy, let me know. I will also post it in the T² Favorite Recipes on the Discussion Page.
Please continue sharing and adding them to the 'Virtual Cook Book'.  They don't have to be Paleo; just your favorite.
*****************
Trivia for the Week
You should have received a Trivia Night email with the login link; it is the same one we use for the virtual classes. Please join in for some T2 fun.
******************
If you registered for and completed the CrossFit #SupportYourLocalBox workouts, thank you. Scores need to be logged by 8:00pm this evening (Thursday). They were fun wods to do and very scaleable … fortunately 😊 
Be careful. Stay safe. Stay home. Cook, Bake. Check in at T2. Wash your hands. Hopefully see you at the gym soon. And remember to log your scores whether you workout on your own or in a virtual class.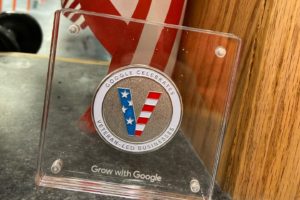 Joanna
T2 CrossFit Team
Veteran Led