Thank you with flowers to our frontline workers. Our nurses, doctors, care-givers, grocery store clerks, police, firefighters, paramedics, postal workers, delivery drivers, the people behind the desks helping to keep things functioning, ….  The list is so much longer than this. Please, please accept our thanks and gratitude for risks you take in order to keep us safe. We will do our bit by staying home and washing our hands.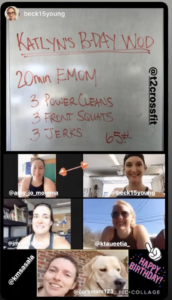 And even though we are social distancing, T2 is still here for you. Please check in with T2. Post on social media (if you do social media) or email or text Anna just to let her know what you are doing to keep sane, and what you think of the workouts, ask for any modifications you might need or call/facetime a friend and check on him/her.  Keep moving. Get the blood and endorphins flowing. Relieve some stress. Give yourself you-time. 
It seems that numbers might be reaching their peak, and reports say that progress is being made with regards to a vaccine. As more and more data come in, medical experts and scientists are gaining a better understanding of how the virus 'works' and consequently are able to develop more effective treatments. 
*******************
Virtual Class times are expanding 
If you are able to 'attend' one of the virtual classes, they are fun. Obviously it is not quite the same as being in the gym, but you do get to wave to and comment with your gym friends. And if you don't like seeing yourself, you can just join the audio link. Just as it is in the gym, no-one except coach is watching you; no judging. And you have a choice as to which workout to do – gym or home. Anna will call out the timing for the HomeWod so all you have to do is count your rounds and reps.
CrossFit, and Kids/Preteen/Teens virtual class times will be posted next to the workout on the members' website, for that day and the following day. Please check.
SWEAT virtual class times: 7:30am Tuesdays and Thursdays email or text Anna for the sign in link if you need it.
*********************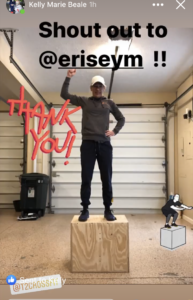 Saturday 9:00am Free Community Class – this is open to anyone of any skill level. No equipment needed. And modifications and scales to the movements will be made to match your ability. The link is on T2 CrossFit FB page and here Saturday Free Class . If you are not on FB and would like the link emailed to you, please send a message to Anna at 412 772 4624 or email her. (It is a different link each week.) Please share the link on your social media. Let's get the world moving. We have the UK, and St Vincent and the Grenadines represented already.
********************
Sit-ups for Pups/Barbells for Bullies – over 35,000 sit-ups by T2 members and friends. Abs of Steel. It finished a couple of weeks ago but I thought you all deserved another shout-out / pat on the back. Thank you.
*********************
Commitment Club – log 16 scores during the month of April
If you are unable to make the virtual class times, Anna puts out an excellent explanation video showing all movements, standards, alternatives, scales and modifications, depending on any equipment you have. This is to give you the opportunity to do the workout in your own time. And then post your score. Either workout works – gym or home. 
Do try a HomeWod. You will be pleasantly surprised. 😮 
Saturdays are still programmed with the Members' wod usually as a partner wod (I go/You go) but an individual option is also published. Message, facetime, zoom – tag someone. If you would like to partner with Anna, watch social media for her 'Question for Partnership"
**********************
Now you have your schedule worked out, why not put it together with the April BINGO Challange? The BINGO has squares to help keep you on track with your healthful eating habits. 
*********************
Lastly, before we talk about food and trivia, Corinna M put out a post stating that she needed an April Goal to work towards and encouraged others to do the same. If you haven't set a goal yet, how about writing on a post-it and pinning it on your refrigerator, "By the end of April, I will ……." even if it is not to shout at the kids. 😊 If you would like to share your goal with us, you will find the post on the Discussion Group page.
******************
Food for the Week
So many recipes are being shared at the moment on the Discussion Page, it is awesome. Thank you. This is one from Amanda A from a few weeks ago. I don't have a picture but I do know that Paleomg has amazing recipes.
Clean It Up Mondays Turkey snd Spinach Stuffed Sweet Potatoes
Please continue sharing and adding them to the 'Virtual Cook Book'.  They don't have to be Paleo; just your favorite.
*****************
Trivia for the Week
Absolutely nothing about Covid-19. 
" In the northern hemisphere April is a most confusing month; rainy and wet one day, the next full of a warm promise of green growth to come. Besides the weather, the month is full of surprises and contradictions, prized for rebirth and endings, and a birth month to amazing geniuses and crazed despots both, making fun of astrological predictions. 
You must love April. It is just like life." By Dixie Allen, LiveAbout.com 
April is named for Aphrodite, Greek goddess of love. ❤️ 
******************
Be careful. Stay safe. Stay home. Cook, Bake. Check in. Wash your hands. Hopefully see you at the gym soon.
Joanna
T2 CrossFit Team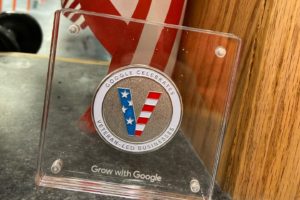 Veteran-Led