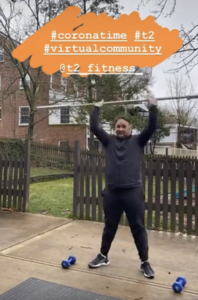 So we have successfully weathered the first few days (1,2,3,4) of this Covid-19 lockdown.  That's the last counting we will do; next time we count will be down to T2's re-opening. 
I wrote this blog on the first night of the shutdown. Reading it now, you are already doing what I suggest which is absolutely fabulous. Please keep your routines going. And, if you would like to workout with others, I know Corinna Marshall, Katlyn Taueetia, Amy Jo and Becky Young 'get together' around 9:00am to do the workout. Connect with one of them if you would like to join in.
Jessica P 'voiced' probably everyone's major concern with home workouts – being kept accountable and completing them everyday. (Suggestion: 1, 2, 3 …friends, call/text each other at the beginning of the day a short message, eg "workout", "water bottle wood chopper" "burpees", and then in the afternoon/evening another message, eg "well that went well. Not 😊" "✅" or another anecdote to let everyone know you did it.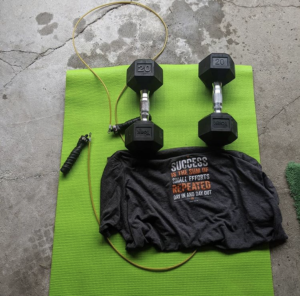 And there is always something else to do at home, laundry, the dishes, keeping the peace between children, … we do understand. Try to keep as close as possible to your gym routine so when the clock strikes 5:30, 9:00, 6:00, get out the water bottles and a timer clock and get going. Make your workout part of your children's new routine.
Round of applause to Anna for the superb videos. Continue to post your video workouts on IG tagging @t2crossfit @t2crossfitkids @t2_fitness_ so we all can see that we are not alone in our suffering. And give Anna and Brad feedback on the workouts along with your scores on the web page or on the Discussion Group FB page. 😊 
Keep posting your favorite recipes; I will share them over the next few weeks.
I made a variation of a recipe from the CrossFit.com page, Pork-stuffed Cabbage Rolls. I used ground beef, ground ginger, white onion, English peas, tomato, tomato sauce, coconut aminos and white sesame seeds. Oh, and red cabbage.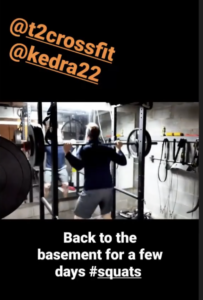 You will get through this; we will all meet up again at T2; we will be amazed how much we have maintained and progressed. And now wash your hands.
Joanna
T2 CrossFit Team