1. Tell Us About yourself: Born in Colombia and raised in Caracas, Venezuela, I have lived in Pittsburgh for 22 years. Robert Morris University alumni with 17 years of experience in the Information Technology and Real Estate Services fields. Love to travel with my beautiful wife Amy, recently visiting Venice, Rome, and Paris in celebration of our 10 year anniversary. We also enjoy taking family trips with our two teenage kids, and going for walks with our two dogs.
2. How would your best friends describe you? Passionate about his work, can be intense, gritty, persistent, and at times unconventional because of his relentless drive to accomplish key objectives and surpass goals. Known to get emotional and even shed a tear (or two or many) for the Colombian National Soccer team during FIFA World Cups, a trait that dates back to Italy 1990. Enjoys trying new thrills at least once – such as tandem skydiving, riding the tallest/fastest rollercoasters, zip-lining, white water rafting , or galloping a horse in the beach – just as much as self learning, reading about, and playing with all things technology.
3. What is one thing that people find surprising about you? I was a College freshman at age 16.
4. How long have you been doing CrossFit? About 10 months
5. What made you start CrossFit? Was searching for a workout program that could constantly challenge me to take my fitness to higher levels and with enough variety to keep me engaged.
6. What is your favorite thing about CrossFit? The moments when I have given it my all and my mind/body demand that I stop but the WOD is not over yet. As the battle rages in my mind and I think I have reached my limits, the amazing community of people at T2 that I have the privilege to share the WODs with, has come to my support and only through their encouragement can I shatter those barriers to finish the WOD. This can only be described as a CrossFit community induced "superpower" and it is unlike anything I have ever experienced before.

7. What is your favorite movement? Rowing became my favorite movement after I attended one of Brad's Rowing clinics and learned how much there is to that exercise.
8. What is your least favorite movement? Wall Walks.
9. What is your biggest accomplishment to date both CrossFit related and non-CrossFit related? Before Crossfit, the only reasons i would willingly (but begrudgingly!) wake up before 8:00 AM would be to board flights or embark on road trips. After my first member's Crossfit Class at T2 , both my mind and body started to crave that incredible after-WOD dose of accomplishment, first thing every morning as a pre-requisite to beginning my day. My biggest CrossFit related accomplishment to date has been to acquire an innate and sustainable hunger for workouts that demand I test and conquer my mind and body every day. I have been attending the 5:30 AM WODs ever since, every weekday, and the community class at 9:00 AM on Saturdays. My biggest Non-CrossFit related accomplishment was actually possible due to CrossFit. Right around the time I started CrossFit I had been tasked at work with the very risky but potentially game changing objective of learning, testing, selecting, implementing, proving out, and generating support/excitement/interest but most importantly funding for a newer technology never used before in our company. Such a task can be very difficult, littered with potentially show-stopping unexpected roadblocks and career/reputation derailing consequences – specially when the company is a very large publicly traded market leader in its industry. Failures can be highly visible and change or innovation has to be deliberately and delicately balanced with stringent industrial strength controls and protocols. This was a very exciting yet scary time in my career where doubt and fear were bound to naturally occur. Along with the support and confidence from my wife and visionary executives at the company, CrossFit was crucial for the massive success of the initiative to date. Every 5:30 AM WOD at T2 allowed me to win the battle against fear and doubt in my mind and ultimately conquer and control my thoughts for the day, setting me up with a winning and clear mindset of possibilities, solutions, and positive outcomes.
10. What is your next goal? CrossFit related: Being able to finally do Kipping Pull Ups and DUBs. Non-CrossFit related: To gallop a camel in the Egyptian desert with the Great Pyramids in the background!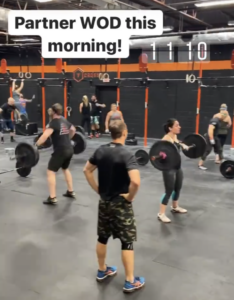 11. What is your favorite WOD you have done so far? The infamous (and as Bryan M. hilariously calls them "soul crushing") but entirely optional Brad Thursday's series during the CrossFit Open last year. Specifically the one where I got my first taste of Wall Walks (2×30 rounds) and some of the other exercises were outdoors while it was raining. That was the most physically difficult and mentally taxing workout I have ever experienced and I would not have completed it if it wasn't for Carrie's encouragement while we made our way through the rounds together. That WOD pushed me so far past my mental limits that I learned something new about myself that day and it expanded my perception about what is possible. I am truly looking forward for this year's round!
12. Free write: Thank you Brad and Anna for the amazing T2 CrossFit community you have built. It touches and changes lives! Your fun, varied and challenging programming, the expert yet caring guidance from all the coaches, and the awesome 5:30 AM crew's support, have been my secret weapon to becoming a healthier, more confident, and increasingly resilient person.
**********************
CrossFit is so much more than just a sport. We watch out for our friends and fellow athletes. We want to commend you on the major efforts you are making in the gym of cleaning up and wiping down. Please keep this going. And we, the coaches, are also taking extra steps to make sure the gym is kept bug-free. Please, if you feel at all unwell, sniffly, shivery, please stay at home. 
**********************
Burgener Strength Weightlifting Level 1 Course 6th-7th June. Being held at T2 CrossFit. Talk with our Coaches and get their perspective. It's a great way to improve your own technique even if you don't coach. Register: Burgener strength.com
*********************
CrossFit is so much more than just a sport. Would you like to workout but need a friend to help you? Try a FREE class and meet our extremely friendly coaches and community. Learn in the class setting Text New member to (412) 772-4264  or email office.t2crossfit@gmail.com 
⭐️ ⭐️ LOTS OF CLASS CHOICES – CrossFit and/or Fitness⭐️ ⭐️
*** Free Trial CrossFit Class schedule: Mon-Fri 5:30, 6:30, 9:00am; 12:10, 4:00, 5:00, 6:00, 7:00pm
Saturdays 
9:00 FREE Adult Community Class – no membership required
10:30 Members' WOD (not available for FREE Trial class offer)
T2 Fitness Classes: (unless otherwise posted)
SWEAT: Open to All.     Monday: 6am;  9:30am.    Tuesday: 6am.    Wednesday: 9:30am.    Thursday: 6am.    Sunday: 8am
Cycle:     Tuesday: 10:30am.      Sunday: 9am
Row Zone!     Thursday: 10:30am       Sunday: 10am
T2 Fitness – No membership required 
Sign-up, the night before at the latest, is required
**********************
🌟🏋️ Oly Lifting Classes 🏋️‍♂️🌟 Sign Up ✏️ 
Olympic liftings class with Ben Hall, Sundays at 1-2:30pm. Limited spots available. Sign up for the whole cycle, or  week by week. Once the class is full for that week, there will be a waitlist. 
Scroll down for sign-up information and procedures.
************************
T² also offers Private Fitness Coaching – Individual or Small Group, and if you would like guidance with your Nutrition or how to redirect it on to a more healthful plan, text a message or call 412-772-4264
************************
⭐️Kids, Preteens & Teens: ⭐️  Spring Break Schedule:
Wednesday, 8 April: 4:30-6:30pm Skill Session/Practice
Thursday, 9 April: 4:30-6:30pm Skill Session/Practice
Friday, 10 April: No Barbell Club
T2 Kids: Partner work, team work, light-hearted competition while improving one's own skills, strength and self-esteem. We play and it works.
#minibradletes #t2crossfit #t2crossfitteens #workforit @t2crossfit @crossfitkids
If you have a child (children) who would like to try CrossFit and meet our awesome CrossFit Kids', Preteens' and Teens' community text New Kid to 412 772 4624 or email t2crossfitkids@gmail.com for more info and to arrange for a free class.
⭐️You don't get what you wish for; you get what you work for. ⭐️
*************************
This week's food: Chicken Sweet Potato Kale Skillet (recommended by T2 Kids Coach Lindsey Erisey) wellplated.com Also contains cranberries and goat cheese.  I am off to the grocery store as soon as I have finished here. (see Ed note at the end. I made it. It's delicious.)
***********************
This Week's Trivia: Monday, 9 March 2020 was a full moon, Worm Moon and the first super moon of 2020 (What makes a moon super?)
And of course, tomorrow is Friday, 13 March 2020. 
An actual psychological term: Triskaidekaphobia : Fear of 13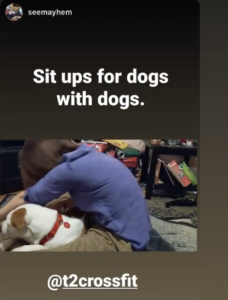 ***************************
March's Challenge: #situpsforpups The ab crunching continues. 
Be safe.
Joanna
T2 CrossFit Team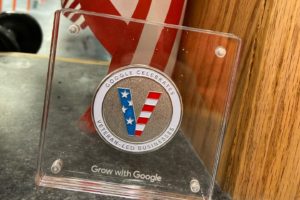 Veteran-Led 
**************************************
Important Info:
***Oly Lifting Sign Up Information and Procedures:   Sign up for the class through the push press app, and there are three plans that will work to sign up for the classes. You can purchase the unlimited Fitness addition to your CF membership; you can buy a fitness punchcard which will work for this and all fitness classes; or you can buy a pay-per-class pass. All will be through the new site.
Each class sign up will be open a week ahead of time. If you would like to sign up for unlimited membership, buy a punchcard or buy a one class pass…please feel free to do it ahead of time. You can purchase a punch card or one class pass here at… https://www.t2fitnesstraining.com/membership
You can start setting up your unlimited membership here if you are a member of T2 CrossFit too… 
https://t2fitness.pushpress.com/open/subscribe/1lcd
(If you already have unlimited membership, check your email to finish setting up your profile and download the app..if you don't have an email…message me and I'll get it set up for you)
***This week's food: I didn't use cheese (Paul doesn't eat cheese) so I thickened using about 1/3 cup of coconut milk and added some unsweetened shredded coconut. And I served it with chunky cauliflower coconut rice. 😋 
*****If you would like to take a fitness class, please make sure you sign up the night before.  If there are no sign-ups by 8pm, there will not be a coach, therefore no class.*****
*****************************************
SWEAT/CYCLE/ROW ZONE! : Stay up to date by following our page on Instagram (search: Top) t2_fitness_   (search: People) @t2_fitness_   #tag us: #t2_fitness_
****************************************
Thank you for reading the blog on the T2 webpage. If you would like to receive it by email, please scroll down to the bottom of the Home page and Join Our Mailing List by entering your email address.