"Alone, we can do so little; together, we can do so much" – Helen Keller
Community isn't a word to use lightly. It's more than group pictures or an occasional pat on the back. It's about people with a common goal though that goal may vary by degrees. It's about providing opportunities for growth and experience; it provides a safe and secure environment; it provides opportunities to connect; it unites us and make us feel as though we are a part of something greater than ourselves.
Six-time swimming gold medalist, Amy Van Dyken severed her spine in 2014. Since then, Van Dyken was 'lured' into the CrossFit community by Kevin Ogar.  
Van Dyken:"The power you will find at the CrossFit gym is something that can't be found anywhere else! You have people who are there to better themselves physically and mentally. They know that by helping each other, everyone gets stronger…as a community." Morning Chalk Up
Community and social contact are very important. People with a common interest, supporting and helping each other. (Especially for us older athletes.)
We support each other in all aspects of life, not just at the gym. Rant, let off steam, shoulders on which to cry, supportive hugs, smiles, laughs, lunch dates, coffee/tea chats, help with relocating, babysitting, doggy day care, 
CrossFit is so much more than just a sport.
**********************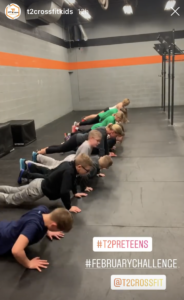 February's challenge – an individual activity – but done as a community. Everyone has everyone's back and knows how everyone feels.
*********************
CrossFit is so much more than just a sport. Would you like to workout but need a friend to help you? We have that covered. Try a FREE class. ⭐️ ⭐️ LOTS OF CLASS CHOICES ⭐️ ⭐️ ⭐️  
Learn in the class setting Text New member to (412) 772-4264  or email office.t2crossfit@gmail.com 
Saturdays 
9:00 FREE Adult Community Class – no membership required
10:30 Members' WOD (not available for FREE Trial class offer)
T2 Fitness Classes: (unless otherwise posted)
SWEAT: NEW  Open to Ladies and Gentlemen 
Monday: 6am; ⭐️ 9:30am ⭐️ 
Tuesday: 6am
Wednesday: 9:30am
Thursday: 6am
Sunday: 8am
Tuesday: 10:30am
Sunday: 9am
Sunday: 10am
T2 Fitness – No membership required 
**********************
🌟🏋️ Oly Lifting Classes – Sunday, 16 Feb 🏋️‍♂️🌟 Sign Up ✏️ 
Olympic liftings class with Ben Hall, Sundays at 1-2:30pm. 7 spots available. Sign up for the whole cycle, or  week by week. Once the class is full for that week, there will be a waitlist.
Sign up for the class through the push press app, and there are three plans that will work to sign up for the classes. You can purchase the unlimited Fitness addition to your CF membership; you can buy a fitness punchcard which will work for this and all fitness classes; or you can buy a pay-per-class pass. All will be through the new site.
Each class sign up will be open a week ahead of time. If you would like to sign up for unlimited membership, buy a punchcard or buy a one class pass…please feel free to do it ahead of time. You can purchase a punch card or one class pass here at… https://www.t2fitnesstraining.com/membership
You can start setting up your unlimited membership here if you are a member of T2 CrossFit too… 
https://t2fitness.pushpress.com/open/subscribe/1lcd
(If you already have unlimited membership, check your email to finish setting up your profile and download the app..if you don't have an email…message me and I'll get it set up for you)
*************************************
T² also offers Private Fitness Coaching – Individual or Small Group, and if you would like guidance with your Nutrition or how to redirect it on to a more healthful plan, text a message or call 412-772-4264
*******************************************
⭐️Kids, Preteens & Teens: ⭐️

 

⭐️You don't get what you wish for; you get what you work for. ⭐️

 
Partner work, team work, light-hearted competition while improving one's own skills and strength. We play and it works.
#minibradletes #t2crossfit #t2crossfitteens #workforit @t2crossfit @crossfitkids
If you have a child (children) who would like to try CrossFit and meet our awesome CrossFit Kids', Preteens' and Teens' community text New Kid to 412 772 4624 or email t2crossfitkids@gmail.com for more info and to arrange for a free class.
************************************
This week's food: Flat Iron Steak 'n' Molasses 
This is my own make-up recipe so no actual quantities; just ingredients. 
*Flat Iron Steak – sliced,  Almond flour,  Molasses,  Sweet potato purée. 
*White onion – chopped,  Brussels sprouts – quartered,  Chards – sliced
*Salt, Garlic (fresh or powder),  Italian seasoning,  oil
Mix together the almond flour, molasses and sweet potato purée. Add in the sliced steak and turn/mix to make sure the steak is all coated.
Add the seasonings to the pan and heat in the oil before adding the meat. Cook according to doneness – personal preference.
I cook my veggies in different frying pan, lidded so they sauté and steam at the same time. Season according to own taste.
If you have a favorite recipe you would like to share, please email me details with a pic and I will share in the blog. (Doesn't matter how weird it is.)
***********************************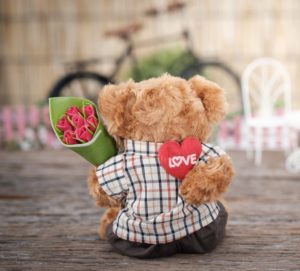 This Week's Trivia: Valentine's Day
Valentine's Day started with the Romans. Two theories:
The second theory is that while the Roman Emperor Claudius II was trying to bolster his army, he forbade young men to marry, because apparently single men make better soldiers. In the spirit of love, St. Valentine defied the ban and performed secret marriages, History.com reports. For his disobedience, Valentine was executed on February 14th.
For the first theory and other facts: 21 Valentine's Day Facts You Probably Didn't Know 
*********************************
And, if you are interested in becoming CrossFit Level 1 certified, T2 is hosting a CF Level 1 course 6th-7th June. Talk with Coach Brad or Anna and get their perspective. 
Good luck to Anna and Paris; Sail Fast (and upright)
Be safe. Happy Valentine's Day.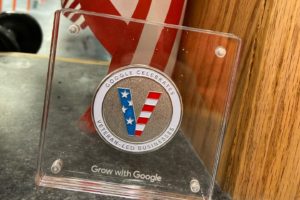 Joanna
T2 CrossFit Team
Veteran-Led 
**************************************
Important Info:
*** Free Trial CrossFit Class schedule: Mon-Fri 5:30, 6:30, 9:00am; 12:10, 4:00, 5:00, 6:00, 7:00pm
*****If you would like to take a fitness class, please make sure you sign up the night before.  If there are no sign-ups by 8pm, there will not be a coach, therefore no class.*****
*****************************************
SWEAT/CYCLE/ROW ZONE! : For more information, make sure to follow our page on Instagram (search: Top) t2_fitness_   (search: People) @t2_fitness_   #tag us: #t2_fitness_
****************************************
To read about Paris's and Anna's journey to qualify to represent USA at the Tokyo Olympic Games 2020, click here Henken : Tobias Sailing
****************************************
Thank you for reading the blog on the T2 webpage. If you would like to receive it by email, please scroll down to the bottom of the Home page and Join Our Mailing List by entering your email address.
****************************