T2 Athlete Of The Month : Eddie Yongo 
1. Tell us about yourself:   Born in Kenya, left when I was 5yrs old, (I'm British / American), I've lived in 4 continents, favorite cuisine: Ethiopian food, favorite movie: Hunt For Red October; Favorite Music / Band or Musician (Blondie, and Foreigner 4) and I love extereme skiing. 
2. How would your best friends describe you?     Adrenaline junkies, adventurous, "don't tell him you can't
do that".
3. What is one thing that people find surprising about you?    Adopted into a Scottish Clan – McPherson Clan (Always wear a kilt and Truss to functions) 
4. How long have you been doing CrossFit?     Coming up to 2.5yrs 
5. What made you start CrossFit?     Something Different, didn't feel I was making any progress at my previous gym 
6. What is your favorite thing about CrossFit?     Community atmosphere, all coaches know what they are talking about, everyone is very supportive and friendly
7. What is your favorite movement?    When I'm doing it right, Overhead and Push Press 
8. What is your least favorite movement?     Thrusters 
9. What is your biggest accomplishment to date both CrossFit related and non-CrossFit related?     Improved my shoulder mobility, allowing me to do, strict pull-ups and C swings 
10. What is your next goal?     Goals: important Climbing to Everest Base Camp (17,600 ft.), Kipping Pull-ups, Handstand Press Ups and competing in rowing.
11. What is your favorite WOD you have done so far?    Any that has involved thinking and coming up with a game plan on how to attack the WOD, but it has also has rowing and or Cycling 
12. Free write:     Physical Fitness – like Crossfit, is all about how far are you willing to push yourself without injuring yourself, but once you realize you have an extra 40% in the tank, it becomes a mind Strategy on how far are you willing to go to you achieve your goals both in fitness, wellness, and personal/professional life respectively.
************************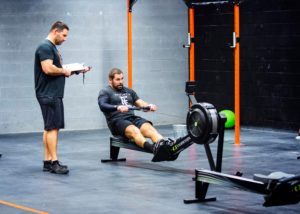 2020 CrossFit Open – Reflections and Achievements
The 2020 CrossFit Open was the second Open in one year.  It was a big change for many, but everyone did such a great job over the 5 weeks. 
As T2 athletes registered for the Open, they were given the option to sign up for the Intramural T2 Team Open. Individual results from the CrossFit Open were incorporated into the in-house team competition so every rep counted towards the team – Black, Orange or White.  
We had 55 athletes divided between the three teams this time. Each week the athletes gave their best performance and were ranked against each other in the box, the RX athletes against other RX athletes, and the scaled against other scaled athletes.  Coach Matt and Coach Donnie organized the teams, and weekly the teams represented on the floor wearing their team shirts, leaving it all out there, effort, sweat, and sometimes even blood!
At the end of the 5 weeks the scores were tabulated, and it was CLOSE!!  Only half a point separated the top two teams, the White team and the Orange team, with the White team just squeaking ahead in the final overall rankings.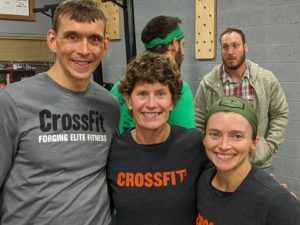 Congratulations to all of our athletes.  One of the best parts of the opens is to see people hit PR's. We saw people get their first muscle ups, people hit successful clean and jerks way above the weights they ever thought they could do, some people got their first pistol, their first pullup, first strict push up, even their first box jump!  These wins are the most exciting and the most important ones that we see and we want to congratulate everyone for all of their effort whether you hit a pr, achieved a new skill, and just gave it everything you had!!  👏 
Overall Scores:
White: 1992.5
Orange 1993
Black 2098
Team White:  Mia, Lindsey, Dana, Maggie, Michelle, Brad, Matthew, Liv, Amy
**********************
Feel inspired? It's the little things that produce the most excitement. Want to get a jump on the Holiday excesses? Drop in. Our awesomely supportive T2 Coaches and Community will chat with you and answer your questions and concerns. Try a class. You have several options – Free Trial CrossFit Class, Free Community Class, SWEAT, Cycle, Row Zone:
FREE TRIAL CLASS – Learn in the class setting Text New member to (412) 772-4264  or email office.t2crossfit@gmail.com 
Saturdays 
9:00 FREE Adult Community Class – no membership required
10:30 Members' WOD (not available for FREE Trial class offer)
*** Important *** Holiday Hours ***
Day before Thanksgiving: Normal
Thanksgiving Day : Closed
Black Friday: 9:00am, 10:00am, 11:00am
T2 Fitness Classes: (unless otherwise posted)
SWEAT: (Ladies only)
Sunday 8:00am
Monday & Wednesday 9:30am
Tuesday & Thursday 6:00am
Sunday 9:00am
Tuesday 10:30am
Sunday 10:00am
T2 Fitness – No membership required 
– Sign-up, the night before at the latest, is required 
*******************************************
*** No T2 Kids, Preteens & Teens classes on 
Thanksgiving Day, or Black Friday ***
T2 Kids, Preteens & Teens: Core, Coordination, Balance and team work.
You don't get what you wish for; you get what you work for. 
#minibradletes #t2crossfit #t2crossfitteens #workforit @t2crossfit @crossfitkids
If you have a child (children) who would like to try CrossFit and meet some awesome CrossFit Kids, Preteens and Teens, text New Kid to 412 772 4624 or email t2crossfitkids@gmail.com for more info and to arrange for a free class.
************************************
This week's food: Apple Crumble Pie courtesy of paleorunningmomma 
I would love to post the pic but not sure I am allowed (copyright). However, I can almost smell the apple coming out of my computer.
***********************************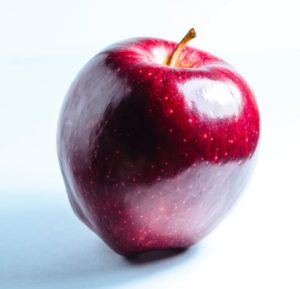 This Week's Trivia: How Climate Change Could Kill The Red Apple (by BBC Veronique Greenwood, 20th November 2019)
Apparently the enzymes in the peel of an apple are temperature sensitive and the warmer the climate becomes, the less red color (anthocyanins) is produced. 
**************************************
Looking ahead – 📣 Save the Date – Saturday, 21st December – T2 Holiday Party. Details to follow.
Please have a safe and happy Thanksgiving. Thinking of our friends and family scattered across the world.
Joanna
T2 CrossFit Team
**************************************
Important Info:
*** Free Trial Class schedule: Mon-Fri 5:30, 6:30, 9:00am; 12:10, 4:00, 5:00, 6:00, 7:00pm (Not available 4:00-7:00pm for the next 5 Fridays)
*****If you would like to take a fitness class, please make sure you sign up the night before.  If there are no sign-ups by 8pm, there will not be a coach, therefore no class.*****
*****************************************
SWEAT/CYCLE/ROW ZONE! : For more information, make sure to follow our page on Instagram (search: Top) t2_fitness_   (search: People) @t2_fitness_   #tag us: #t2_fitness_
****************************************
To read about Paris's and Anna's journey to qualify to represent USA at the Tokyo Olympic Games 2020, click here Henken : Tobias Sailing
**************************************
FitAid: PLEASE PLEASE pay for the cans you take; it's not free. Thanks.
****************************************
Thank you for reading the blog on the T2 webpage. If you would like to receive it by email, please scroll down to the bottom of the Home page and Join Our Mailing List by entering your email address.
****************************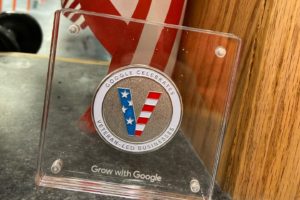 Veteran-Led