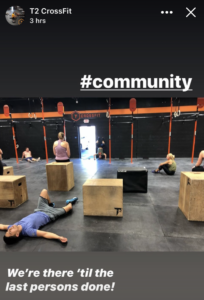 Last week I mentioned that The CrossFit Open begins on 10 October then I read a question from a new T2 member, that another member answered before I was able, "What is The Open?"
If you follow the link to The Open: CrossFit Games page, it will tell you that The Open is for anyone and everyone, new to working out all the way to elite athlete, old fart (like me) through to 13 year olds, and all ability levels.
But actually, The Open is much more than just a 'workout that everyone else around the Globe is doing'. It is a coming together of kindred spirits from all walks of life, to show off our sport. We all have a common goal in mind; we are all working our hardest, going way beyond our comfort zone, giving our all, and cheering and encouraging our fellow athletes to do the same. 
For most of us, it's not about winning or losing. It's about personal achievement; achieving what we personally thought was impossible.
For the T2 community, this happens mostly on Friday evenings, FNL. It's loud and full of energy and is amazingly exciting. Begins October 10th 2019 : Registration is Open 
****************************
The Judge's Course is always interesting to take. You learn a huge amount about the movements you do in workouts. And it is available for everyone to take, regardless of how long you have been working out using CrossFit. Take the Judge's Course; it's another way to be involved in The Open. And it makes you really aware of the standards required for workouts. When coach shouts no-rep, you will understand why. No-one likes a no-rep.
***************************
We can't make you come and watch but if you do, we can help you to add physical activity to your life. Visit us on Friday evenings between 11th October and 8th November; soak up the atmosphere, ask questions, meet people just like you. Then, with an open mind, you judge. Our awesomely supportive T2 Coaches and Community will help you. Try a class. You have several options – Free Trial CrossFit Class, Free Community Class, Free T2 Fitness Classes – SWEAT, Cycle, Row Zone:
FREE TRIAL CLASS – Learn in the class setting Text New member to (412) 772-4264  or email office.t2crossfit@gmail.com 
Saturday, 28 September 2019 
9:00 FREE Adult Community Class – no membership required
10:30 Members' WOD (not available for FREE Trial class offer)
T2 Fitness Classes:
SWEAT: (Ladies only)
Sunday 8:00am
Monday & Wednesday 9:30am
Tuesday & Thursday 6:30am
Sunday 9:00am
Tuesday 10:30am
Row Zone!
Sunday 10:00am
T2 Fitness – No membership required 
– Sign-up, the night before at the latest, is required 
*******************************************
T2 Kids, Preteens & Teens: AGILITY : one of the 10 fundamental skills needed to stay upright and strong.
You don't get what you wish for; you get what you work for. 
#minibradletes #t2crossfit #t2crossfitteens #workforit @t2crossfit @crossfitkids
If you have a child (children) who would like to try CrossFit and meet some awesome CrossFit Kids, Preteens and Teens, text New Kid to 412 772 4624 or email t2crossfitkids@gmail.com for more info and to arrange for a free class.
***************************
Fresh Summer Salads : hazelnutcatering.com 
I think the Summer Salads are finished. But watch this space for the next delightful dish to be offered by Hazelnut Catering.
**************************
This week's food: Pork, Mushroom and Cashew Stir Fry courtesy of CrossFit
**************************
Trivia: The first ever CrossFit Open workout 11.1
Complete as many rounds and reps as possible in 10 minutes of:
30 Double-unders
15 Power snatches
The Power Snatch loads are as follows:
Men and Masters Men 45-49, 50-54: 75lb/35kg
Women and Masters Women 45-54: 55lb/25kg
Masters Men 55-59, 60+: 65lb/30kg
Masters Women 55-59, 60+: 45lb/20kg 
(This was the first Open workout I ever did when it was repeated as 14.1. Note there was no scale division back in 2011 or 2014. So many people got their first double-under.)
Have a wonderful weekend. … and Halloween is coming. Be thinking about your workout costume. (Yes, I'm nagging; don't want you to be caught out.)
Joanna
T2 CrossFit Team
**************************************
Important Info:
*** Free Trial Class schedule: Mon-Fri 5:30, 6:30, 9:00am; 12:10, 4:00, 5:00, 6:00, 7:00pm (No 7:00pm on Fridays)
*****If you would like to take a fitness class, please make sure you sign up the night before.  If there are no sign-ups by 8pm, there will not be a coach, therefore no class.*****
*****************************************
SWEAT/CYCLE/ROW ZONE! : For more information, make sure to follow our page on Instagram (search: Top) t2_fitness_   (search: People) @t2_fitness_   #tag us: #t2_fitness_
****************************************
To read about Paris's and Anna's journey to qualify to represent USA at the Tokyo Olympic Games 2020, click here Henken : Tobias Sailing
**************************************
FitAid: please pay for the cans you take; it's not free. Thanks.
****************************************
Thank you for reading the blog on the T2 webpage. If you would like to receive it by email, please scroll down to the bottom of the Home page and Join Our Mailing List by entering your email address.
****************************