It's funny how thoughts just randomly pop into one's mind for no apparent reason. I had one today. I was squatting on the foredeck and one of my knees was giving me grief when 'poof' there it was, Dr Kelly Starrett telling me and others, in no uncertain terms, 'screw your feet into the ground as you squat'. So I did and my knee didn't hurt. 
My first thought was, well where did that come from? And my second was,  the first CrossFit Games in which Anna competed. Paul and I did the rounds of the side-bar seminars and Dr Kelly Starrett was giving a talk/demonstration on how to squat correctly. We joined in but then obviously forgot.
Then I did what I always do, I started to over-think things. I did some squats while screwing my feet into the ground. I know I have been told on numerous occasions and have likewise to other people to 'push your knees out' so I did a few of those too. What I noticed was that when 'pushing out my knees' it felt as though I was only using half of my stability muscles. My feet, ankles, calf muscles were not engaged. When screwing my feet into the ground, however, it felt so much more stable; my ankles didn't wobble, my knees didn't waiver and my glutes got me down and up without knee pain. 
What I was doing was trying to externally rotate my hips and knees without moving my feet. I was engaging my full posterior chain – from my toes to my shoulders.
I'm not saying that 'screwing your feet into the ground' before you squat will cure your knee pain but it will make you much more stable and less likely to injure something else.
Maybe the fact that Anna is about to go to the Games again subliminally jogged my memory.
If you would like more information and video demonstrations etc, Google 
Screw feet into the ground squat  You will be amazed at the response. 
******************************
How to experience the stabilizing effect of our T2 Community: come and try one or more of our several options – Free Trial CrossFit Class, Free Community Class, SWEAT, Cycle, Row Zone:
FREE TRIAL CLASS – Learn in the class setting Text New member to (412) 772-4264  or email office.t2crossfit@gmail.com 
Free Trial Class schedule: Mon-Fri 5:30, 6:30, 9:00am; 12:10, 4:00, 5:00, 6:00, 7:00pm (No 7:00pm on Fridays)
Saturday, 27 July 2019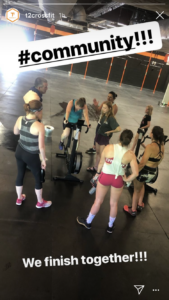 9:00 FREE Adult Community Class – no membership required
10:30 Members' WOD (not available for FREE Trial class offer)
Sunday, 28 July 2019 T2 Fitness classes 
8:00 SWEAT (Ladies only)
9:00 Cycle on Sunday Not this Sunday
10:00 Row Zone!
Tuesday, 30 July 2019 T2 Fitness
6:00  SWEAT on Tuesday (Ladies only)
10:30 Cycle on Tuesday  Not this Tuesday
Thursday, 1 August 2019 T2 Fitness
6:00  SWEAT on Thursday (Ladies only)
T2 Fitness – No membership required : Sign-up is required 
*****If you would like to take a fitness class, please make sure you sign up the night before.  If there are no sign-ups by 8pm, there will not be a coach, therefore no class.*****
*****************************************
SWEAT/CYCLE/ROW ZONE! : For more information, make sure to follow our page on Instagram (search: Top) t2_fitness_   (search: People) @t2_fitness_   #tag us: #t2_fitness_
*******************************************
***Saturday 7 September : Girls Gone RX
For information on any or all of these events, scroll down to Outside The Box. 
***************************************
T2 Kids, Preteens & Teens: Print off the coupon →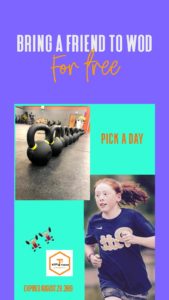 and Bring a Friend. Or print it off and come on your own. 
You don't get what you wish for; you get what you work for. #minibradletes #t2crossfit #t2crossfitteens #workforit @t2crossfit @crossfitkids
If you have a child (children) who would like to try CrossFit and meet some awesome CrossFit Kids, Preteens and Teens, text New Kid to 412 772 4624 or email t2crossfitkids@gmail.com for more info and to arrange for a free class.
***************************************
Fresh Summer Salads : FYI Important 👁 👁 look …
No salads next week. August dates are Monday August 5th and Monday August 19th.
Available from hazelnutcatering.com 
For full salad details and ordering/delivery information, click the link. Delivery to T2 is on Mondays. 
**************************************
This week's tasty dish: Lobster (I am in Maine so it has to be – any way you like)
Weekend Trivia: Dry Air Is Heavier Than Humid Air….. It's true, a glass of liquid water weighs more than a glass filled only with air. But, humidity is water vapor, not liquid water, and water vapor molecules are lighter than the molecules of nitrogen and oxygen that make up approximately 99% of the atmosphere. The Washington Post
So when you think you are running through a 'pea soup' because it is so humid, thank your lucky stars it's not dry air; you'd be struggling even more. 😊 
Congratulations to Mike and Lauren Fix on the birth of their son.
Joanna
T2 CrossFit Team
**************************************
********Outside The Box : Dates for your diary
***Girls Gone Rx : Saturday 7 September
"Girls Gone Rx is proud to announce our 4th Annual event in Pittsburgh! Our competitions are put on to bring all types of women together through Competing for a Cure."
Start planning with your partners. Two divisions again, Rx and BAM (BadAsses in the Making). For more information and how to decide which division is right for your team, check out the link. Girls Gone Rx information
****************************************
To read about Paris's and Anna's journey to qualify to represent USA at the Tokyo Olympic Games 2020, click here Henken : Tobias Sailing
**************************************
FitAid: please pay for the cans you take. You can now charge your cc charge purchase (2 cans minimum) through the Gym Store on your account. There are step-by-step instructions next to the computer if you need help.
****************************************
Thank you for reading the blog on the T2 webpage. If you would like to receive it by email, please scroll down to the bottom of the Home page and Join Our Mailing List by entering your email address.