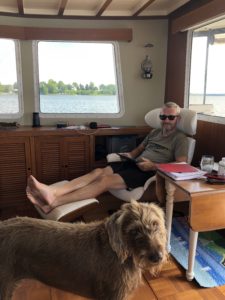 So you don't forget, Sunday is Fathers' Day. And to celebrate, I am giving a shout out to Paul Tunnicliffe (because I can) who is father to Anna Tobias, David Tunnicliffe, and father to T2 CrossFit/T2 Fitness. Three years ago today, after so many hours of labor, Paul, along with Anna and Brad put T2 together and celebrated T2's (soft) opening. And no matter how hard he tries to break free, he can't because he is an inherent part of the fibre of the place.
*************************************
I was trail walking/running recently and noticed that the custodians of the trail had painted all the 'trip hazards' blue. As much as I appreciated these hazards being brought to my attention, I got to thinking that by highlighting the hazards, the trail custodians are 'admitting' that there is a potential for injury. If someone tripped, fell and was injured, might that person sue and if so, and he/she won, then what? The trail would have to close.
To my mind, these stones, tree roots, fallen branches etc are an inherent part of trail walking. It goes without saying that there is a potential for tripping, so be careful. You made the choice to go along the path so you accept the consequences of your choice. If you trip, pick up your feet higher next time and look where you are going.
Scientific studies are showing that sugar is an inherent ingredient in 'sickness', exercise is inherent to 'fitness', so let's start by aiming in the middle for 'wellness'. Choose to reduce sugar, increase exercise and amaze yourself with the consequences. 
(Inherent literally refers to something that is "stuck in" something else so firmly that they can't be separated. Merriam-Webster)
*************************************
Would you like to be an inherent part of our awesomely supportive T2 Community? Come and try one or more of our several options – Free Trial CrossFit Class, Free Community Class, SWEAT, Cycle, Row Zone:
FREE TRIAL CLASS – Learn in the class setting Text New member to (412) 772-4264  or email office.t2crossfit@gmail.com 
Free Trial Class schedule: Mon-Fri 5:30, 6:30, 9:00am; 12:10, 4:00, 5:00, 6:00, 7:00pm (No 7:00pm on Fridays)
Saturday, 8 June 2019 
9:00 FREE Adult Community Class – no membership required
10:30 Members' WOD (not available for FREE Trial class offer)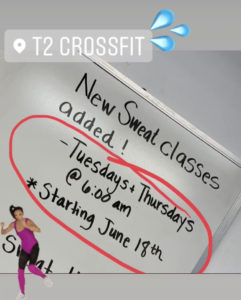 Sunday, 9 June 2019 T2 Fitness classes 
8:00 SWEAT (Ladies only)
9:00 Cycle on Sunday
10:00 Row Zone!
Tuesday, 11 June 2019 T2 Fitness
10:30 Cycle on Tuesday
!!! NEW : SWEAT Classes beginning 18 June !!!
Tuesdays/Thursday @ 6:00am
T2 Fitness – No membership required : Sign-up is required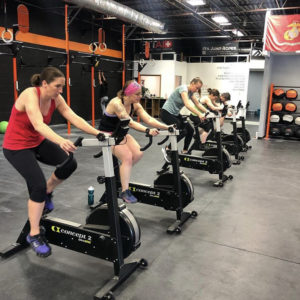 *****If you would like to take a fitness class, please make sure you sign up the night before.  If there are no sign-ups by 8pm, there will not be a coach, therefore no class.*****
*****************************************
SWEAT/CYCLE/ROW ZONE! : For more information, make sure to follow our page on Instagram (search: Top) t2_fitness_   (search: People) @t2_fitness_   #tag us: #t2_fitness_
*******************************************
Mark your calendars: 
*** Ongoing until June 23 2019 : 6-week T2 Fitness Challenge
Keep up the great work. One more week. Final weights, measures and retest of baseline workout will be Thursday, 20th or Friday, 21st June. Watch the board for times.
*** SOLD OUT *** Saturday, 15 June 2019 2:30-5:30pm The Rx SmartGear Method  – jump rope, double under clinic *** SOLD OUT ***
***NEW*** Row Clinic : Sunday, 30 June @ 11:00am   Open to All : Sign up: T2 Fitness
***Saturday 7 September : Girls Gone RX
For information on any or all of these events, scroll down to Outside The Box.
***************************************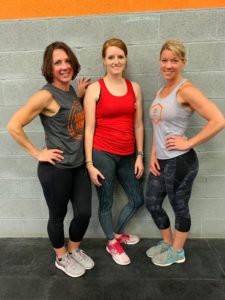 T2 Kids, Preteens & Teens: Meet T2's Kids, Preteens & Teens newest coach: Lindsey Erisey
Lindsey is the wife of coach Matt and the mom of two boys, Joseph and Isaac. She started CrossFit in October 2016 and was hooked. She has a passion for helping others, especially kids, enabling them with the knowledge and tools to live a healthful lifestyle.
You don't get what you wish for; you get what you work for so come and work with coach Lindsey.  #minibradletes #t2crossfit #t2crossfitteens #workforit @t2crossfit @crossfitkids
If you have a child (children) who would like to try CrossFit and meet some awesome CrossFit Kids, Preteens and Teens, text New Kid to 412 277 5922 or email t2crossfitkids@gmail.com for more info and to arrange for a free class.
***************************************
This week's tasty dish: Fathers' Day Cake : Molten Lava Cake (Paleo, Gluten Free) It says it's a good recipe for Valentine's Day but in my mind it will do just as well for Fathers' Day. (40Aprons.com)
Today's Thought: Thank you T2 members, OG's and new, for making and supporting our amazingly fantastic community. There is an inherent goodness in our community. Surround yourself with people who believe in your dreams.
Have a wonderful weekend and Happy Fathers' Day to all dads, new, old and wannabes.
Joanna
T2 CrossFit Team
**************************************
****Outside The Box : Dates for your diary****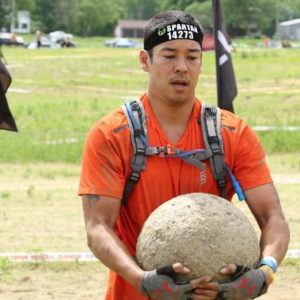 Congrats to Justin Linette who recently competed in the 2019 Ohio Spartan Beast. 
*** SOLD OUT ***The Rx SmartGear Method @ T2 CrossFit – jump rope, double under clinic   Saturday, 15 June 2019  2:30-5:30pm *** SOLD OUT ***
!!! NEW : SWEAT Classes beginning 18 June !!!
Tuesdays/Thursday @ 6:00am
*** Row Clinic: Sunday, 30 June @ 11:00am
Prerequisite after trial class at Row Zone.
Helps to improve technique generally for WODs and erg rowing for warm-up and cool downs.
Sign up: T2 Fitness
***Girls Gone Rx : Saturday 7 September
"Girls Gone Rx is proud to announce our 4th Annual event in Pittsburgh! Our competitions are put on to bring all types of women together through Competing for a Cure."
Start planning with your partners. Two divisions again, Rx and BAM (BadAsses in the Making). For more information and how to decide which division is right for your team, check out the link. Girls Gone Rx information
****************************************
To read about Paris's and Anna's journey to qualify to represent USA at the Tokyo Olympic Games 2020, click here Henken : Tobias Sailing
**************************************
FitAid: please pay for the cans you take. You can now charge your cc charge purchase (2 cans minimum) through the Gym Store on your account. There are step-by-step instructions next to the computer if you need help.
****************************************
Thank you for reading the blog on the T2 webpage. If you would like to receive it by email, please scroll down to the bottom of the Home page and Join Our Mailing List by entering your email address.
****************************