Perception – the organization, identification, and interpretation of sensory information in order to represent and understand the presented information, or the environment.
Perspective – an attitude toward or a way of regarding something; a point of view.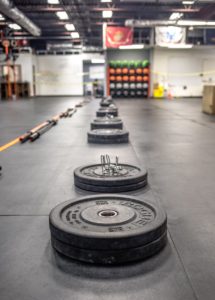 Perception of a box jump – a fairly straightforward movement – picture it in your mind; swing arms hard enough, explode and jump high enough to land with two feet on the raised surface of the 20" box without catching your toes on the edge. 
Perspective of a box jump – can make or break your ability to accomplish the movement – I can't do that; it's a mountain. If you are new to the movement, being presented with a 20" wooden box is rather daunting; negative thoughts creep in. Probably not going to achieve said movement. 
However, if coach first asks you to get comfortable jumping on to a 45# plate (4" high) you say, "No problem". From 4" to 8" and the plate pile gets higher until it measures 21". So now you know you can more than clear the 20" height, it's time to try the box. And you feel ready for it. One jump; you're up. Wow! What a feeling. Same movement – a jump (Perception). Different attitude – I can do it (Perspective).
If presented with a 'problem', rather than immediately being negative about it, take some time to try and think about it, explore it, discuss it, understand it. With this understanding, you may find your attitude is quite different to your initial, gut reaction.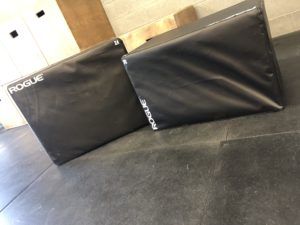 I used box jumps as my example for two reasons:
I know I can rebound on 21" of plates; still have to try on a 20" box. I'm working on changing my perspective.
ICYMI – there are now 2 'soft' boxes to help get over the initial apprehension of the 20" jump. It's my 'happy 3rd birthday' present to T2 and our wonderful community. I hope you find them useful.
*************************************
If you would like to change your perception and perspective of the 4" plate or 20" box jump, come and try it at T2 and at the same time meet the awesomely supportive T2 Community. You have several opportunities – Free Trial Class, Free Community Class, SWEAT, Cycle, Row Zone:
FREE TRIAL CLASS – Learn in the class setting Text New member to (412) 772-4264  or email office.t2crossfit@gmail.com 
Free Trial Class schedule: Mon-Fri 5:30, 6:30, 9:00am; 12:10, 4:00, 5:00, 6:00, 7:00pm (No 7:00pm on Fridays)
***************************************
Saturday, 8 June 2019 
9:00 FREE Adult Community Class – no membership required
10:30 Members' WOD (not available for FREE Trial class offer)
Sunday, 9 June 2019 T2 Fitness classes 
8:00 SWEAT (Ladies only) NO CLASS THIS WEEK
9:00 Cycle on Sunday
10:00 Row Zone!
Tuesday, 11 June 2019 T2 Fitness
10:30 Cycle on Tuesday
!!! NEW : SWEAT Classes beginning 18 June !!!
Tuesdays/Thursday @ 6:00am
T2 Fitness – No membership required : Sign-up is required 
*****If you would like to take a fitness class, please make sure you sign up the night before.  If there are no sign-ups by 8pm, there will not be a coach, therefore no class.*****
*****************************************
SWEAT/CYCLE/ROW ZONE! : For more information, make sure to follow our page on Instagram (search: Top) t2_fitness_   (search: People) @t2_fitness_   #tag us: #t2_fitness_
*******************************************
Mark your calendars: 
*** Ongoing until June 23 2019 : 6-week T2 Fitness Challenge
Keep up the great work. Chin up. Stiff upper lip and all that.
*** SOLD OUT *** Saturday, 15 June 2019 2:30-5:30pm The Rx SmartGear Method  – jump rope, double under clinic *** SOLD OUT ***
***NEW*** Row Clinic : Sunday, 30 June @ 11:00am    Sign up: T2 Fitness
***Saturday 7 September : Girls Gone RX
For information on any or all of these events, scroll down to Outside The Box.
***************************************
T2 Kids, Preteens & Teens: You don't get what you wish for, you get what you work for and with Rooney's help, it makes it all the more fun. #minibradletes #t2crossfit #t2crossfitteens #workforit @t2crossfit @crossfitkids
If you have a child (children) who would like to try CrossFit and meet some awesome CrossFit Kids, Preteens and Teens, text New Kid to 412 277 5922 or email t2crossfitkids@gmail.com for more info and to arrange for a free class.
***************************************
This week's tasty dish: Rather than a recipe this week, I thought it would be interesting to see a typical Adult Rationing Allowance for one week in June 1944 in UK. Rationing began in 1940 and didn't end until 1954.
Bacon and ham – 100g/4oz
Butter – 50g/2oz
Cheese – 50g/2oz
Marg – 100g/4oz
Cooking fat – 100g/4oz (often dropping to 2oz)
Milk – 3pts/1800ml (but not always)
Sugar – 8oz/225g
Preserves – 1lb/450g every two months
Tea -2oz/50g
Eggs – one shell egg a week if available
Dried eggs – one pack per month
Sweets -12oz/350g a month
Plus monthly points scheme for fish, meat, fruit or peas
Today's Thought: Operation Overlord, the Allied invasion of northern France, began on June 6, 1944 as Supreme Allied Commander General Dwight D. Eisenhower gave the go ahead for tens of thousands of soldiers to cross the shores of the English Channel.
Be safe.
Joanna
T2 CrossFit Team
**************************************
********Outside The Box : Dates for your diary
*** SOLD OUT ***The Rx SmartGear Method @ T2 CrossFit – jump rope, double under clinic 
Saturday, 15 June 2019  2:30-5:30pm *** SOLD OUT ***
Learn the basics of jump rope, singles, double unders and maybe even triple-unders from the industry's leading experts.
Open to all adults.
Click the link to reserve your spot.
!!! NEW : SWEAT Classes beginning 18 June !!!
Tuesdays/Thursday @ 6:00am
*** Row Clinic: Sunday, 30 June @ 11:00am
Prerequisite after trial class at Row Zone.
Helps to improve technique generally for WODs and erg rowing for warm-up and cool downs.
Sign up: T2 Fitness
***Girls Gone Rx : Saturday 7 September
"Girls Gone Rx is proud to announce our 4th Annual event in Pittsburgh! Our competitions are put on to bring all types of women together through Competing for a Cure."
Start planning with your partners. Two divisions again, Rx and BAM (BadAsses in the Making). For more information and how to decide which division is right for your team, check out the link. Girls Gone Rx information
****************************************
To read about Paris's and Anna's journey to qualify to represent USA at the Tokyo Olympic Games 2020, click here Henken : Tobias Sailing
**************************************
FitAid: please pay for the cans you take. You can now charge your cc charge purchase (2 cans minimum) through the Gym Store on your account. There are step-by-step instructions next to the computer if you need help.
****************************************
Thank you for reading the blog on the T2 webpage. If you would like to receive it by email, please scroll down to the bottom of the Home page and Join Our Mailing List by entering your email address.
****************************