That's what was going through everyone's minds on Monday, Memorial Day; those who suffered through 'Schmalls' Hero WOD at T2 CrossFit, or 'Murph' Hero WOD while visiting other gyms. Wherever the suffering took place, you all made it through with your own mental fortitude and support of the group around you. Well done. 
I was going to try to wax lyrical about how life's journey is a constant 'Halfway Done' or 'Are we there yet?' but I'm not good at that sort of thing so I'll just say it as I feel it. 
Sometimes life just happens and there is absolutely nothing we can do about it at that moment in time. However, if we make it through, we can start to pick up the pieces, taking control of small things and begin to put our lives back together. We can get back on our 'journey through life' with goals and aspirations still out there.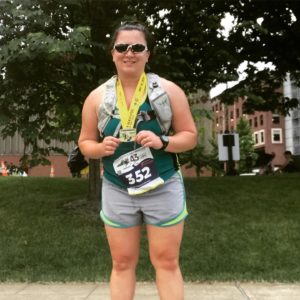 It might be something as inconsequential as a stomach bug (though at the time it feels like you're dying) the night before a race for which you have trained weeks and months. It might be a life threatening medical issue/injury that keeps you in bed for months on end but eventually with patience you get up and start again, maybe now goals have to be adjusted but they are still there. 
The beginning of coming back starts within you, it is your choice whether to drag yourself back up. But once you make that decision, it is an easier journey with the support of family, friends, communities in which you are involved. 
(Very minor example: I have been following the T2 Fitness Challenge and was feeling strong and energized and was really looking forward to the 'Schmalls' challenge last Monday. Unfortunately I got sick so couldn't do it, couldn't walk 50' without having to go back to bed. Diet has disappeared up a creek without a paddle but I will get back on track. I will pick up the pieces of my diet and workouts, slowly.) We are halfway done with the Challenge and I hope all Challengers feel it is working.
So I leave you with some questions to consider: Do we really know when we are 'halfway done'? Do we ever get 'there'? Should we settle for 'we've arrived'? Is that good enough? Does the T2 Fitness Challenge end after the 6 weeks? Or is it just the beginning? OK, I'll stop. 
********************************
When you have finally made the decision to take your life back, why not try the experience of CrossFit and meet the awesomely supportive T2 Community? (That's a real question for you to answer – why not?) You have several options – Free Trial CrossFit Class, Free Community Class, SWEAT, Cycle, Row Zone:
FREE TRIAL CLASS – Learn in the class setting Text New member to (412) 772-4264  or email office.t2crossfit@gmail.com 
Free Trial Class schedule: Mon-Fri 5:30, 6:30, 9:00am; 12:10, 4:00, 5:00, 6:00, 7:00pm (No 7:00pm on Fridays)
***************************************
Saturday, 1 June 2019 
9:00 FREE Adult Community Class – no membership required
10:30 Members' WOD (not available for FREE Trial class offer)
Sunday, 2 June 2019 T2 Fitness classes 
8:00 SWEAT (Ladies only)
9:00 Cycle on Sunday
10:00 Row Zone!
Tuesday, 4 June 2019 T2 Fitness
10:30 Cycle on Tuesday
T2 Fitness – No membership required : Sign-up is required 
*****If you would like to take a fitness class, please make sure you sign up the night before.  If there are no sign-ups by 8pm, there will not be a coach, therefore no class.*****
******************************
SWEAT/CYCLE/ROW ZONE! : For more information, make sure to follow our page on Instagram (search: Top) t2_fitness_   (search: People) @t2_fitness_   #tag us: #t2_fitness_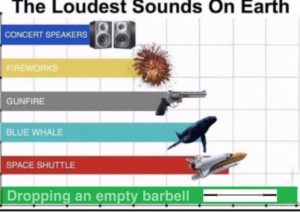 ******************************
PSA: Don't Drop An Empty Bar Bell.
*****************************
Mark your calendars: 
*** Ongoing until June 23 2019 : 6-week T2 Fitness Challenge
*** June 8-9th 2019, USA Weightlifting Level 1 Course  
*** SOLD OUT *** Saturday, 15 June 2019 2:30-5:30pm The Rx SmartGear Method  – jump rope, double under clinic *** SOLD OUT ***
***Saturday 7 September : Girls Gone RX
For information on any or all of these events, scroll down to Outside The Box.
***************************************
T2 Kids, Preteens & Teens: Fun and games is also part of the T2 Kids program. #minibradletes #t2crossfit #t2crossfitteens #workforit @t2crossfit @crossfitkids
Athlete or not is of no consequence, let your child (children) try CrossFit and meet some awesome CrossFit Kids, Preteens and Teens. Text New Kid to 412 277 5922 or email t2crossfitkids@gmail.com for more info and to arrange for a free class.
***************************************
This week's tasty dish: Coconut and Vegetable Curry   Vegetarian, not Paleo but looks delicious.
Today's Fun/Trivia: 1st June 1831, James Clark Ross' Journey To The Arctic
James Clark Ross was an explorer who went on several voyages along with his uncle Sir Jack Ross. He was a part of the journey which they embarked on to find the Northwest Passage and was accompanied by renowned explorer William Edward Parry. On 1st June, 1831, he discovered the magnetic north pole, becoming the first European to reach there.
Have a safe weekend.
Joanna
T2 CrossFit Team
**************************************
********Outside The Box : Dates for your diary
***USA Weightlifting Level 1 Course, June 8-9th 2019 
@ T2 Crossfit
Prerequisite: USA Weightlifting membership. 
CEU's available
Who should take the course? Apart from the obvious, anyone interested in improving weightlifting technique
*** SOLD OUT ***The Rx SmartGear Method @ T2 CrossFit – jump rope, double under clinic 
Saturday, 15 June 2019  2:30-5:30pm *** SOLD OUT ***
Learn the basics of jump rope, singles, double unders and maybe even triple-unders from the industry's leading experts.
Open to all adults.
Click the link to reserve your spot.
***Girls Gone Rx : Saturday 7 September
"Girls Gone Rx is proud to announce our 4th Annual event in Pittsburgh! Our competitions are put on to bring all types of women together through Competing for a Cure."
Start planning with your partners. Two divisions again, Rx and BAM (BadAsses in the Making). For more information and how to decide which division is right for your team, check out the link. Girls Gone Rx information
****************************************
To read about Paris's and Anna's journey to qualify to represent USA at the Tokyo Olympic Games 2020, click here Henken : Tobias Sailing
**************************************
FitAid: please pay for the cans you take. You can now charge your cc charge purchase (2 cans minimum) through the Gym Store on your account. There are step-by-step instructions next to the computer if you need help.
****************************************
Thank you for reading the blog on the T2 webpage. If you would like to receive it by email, please scroll down to the bottom of the Home page and Join Our Mailing List by entering your email address.
****************************