OMG! The first day of the T2 Fitness Challenge was hard. I had such a bad headache, had no energy and just felt sick. Wasn't sure if I was coming down with 'flu. The second day, I saw Jackie Roth's FB post about being irritable, anxious and other negative feelings and I realized we were suffering withdrawal symptoms. But from what? Couldn't blame it on cheese because I stopped eating that a long time ago.
Ahhh! Sugar. That dreadful 'S' word. And according to several articles and studies I have since read, sugar is as addictive as drugs and alcohol. So if you cut it out of your diet, boom just like that, like we did, … "It is a stimulant and when you take it away, your body has to adjust and adapt accordingly." (Sugar Addiction: Facts And Figures You Should Know)
So please, if someone who normally is cheerful and helpful, appears to be a little cranky, be patient with him/her; the mood change is quite possibly being caused by sugar withdrawal. Almond butter, apparently, can help to alleviate the symptoms. Hence the apple and almond butter snacks.  
The link above is to a short and quite informative article about the effects of and what to expect when reducing/cutting sugar from your daily diet.
******************************
Memorial Day: Monday, 27 May 2019
"Memorial Day, as a formal holiday, is an American holiday. It is celebrated to remember military service members who have died in the line of duty. Memorial Day was originally called Decoration Day, as the holiday was centered on decorating the graves of those who had fallen in the Civil War." 
(Holiday Calendar: Memorial Day)
Within the CrossFit community, there are several Hero WODs (workouts) that are named after fallen heroes, the first one created being "Murph". While many gyms program Murph for Memorial Day, we at T2 CrossFit use the day to remember Navy Lieutenant Michael Murphy and other fallen heroes; each year a different hero is remembered and his/her life celebrated. 
Please feel free to come and join us on Memorial Day and suffer and celebrate with us.
Class Hours: 8:00, 10:30 am
******************************
 If you would like to experience CrossFit and/or the T2 Community before Memorial Day, you have several options:
FREE TRIAL CLASS – Learn in the class setting Text New member to (412) 772-4264  or email office.t2crossfit@gmail.com 
Free Trial Class schedule: Mon-Fri 5:30, 6:30, 9:00am; 12:10, 4:00, 5:00, 6:00, 7:00pm (No 7:00pm on Fridays)
or
Saturday, 18 May 2019 
9:00 FREE Adult Community Class – no membership required
10:30 Members' WOD (not available for FREE Trial class offer)
or
Sunday, 19 May 2019 T2 Fitness classes 
8:00 SWEAT (Ladies only)
9:00 Cycle on Sunday No Cycle this Sunday 
10:00 Row Zone!
Tuesday, 21 May 2019 T2 Fitness
10:30 Cycle on Tuesday
T2 Fitness – No membership required : Sign-up is required 
*****If you would like to take a fitness class, please make sure you sign up the night before.  If there are no sign-ups by 8pm, there will not be a coach, therefore no class.*****
*****************************************
SWEAT/CYCLE/ROW ZONE! : For more information, make sure to follow our page on Instagram (search: Top) t2_fitness_   (search: People) @t2_fitness_   #tag us: #t2_fitness_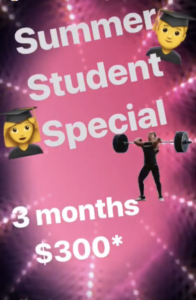 *******************************************
ICYMI, →→→
Mark your calendars: 
*** Ongoing until June 23 2019 : 6-week T2 Fitness Challenge
*** June 8-9th 2019, USA Weightlifting Level 1 Course  
*** Saturday, 15 June 2019 2:30-5:30pm The Rx SmartGear Method  – jump rope, double under clinic 
***Saturday 7 September : Girls Gone RX
For information on any or all of these events, scroll down to Outside The Box.
***************************************
T2 Kids, Preteens & Teens: You don't get what you wish for, you get what you work for. #minibradletes #t2crossfit #t2crossfitteens #workforit @t2crossfit @crossfitkids
If you have a child (children) who would like to try CrossFit and meet some awesome CrossFit Kids, Preteens and Teens, text New Kid to 412 277 5922 or email t2crossfitkids@gmail.com for more info and to arrange for a free class.
***************************************
This week's tasty dish: Chocolate Almond Butter – I made it myself. I did use Detoxinista's Homemade Chocolate Almond Butter recipe as a guide but here is what I did:
3tbs Almond Butter + 2.5 tsp cocoa powder + 0.5 tsp vanilla essence + plus a little water.
I didn't add sweetener (maple syrup) because if you have it with fruit, the fruit sweetens it enough.
Today's Fun/Trivia: 15 Sweet Facts About Sugar
Sugar was once considered a spice not a sweetener. It was used as a medicine for centuries. European royalty would make giant sugar sculptures called 'subtleties'. In Europe, it started as a luxury… But by the 19th century, had become a staple of the working-class diet. Sugar cane was first domesticated in New Guinea around 8000 BCE. Eating sugar can give you wrinkles. It can be used as a food preservative. Dogs have a sweet tooth but cats don't. The average American consumes 76.7 pounds of sugar a year (in 2012 – probably more now). Overconsumption of sugar has been linked to lower cognitive abilities. There are many different kinds. Sugar can be used as a fuel. Sugar is addictive. Sugar has been featured in songs and poetry for hundreds of years. 
Joanna
T2 CrossFit Team
**************************************
********Outside The Box : Dates for your diary
***USA Weightlifting Level 1 Course, June 8-9th 2019 
@ T2 Crossfit
Prerequisite: USA Weightlifting membership. 
CEU's available
Who should take the course? Apart from the obvious, anyone interested in improving weightlifting technique
***The Rx SmartGear Method @ T2 CrossFit – jump rope, double under clinic 
Saturday, 15 June 2019  2:30-5:30pm
Learn the basics of jump rope, singles, double unders and maybe even triple-unders from the industry's leading experts.
Open to all adults.
Click the link to reserve your spot.
***Girls Gone Rx : Saturday 7 September
"Girls Gone Rx is proud to announce our 4th Annual event in Pittsburgh! Our competitions are put on to bring all types of women together through Competing for a Cure."
Start planning with your partners. Two divisions again, Rx and BAM (BadAsses in the Making). For more information and how to decide which division is right for your team, check out the link. Girls Gone Rx information
****************************************
To read about Paris's and Anna's journey to qualify to represent USA at the Tokyo Olympic Games 2020, click here Henken : Tobias Sailing
**************************************
Please share with me, dates of events in which you are participating, to which you would like to bring attention: road races, competitions, fundraisers …
****************************************
FitAid: please pay for the cans you take. You can now charge your cc charge purchase (2 cans minimum) through the Gym Store on your account. There are step-by-step instructions next to the computer if you need help.
****************************************
Thank you for reading the blog on the T2 webpage. If you would like to receive it by email, please scroll down to the bottom of the Home page and Join Our Mailing List by entering your email address.
****************************