Neutral Spine : heard that term before? It's all to do with chest up and hips back when 'bending over' aka squatting. If you value your spine, keep it neutral when lifting.
But in order to keep our spines neutral rather rounded or arched, particularly when lifting heavy weights whether in the gym, at work or home, we need to have a strong posterior chain.
"The Good Morning emphasizes the development of the glutes, hamstrings, and spinal erectors. These are the major muscles that comprise the posterior chain. Strengthening the posterior chain translates into improvements in running, jumping, lifting, throwing, punching, and almost all other athletic movements." (CrossFit Essentials 190501)
Over the last few weeks, CrossFit has published a great little series to show how the major joints of our skeleton work, their range of motions and  it is explained in layman's terms. If you think you have limited range of motion in a joint(s), ask your coach for some meaningful movements and stretches to help ease the tightness. (CrossFit: Movement About Joints)
******************************
We hear lots about cholesterol, heart disease, high blood pressure, diabetes, but what about fatty liver disease? In children? There was a small, 8 week study conducted of 40 adolescent boys were assigned a reduced-added sugars food program or were the control group. 
"There was no difference in total calorie intake between groups, though the treatment group lost 2.0 kg on average. The treatment group also saw a mean reduction in liver fat from 25% to 17% (-6.23%), as well as significant improvements in secondary markers of liver health. Individual-level data shows changes in markers of liver health were small and inconsistent in members of the control group, but the majority of subjects in the treatment group saw improvements." (CrossFit: Effect of a Low Free Sugar Diet vs Usual Diet on Nonalcoholic Fatty Liver Disease in Adolescent Boys)
******************************
If you have an issue with 'added sugars' and would like some help to wean you off them, this new challenge offered by T2 could be just the ticket – the T2 Fitness Challenge, May 13 – June 23, 2019 : 6-week
Designed to fit you, the individual.
Open to members and non members.  
Workouts, nutrition guidance, benchmarks, measurements, logging progress, setting and achieving goals.
So before you drink that glass of orange juice, get more information from Coach Anna or Coach Matt or by texting your question the number shown below.
To sign-up, text Fitness Challenge to 412 772 4264 and you will receive the necessary link.
******************************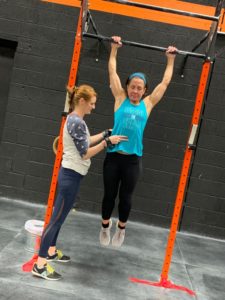 If you would like to meet the T2 Community before the challenge, you have several options:
FREE TRIAL CLASS – Learn in the class setting Text New member to (412) 772-4264  or email office.t2crossfit@gmail.com 
Free Trial Class schedule: Mon-Fri 5:30, 6:30, 9:00am; 12:10, 4:00, 5:00, 6:00, 7:00pm (No 7:00pm on Fridays)
***************************************
Saturday, 4 May 2019 
9:00 FREE Adult Community Class – no membership required
10:30 Members' WOD (not available for FREE Trial class offer)
Sunday, 5 May 2019 T2 Fitness classes 
8:00 SWEAT (Ladies only)
9:00 Cycle on Sunday
10:00 Row Zone!
Tuesday, 7 May 2019 T2 Fitness
10:30 Cycle on Tuesday
T2 Fitness – No membership required : Sign-up is required 
*************************
*****If you would like to take a fitness class, please make sure you sign up the night before.  If there are no sign ups before 8pm, there will not be a coach for the class, therefore no class.*****
*****************************************
SWEAT/CYCLE/ROW ZONE! : For more information, make sure to follow our page on Instagram (search: Top) t2_fitness_   (search: People) @t2_fitness_   #tag us: #t2_fitness_
*******************************************
Mark your calendars: 
*** May 13-June 23 2019 : 6-week T2 Fitness Challenge
*** June 8-9th 2019, USA Weightlifting Level 1 Course  
*** Saturday, 15 June 2019 2:30-5:30pm The Rx SmartGear Method  – jump rope, double under clinic 
***Saturday 7 September : Girls Gone RX
For information on any or all of these events, scroll down to Outside The Box.
***************************************
T2 Kids, Preteens & Teens: It's not about who finished first, it's about making sure everyone finishes!
If you have a child (children) who would like to try CrossFit and meet some awesome CrossFit Kids, Preteens and Teens, text New Kid to 412 277 5922 or email t2crossfitkids@gmail.com for more info and to arrange for a free class.
***************************************
The Pull-Up Clinic last weekend was a great success. Hopefully those who attended were able to apply what they learned to Wednesday's WOD. 
This week's tasty dish: ?????????????
Today's Fun/Trivia: "Many people believe that Cinco de Mayo is a celebration of Mexican independence. However, the holiday actually celebrates Mexico's victory over France during the Battle of Puebla on May 5th, 1862. The French army was much larger but the Mexican people stood their ground in Puebla, and won. While the French eventually did overtake the city, it's still considered a victory." (Cinco de Mayo Trivia : HelloGiggles)
Good luck to everyone running in the Pittsburgh Marathon races on Sunday. Run first; celebrate after (but safely).
Joanna
T2 CrossFit Team
**************************************
********Outside The Box : Dates for your diary
*** May 13 – June 23 2019 : 6 – week T2 Fitness Challenge 
Open to members and non-members 
Text Fitness Challenge to 412 772-4264 for sign-up
***USA Weightlifting Level 1 Course, June 8-9th 2019 
@ T2 Crossfit
Prerequisite: USA Weightlifting membership. 
CEU's available
Who should take the course? Apart from the obvious, anyone interested in improving weightlifting technique
***The Rx SmartGear Method @ T2 CrossFit – jump rope, double under clinic 
Saturday, 15 June 2019  2:30-5:30pm
Learn the basics of jump rope, singles, double unders and maybe even triple-unders from the industry's leading experts.
Open to all adults.
Click the link to reserve your spot.
***Girls Gone Rx : Saturday 7 September
"Girls Gone Rx is proud to announce our 4th Annual event in Pittsburgh! Our competitions are put on to bring all types of women together through Competing for a Cure."
Start planning with your partners. Two divisions again, Rx and BAM (BadAsses in the Making). For more information and how to decide which division is right for your team, check out the link. Girls Gone Rx information
****************************************
To read about Paris's and Anna's journey to qualify to represent USA at the Tokyo Olympic Games 2020, click here Henken : Tobias Sailing
**************************************
Please share with me, dates of events in which you are participating, to which you would like to bring attention: road races, competitions, fundraisers …
****************************************
FitAid: please pay for the cans you take. You can now charge your cc charge purchase (2 cans minimum) through the Gym Store on your account. There are step-by-step instructions next to the computer if you need help.
****************************************
Thank you for reading the blog on the T2 webpage. If you would like to receive it by email, please scroll down to the bottom of the Home page and Join Our Mailing List by entering your email address.
****************************