T2 Athlete Of The Month – January 2019 – Jessica McNeely
Tell Us About yourself: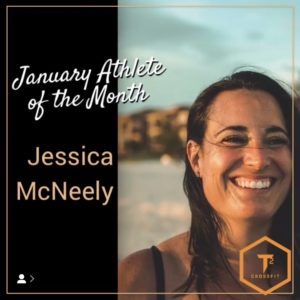 I live in Greentree with my husband, Jason, and our 6 year old handsome man, Donovan. I grew up in Greentree and didn't get very far (in true Pittsburgh fashion). I recently left my "career" in sales to be home more for Donovan and started a pet care business, Viva La Pooch. My husband and I love to travel, make homemade wine, are huge Foo Fighter fans and are super involved with our church.
How would your best friends describe you?
Strong, Compassionate, Determined, Loyal, Humorous (I promise I didn't make all of those up!)
What is one thing that people find surprising about you?
That I went to California a few years ago and passed my Level 1 Master Sommelier certification.
How long have you been doing CrossFit?
22 months….I count my time doing Crossfit like you count kids ages in months 'cause each one is very important!
What made you start CrossFit?
I hadn't worked out for nearly a year and felt terrible both physically and emotionally. T2 was next to the office I was working in and although scared to death, I gave it a shot and never left.
What is your favorite thing about CrossFit?
I love that I get stronger and make measurable progress every week and I'm super competitive (just ask my husband). I've also made some of the best friends at T2 making Crossfit even that much more special.
What is your favorite movement?
Hang Power Cleans
What is your least favorite movement?
Over Head Squats
What is your biggest accomplishment to date both CrossFit related, and non-CrossFit related?
I have a few with Crossfit but one of the 1st was a push up.  Although it seems small I have never able to do it. Not a single one. When push ups were in the one of the Open WOD's I remember messaging Justin (noon class) saying "What the heck am I going to do???" I practiced on my bedroom floor the night before and there they were proving you don't know what you can do until you try.
I know it's cliché but having our son is my absolute biggest non-Crossfit accomplishment.
What is your next goal?
Pull Ups!
What is your favorite WOD you have done so far?
Give me any WOD where I can lift things up and put them down.
Free write:

 
 "I'm so mad I went to that WOD today ~ Said no one ever!".  We are only upset about the ones we miss. I show up at T2 everyday to prove to myself that I'm strong, to show other people it's possible to workout and love it even with the busiest of schedules, it's my personal depression medicine, and to be around to support and be supported by all of the amazing people I have met here. Oh and, to write my name on the white board with perfect handwriting! Thank you to the 9am-ers who took me into their web these last few months. Thank you, Anna and Brad, for bringing this place together. It's made my life exponentially better! Cheers to all of you in 2019! 
Congratulations Jessica. 
**********************************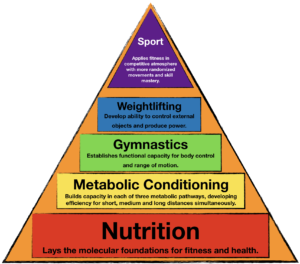 Nutrition: everyone and no-one seems to be an expert on nutrition – what we should be putting into our bodies and how much, what to avoid and is a cheat really that bad.
There is a ton of advice out there, and sometimes it all gets rather overwhelming. You are working out and getting stronger but the number on the scales isn't moving. So what should you do? This link: "I'm Working Out But Can't Lose Weight"  by Kai Rainey, The CrossFit Journal, is an easy insightful read to help understand what might be going on. Nutrition is the foundation block upon which everything else rests. As with any building, quality material at the bottom makes for a strong structure above. 
If you are strong-willed and disciplined enough, you can probably figure it out on your own. However, if you feel you would have more success with the support of like-minded people, chat with Coach Matt at the gym about the LuRong Challenge. The Challenge itself lasts only for a few weeks but it will help set you on the right track for the rest of the year and beyond. 
LuRong: Register for the New Year's Challenge. Coach Matt Erisey has the answer to all your queries, concerns and questions. The LuRong Challenges are a great way to get back on track of healthful eating. Coach Matt will be posting information about weigh-ins and measurements soon on the board at the gym. Begins on Monday.
*****************************************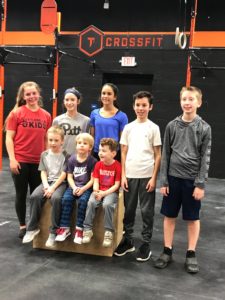 KB4K : Thank You.
From Maggie….Hi all, we just wanted to thank everyone for coming out to volunteer, participate and donate to our Kettlebells4Kids fundraiser. Our T2 Crossfit team made a combined total of almost $3,000 to help homeless children across America! The online donation page is open the rest of the year if you haven't donated yet and still want to make a difference in a child's life. Thank you all so much for supporting! T2 CrossFit Team : KB4K
It was great that whole families joined in and participated.  We had about  25 kids/teens participate along with their parents for this great cause.
*************************************
Fundamental Class: A great opportunity for a refresher course alongside a friend who is trying CrossFit for the first time. Call 412-277-5922 or email office.t2crossfit@gmail.com to reserve your spot.
***************************************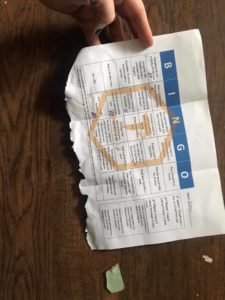 B-I-N-G-O ….. The dog eating your 'homework card' is no excuse. There is still time; ends 31 January.
****************************************
Saturday, 12 January 2019 
9:00 FREE Adult Community Class – no membership required
10:30 Members' WOD
Sunday, 13 January 2019 T2 Fitness classes – no membership required
8:00 SWEAT (Ladies only)
9:00 Cycle on Sunday
10:00 Row Zone!
Tuesday, 15 January 2019 T2 Fitness
10:30 Cycle on Tuesday
*****************************************
T2 CrossFit members' Unlimited T2 Fitness subscription available.
SWEAT/CYCLE/ROW ZONE! : For more information, make sure to follow our page on Instagram (search: Top) t2_fitness_   (search: People) @t2_fitness_   #tag us: #t2_fitness_
****************************************
Today's Fun/Trivia: have you ever taped your finger/hand to help prevent or protect hot spots/blisters and 30 sec into your workout, the tape is more on the floor than your finger? Well, I haven't tried this but there does seem to be a sticky solution to help this problem – Tincture of Benzoin – benzoin resin dissolved in alcohol. Apparently, if you apply tincture of benzoin to dry skin and let the tincture air dry for a few minutes (the alcohol evaporates) what is left is the very sticky benzoin resin. Now apply your tape, bandaid or whatever and it should stick for much longer than normal.
Check out this article for more details: A STICKY SITUATION: TINCTURE OF BENZOIN AND BLISTER TREATMENT AND PREVENTION  Outdoors : Appalachian Mountain Club
Yay Burpees! And embrace the deadlift.
Joanna
T2 CrossFit Team
**************************************
********Outside The Box: Dates for your diary
********* Saturday 9 February 2019 : Joe Yost 
Serious Fund Raiser for Coach Anna and her helm Paris Henken to help them on their quest for gold at 2020 Tokyo Olympics 
For more information, email Joe at joe@YostTeam.com
****************************************
GSCT – Girl Scout Cookie Time. There are several Girl Scouts in and around the box. Feel free to splurge if not for the troops, then yourself. 
Stella sent me this (daughter of Jen and Steve):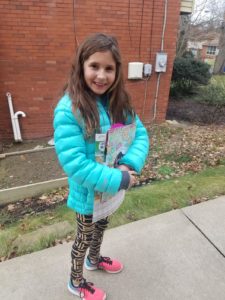 Hi, it's cookie season!  Last year, I donated 133 boxes to the military and would love to do the same.  I love Girl Scouts because I get to be with my friends and help the community.  Please consider buying or donating cookies from my troop #16247.  I now have a cookie link.  https://digitalcookie.girlscouts.org/scout/stella312195   Questions, text or call my mom, Jen 412-708-1109.  Thank you for your time and support.
Love, Stella
****************************************
New shirts – t-shirts and long sleeved thermals.
****************************************
FitAid: please pay for the cans you take. You can now charge your cc charge purchase (2 cans minimum) through the Gym Store on your account. There are step-by-step instructions next to the computer if you need help.
****************************************
Grocery bags: still collecting, still making mats, see the one at the gym.
****************************
Thank you for reading the blog on the T2 webpage. If you would like to receive it by email, please scroll down to the bottom of the Home page and Join Our Mailing List by entering your email address.
****************************