T2 CrossFit's Athlete of the Month (September) – Joerg Buttler
1.     Tell Us About yourself: I am 38 years old. I grew up in Germany but left in 2010 to move to Kolkata, India for work. I was there for 5 years before moving to Pittsburgh in 2015. I am a Mechanical Engineer with a company that builds steel plants. I currently live in Morningside with my wife and dog. My hobbies include cycling, CrossFit, and reading. I also love to travel and enjoy Asian food, particularly spicy food.
2.     How would your best friends describe you?
I am always positive and looking on the bright side of life. I rarely complain.
3.     What is one thing that people find surprising about you?
That I'm German and I don't drink beer or eat pork unless I absolutely have to.
4.     How long have you been doing CrossFit?
 At a CrossFit gym since 2014. I started in 2013 in India with the workout "Cindy" at a normal gym. It is one of my favorite workouts! I like the simplicity and that I can do it everywhere where I have a bar for pull ups.
5.     What made you start CrossFit?
I have been doing sports since I was a little boy and it is part of my daily life. When I was in India, my main sport was cycling and going to the gym. I was looking for something more challenging with good core training. That brought me to adapt my workouts with combination of different muscle groups. Until I met a friend in Malaysia who told me about CrossFit and then I started with "Cindy" or running combined with squats and push-ups. In Kolkata (India), there was no CrossFit box available. After I moved to the U.S., I started CrossFit at the box close to my work.
6.     What is your favorite thing about CrossFit?
The combination of agility, strength and endurance! You can be good in one of them, and there may be one workout which is made for you, but at the same time you can always work on something to get better. I also like the community and the fun during the workouts.
7.     What is your favorite movement?
Squat Snatch
Pull-ups
8.     What is your least favorite movement?
Front Squats / Thrusters
9.     What is your biggest accomplishment to date both CrossFit related and non-CrossFit related?
CrossFit:  That I mastered the proper technique for squat snatch and participated in my first competition – Winter Chiller 2018
Non-CrossFit:  My wife, Stacey and my dog, Peach – I am proud of the little family we have built in Pittsburgh.
10. What is your next goal?
CrossFit:  Do a muscle up (bar or ring); Properly finish the RX Open
Non-CrossFit:  Enjoy life, stay healthy and happy
11. What is your favorite WOD you have done so far?
I don't really have one because every workout has different pros and cons for me but for sure I like longer workouts.
12. Free write:
I would like to thank the T2 CrossFit team for this nomination and I'm happy to be part of this box, team or community. I enjoy the structured and professional approach from every trainer. For me it is the best box at which I have trained at so far and I'm not writing that because I'm biased. In general, I can only say that I would like to do sport as long as possible and that we all should have that in mind when we do our sport. Most important training should always have elements in it where we are not strong in order to get strong. Otherwise, have fun whichever activity you do!
***************************************
Double-under T2, Double T2 and T2's Dirty Dozen Challenge – Congratulations to everyone who took part. Winners of the Rx Rope (donated by RxSmartGear)
Double T2: Melinda Boyd; 
T2's Dirty Dozen: Jen Milavec. 

All other participants will receive a 15% discount coupon from Rx SmartGear and either some Fit Aid or LuRong product, generously donated by both companies.
**************************************
CrossFit Team Series : Registration is Open
The series runs from 19 September, when the first round of workouts will be announced, until 1 October when your last results submission is due. 
It is teams of 2 – male, female, mixed, 14-17 yr and 35+ masters, and as far as I can see, there is an Rx division as well as a scaled division. If you are interested, speak with Brad and read more about it on the CrossFit Games website. 
****************************************
SWEAT again on Sunday, 9 September at 8:00am  Ladies, it's not CrossFit. It is Fitness. No pre-registration. $15 per class. Come on your own. Come with a friend. No membership required. Just try it, you know you want to. 💦 💦 💦  For more information, make sure to follow our new page on Instagram (search: Top) t2_fitness_   (search: People) @t2_fitness_   #tag us: #t2_fitness_
Row Clinic – Sunday, 9th September 10:00am  Sign-up sheet is on the shelf by the computer. Improve your technique to get more meters for each stroke.
***************************************
Girls Gone Rx and BAM, Saturday 8 September: 
Sign up/let Anna know to volunteer – equipment movers, judges, registration, schedulers, liaison, cheerleaders …… or just come and see what it is all about. Competition begins at 9:00am with awards around 1:45pm.
CrossFit Specialty Weightlifting Course 15-16 September still time to sign up
https://training.crossfit.com/weightlifting
Lurong Summer Challenge : starts 17 September. T2's go-to guy is Coach Matt Erisey.
Lurong Summertime Challenge: https://challengeseries.lurongliving.com/summertime18/
***************************************
FitAid: please pay for the cans you take
Grocery bags: still collecting, still making mats, see the one hanging in the gym.
***************************************
Important:
*****Saturday 8 Sept: NO: Community Class 9:00am;   NO: Members WOD 10:00am*****
*****Sunday 9 Sept: YES: SWEAT @ 8:00am;   YES: Row Clinic 10:00am  (sign-up available at the gym)*****
Saturday 15-Sunday 16 Sept: NO classes at all
Saturday 22 Sept: YES: 9:00am Community Class, 10:30am Members' WOD
Sunday 23 Sept: YES: SWEAT @ 8:00am
********************************************
What is your Rx/prescription for this weekend?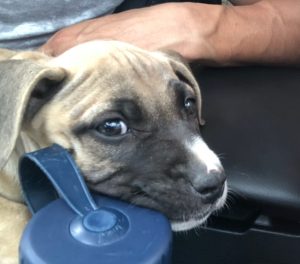 Go Bucks. Go Steelers.
And if you haven't yet met Luna, drop in next week sometime.
Joanna
T2 CrossFit Team
*********************************************
*Outside The Box:
*From Matt Erisey: Tuberous Sclerosis Complex
Join Matt's Team
http://tsa.convio.net/site/TR/Events/Step_14?px=1240205&pg=personal&fr_id=1524
At two months old Issac was diagnosed with Tuberous Sclerosis (TSC), which is a disease that causes benign tumors to grow on major organs. TSC is the same pathway affecting more than a dozen diseases & disorders including autism and epilepsy. There is no cure for this disease but advancements are being made each year.  By raising awareness we are one step closer to a cure or better medical treatments.  Please consider joining our fight as a walker/runner on September 29th or by making a secure donation. 
Thank you for your time/consideration!
The event: Saturday 29 September North Park Harmar Pavilion 
http://tsa.convio.net/site/TR?fr_id=1524&pg=entry
*************************************
*From Beth Beck: Emmaus Community of Pittsburgh
Hi Friends, A friend of mine has an intellectually disabled brother who gets so much love and care from this organization. I did this race last year and would love to get a group together to participate in the fall!
The event: Saturday, 20 October, South Shore River Park 
https://www.active.com/pittsburgh-pa/running/distance-running-races/emmaus-spirit-run-costume-5k-and-1-mile-fun-walk-2018
Thank you for reading the blog on the T2 webpage. If you would like to receive it by email, please scroll down to the bottom of the Home page and Join Our Mailing List by entering your email address.