Why Clean?
I'm not talking about cleaning the house or clothes, I'm talking about the weightlifting movement the Clean!   Why do we do it? And why should we do it?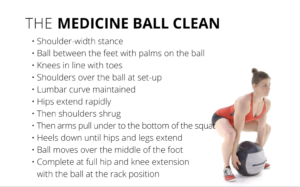 We have 10 Principles of Fitness in Crossfit and the clean alone uses 8 of the 10 in just one lift. If we add these into a WOD with higher reps, then we use all 10 principles.  There aren't many movements that we do that can boast/include all 10.
A clean involves picking up an object from the ground, catching it on your shoulders while squatting and then standing up with it.  
Let's look at the principles that are involved in just one lift:
Speed – ability to move quickly around the bar
Power – generating what is needed to get the bar moving quickly
Agility – ability to move quickly from pulling up to dropping under the bar.
Flexibility – ability to have high elbows and a good squat to catch the bar
Balance – staying on your feet and being able to control the bar through the movement
Accuracy – to be able to pull the bar in the path that you want 
Strength – being able to move the weight
Coordination – being able to hit all the points of the movement in a fluid motion.
When we add cleans into a workout, we add now include
Stamina 
Cardiovascular Endurance.
We are wrapping up our hang clean cycle today and headed into our power clean cycle starting on Monday.  If you were at class on Wednesday, you did clean shrugs.  Next week, we get to put it altogether.
Here is a link to an article that goes more in-depth as to why the clean is such a great movement!! The CrossFit Journal – Improving The Clean
Photos taken from CrossFit – Exercise/Demos
***************************************
CrossFit Team Series : Registration is Open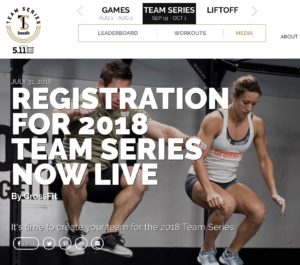 The series runs from 19 September, when the first round of workouts will be announced, until 1 October when your last results submission is due. 
It is teams of 2 – male, female, mixed, 14-17 yr and 35+ masters, and as far as I can see, there is an Rx division as well as a scaled division. If you are interested, speak with Brad and read more about it on the CrossFit Games website. 
****************************************
SWEAT again on Sunday, 2 September at 8:00am  Ladies, it's not CrossFit. It is Fitness. No pre-registration. $15 per class. Come on your own. Come with a friend. No membership required. Just try it, you know you want to. 💦 💦 💦  For more information, make sure to follow our new page on Instagram (search: Top) t2_fitness_   (search: People) @t2_fitness_   (tag:) #t2_fitness_
Row Clinic – Sunday, 9th September 10:00am
***************************************
Double-under T2, Double T2 and T2's Dirty Dozen Challenge – Completed sheets need to be in by end of Tuesday, 4 September. Please put them under the orange cone on the shelf.
**************************************
Girls Gone Rx and BAM, Saturday 8 September: gather your team and register (https://www.facebook.com/events/1815670758444395/). Deadline for registration is Sunday, 2 September; so get it done!!! ✅ Or, Sign up to volunteer – equipment movers, judges, registration, schedulers, liaison, cheerleaders ……
CrossFit Specialty Weightlifting Course 15-16 September still time to sign up
https://training.crossfit.com/weightlifting
Lurong Summer Challenge : starts 17 September. T2's go-to guy is Coach Matt Erisey.
Lurong Summertime Challenge: https://challengeseries.lurongliving.com/summertime18/
***************************************
FitAid: please pay for the cans you take
Grocery bags: still collecting, still making mats, see the one hanging in the gym.
***************************************
9:00am Saturday Community Class (Free – as many times as you want). This Saturday, come and meet our special community and coaches, and try a workout too. And the best thing, apart from the class being FREE, you don't need any CrossFit experience. In fact, you don't need any experience.
10:30am Members' WOD
***************************************
!!!!!!!!!!! IMPORTANT !!!!!!!!!!
Labor Day Hours: 8:00, 9:00, 10:30am     
No evening classes and No Kids/Teens classes.
Saturday 1 Sept: YES: 9:00am Community Class, 10:30am Members WOD
Sunday 2 Sept: YES: SWEAT @ 8:00am
Looking ahead:
Saturday 8 Sept: NO: Community Class nor Members WOD
Sunday 9 Sept: YES: SWEAT @ 8:00am, 10:00am Row Clinic (sign up coming)
Saturday 15-Sunday 16 Sept: NO classes at all
Saturday 22 Sept: YES: 9:00am Community Class, 10:30am Members' WOD
Sunday 23 Sept: YES: SWEAT @ 8:00am
********************************************
Have a safe and happy weekend and Labor Day.
Joanna
T2 CrossFit Team
*********************************************
*Outside The Box:
*From Matt Erisey: Tuberous Sclerosis Complex
Join Matt's Team
http://tsa.convio.net/site/TR/Events/Step_14?px=1240205&pg=personal&fr_id=1524
At two months old Issac was diagnosed with Tuberous Sclerosis (TSC), which is a disease that causes benign tumors to grow on major organs. TSC is the same pathway affecting more than a dozen diseases & disorders including autism and epilepsy. There is no cure for this disease but advancements are being made each year.  By raising awareness we are one step closer to a cure or better medical treatments.  Please consider joining our fight as a walker/runner on September 29th or by making a secure donation. 
Thank you for your time/consideration!
The event: Saturday 29 September North Park Harmar Pavilion 
http://tsa.convio.net/site/TR?fr_id=1524&pg=entry
*************************************
*From Beth Beck: Emmaus Community of Pittsburgh
Hi friends. A friend of mine has an intellectually disabled brother who gets so much love and care from this organization. I did this race last year and would love to get a group together to participate in the fall!
The event: Saturday, 20 October, South Shore River Park 
https://www.active.com/pittsburgh-pa/running/distance-running-races/emmaus-spirit-run-costume-5k-and-1-mile-fun-walk-2018
Thank you for reading the blog on the T2 webpage. If you would like to receive it by email, please scroll down to the bottom of the Home page and Join Our Mailing List by entering your email address.