Persistence (noun): firm or obstinate continuance in a course of action in spite of difficulty or opposition.
Do you have a story to share? May I share it with our community? Has being persistent with CrossFit helped you overcome some difficulty or opposition? Please email me joanna.tunnicliffe@gmail.com and over the coming weeks, I will share your story so that we may all be inspired by and celebrate with you.
**************************************
Congratulations to Arielle Kraushaar on her graduation from Nursing School. Her persistence is commendable.
Congratulations also to Matt Miller and Kate, Hillary Hocson and Shane, Kate Hazy and fiancé, already mentioned Ray Haspel and Zidnia – all these are engagements 💍 . And even more congratulations, this time to Erin Bazaz – she is expecting a baby. 👶 🍼 
***************************************
Schools're No Longer Out – well most of them anyway. So how about, in an attempt to hang on by our fingernails to the last vestiges of summer, we have an "impromptu" social in the parking lot on Friday during/after the evening classes (5:30-7:30pm) for a 'bring a dish to share' tailgate. It can be whatever category of food you like, Paleo, vegan, vegetarian, gluten-free, really tasty but bad for you, …. Nothing fancy. Well-mannered kids and dogs welcome. Just no glass or china please. I'll bring paper towels and trash bags. Maybe we could flip a tire or two? Corn Hole game appreciated. Anyone got a double dutch set of jump ropes?
***************************************
T2 Fitness, last week, held a Rowing Clinic. It is repeating again on this Sunday at 10am. Open to anyone but you do need to sign up. Email: office.t2crossfit@gmail.com or write your name on the list by the computer.
In a few weeks, T2 Fitness will be introducing a regular indoor rowing workout class, again open to everyone; the prerequisite for this will be the Rowing Clinic. So if you think you might be interested in the regular indoor rowing class and have a couple of hours this Sunday, sign up and be prepared to have fun and work hard. #t2_fitness_
***************************************
SWEAT again on Sunday, 26 August at 8:00am  Ladies, it's not CrossFit. It is Fitness. No pre-registration. $15 per class. Come on your own. Come with a friend. No membership required. Just try it, you know you want to. 💦 💦 💦  For more information, make sure to follow our new page on Instagram (search: Top) t2_fitness_   (search: People) @t2_fitness_   (tag:) #t2_fitness_
***************************************
Double-under T2, Double T2 and T2's Dirty Dozen Challenge – There is still time to get it done. Score sheets on the Computer Shelf.
Girls Gone Rx and BAM, Saturday 8 September: gather your team and register (https://www.facebook.com/events/1815670758444395/). Workouts WOD 1 "Waterfall" and WOD 2 "Tag Team Diane" have been released. Both Rx and BAM movements/weights are shown in the links. Or sign up to volunteer – equipment movers, judges, registration, schedulers, liason, cheerleaders ……
CrossFit Specialty Weightlifting Course 15-16 September
https://training.crossfit.com/weightlifting
Lurong Summer Challenge : starts 17 September. T2's go-to guy is Coach Matt Erisey.
Lurong Summertime Challenge: https://challengeseries.lurongliving.com/summertime18/
***************************************
FitAid: please pay for the cans you take
Grocery bags: still collecting, still making mats, see the one hanging in the gym.
***************************************
9:00am Saturday Community Class (Free – as many times as you want). This Saturday, come and meet our special community and coaches, and try a workout too. And the best thing, apart from the class being FREE, you don't need any CrossFit experience. In fact, you don't need any experience.
10:30am Members' WOD
****************************************
T²CrossFit Kids wish all of our @t2crossfitkids a great start to the new school year? Exercising your mind is as important as exercising your body! #schooldays #strongminds #t2kids #minibradletes #goodluck
***************************************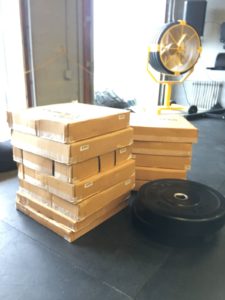 And just when you think, "Oh darn, I can't add more weight as there aren't any plates left", don't worry, we've got you covered.
Joanna
T2 CrossFit Team
*********************************************
*Outside The Box:
*From Matt Erisey: Tuberous Sclerosis Complex
Join Matt's Team
http://tsa.convio.net/site/TR/Events/Step_14?px=1240205&pg=personal&fr_id=1524
At two months old Issac was diagnosed with Tuberous Sclerosis (TSC), which is a disease that causes benign tumors to grow on major organs. TSC is the same pathway affecting more than a dozen diseases & disorders including autism and epilepsy. There is no cure for this disease but advancements are being made each year.  By raising awareness we are one step closer to a cure or better medical treatments.  Please consider joining our fight as a walker/runner on September 29th or by making a secure donation. 
Thank you for your time/consideration!
The event: Saturday 29 September North Park Harmar Pavilion 
http://tsa.convio.net/site/TR?fr_id=1524&pg=entry
*************************************
*From Beth Beck: Emmaus Community of Pittsburgh
Hi friends. A friend of mine has an intellectually disabled brother who gets so much love and care from this organization. I did this race last year and would love to get a group together to participate in the fall!
The event: Saturday, 20 October, South Shore River Park 
https://www.active.com/pittsburgh-pa/running/distance-running-races/emmaus-spirit-run-costume-5k-and-1-mile-fun-walk-2018
Thank you for reading the blog on the T2 webpage. If you would like to receive it by email, please scroll down to the bottom of the Home page and Join Our Mailing List by entering your email address.