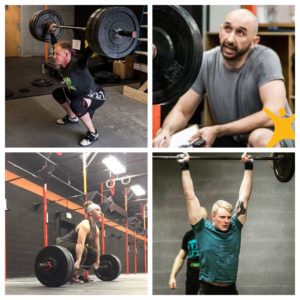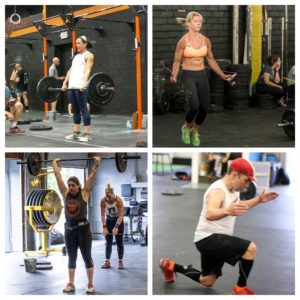 That's all it takes – teamwork and a community. And a lot of hard work. While Anna and Brad were away on vacation in Madison WI, this group of people kept everything running smoothly at T² CrossFit. Thank you team: Paul, Jax, Dana, Michelle, Nicole, Christian, Matt and Chris. Of course, our community also needs a 'pat on the back' for being patient and supportive. 👏 👏 👏 
*********************************************
Anna and Brad weren't really on vacation; they were working very hard.
Last week I gave the wrap up of the first day. Here's the rest of the competition starting on Friday morning. The schedule for the rest of the weekend was to have three events on both Friday and Saturday and some events on Sunday.
Friday started with a 1-rep max shoulder to overhead lift then went into a second event after a 1 min rest. The second event was the opposite of a 1-rep max (a sprint)…meaning it was a long cardio workout.
The lift went well. It's not my most comfortable movement, so we played it a bit conservatively just to make sure I got a decent number on the board. I ended up hitting 220# which landed me in 8th place for the event. But then the pain started. The next event was two rounds of rowing a 1000m, into 750m on a ski erg, into 50 DB Squats. To be honest, the squats were the most painful of it all. I got a little nauseous on the ski in the first round from pushing the pace but those last 15 squats of each round were the worst!!! So much pain.
I had a good first round against Sam Briggs (GBR) but she extended her lead on me a little in the second row. I closed a few meters in the ski, and then tried to close the gap on the DB Squats but she was just enough ahead of me that I couldn't catch her. It was a great fight and I pushed myself to my limit on it and finished the event second. 
The final event of the day was one I was really looking forward to. It was running, rope climbs and a yoke carry at 380#. It didn't go as well as I would have liked, but I finished second in it and was still fairly happy with that score given everything.
Saturday rolled around with a slightly earlier start than the other days. There was one event I was pumped for this day…and that was the swim!!! The first event went ok, and I finished fourth. Unfortunately, the two girls right behind me, Sam and Helena Faulk (SWE), both beat me and so closed the points gap on me a little.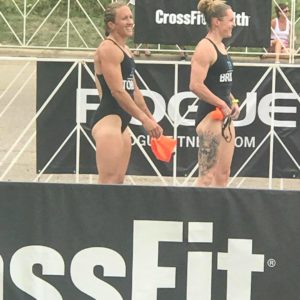 So when the swim came, I was on a mission to win the event. We had to swim 500m around buoys in Lake Monona. It was a mass start, all the 35-39yr old men and women. I knew it was going to get aggressive at the start, especially since we were all starting in the water at the same time, so at 'Go', I jumped forward and sprinted to get out in front of the pack. Now the downside to open water swimming is that you can't see exactly who is near you. The whole time, on my right side but about 5 lengths back and off to the side was someone wearing a swim cap. I had no idea if it was a guy or a girl, so I pushed the pace hard and dug deep to make sure they couldn't and wouldn't catch me. For a while I was convinced it was a male athlete, then at the final turn I thought it was one of the women, so I picked up the pace more because I wasn't going to get passed. I got the the ramp and ran out to the finish line, about 15 seconds ahead of the second place swimmer, only to find out it was one of the male athletes. So was the next one then about a minute after I had finished Sam came out of the water in second place. Oh well…it was a great swim and race and I was very happy to have won the event!
The day wrapped up with a 3rd place for me in the final event of the day.
Up to this point, I had known I was leading the whole time but I didn't know what the point spread was. I didn't want to know, Brad was doing a great job of just keeping me focused on the next event. That evening, we briefly discussed, not points, but the overall picture of the leaderboard, and I knew that I had to score 84 points to seal up the win. I didn't know what places got what points beyond first and second, so I wanted to just go out and try and win the events to make sure I did what was needed. 
I was really excited for the first event of Sunday. It involved a total of 90 GHD sit ups with a 14# ball and 30 x 100# sand bag cleans, over 3 rounds. At go, we hit the pace hard and knocked out the GHD sit ups very fast. I had a slight lead on Sam off the GHD and into the sand bag cleans. I stumbled on one that caused me to get a No Rep and gave her the chance to get one rep ahead of me. When we headed back to the GHD, I regretted the pace that we went out at but we kept the pace going despite how painful and nauseating it was. The race was close through most of the event though for the final 10 cleans she was 2 reps ahead of me as I started so I knew I had to sprint through them. I pushed and managed to catch up a bit, but not quite enough. We crossed the line within 2 sec of each other but she was first. I was bummed because I wanted to win that event too! But at the same time, I knew I had scored 90 points and had sealed up the overall win!!!!!!
Heading into the last event, however, I was still going to give it my all and push all the way to the finish. The event involved some bar muscle ups, chest to bar pull ups, regular pull ups and some thrusters. The first round went well, then in the second round I lost my rhythm on the chest to bar so had to drop down and jump back up causing me to lose distance on the leading two. After that the event went fine and I finished in 3rd sealing the deal on the overall title of Fittest on Earth Women Masters 35-39!
I am beyond happy with the result and I cannot thank everyone enough for their support. For all of my sponsors for their continued support in providing me with the best in the industry, my T2 CrossFit family that came and to those that cheered from afar. But my biggest thank you has to go out to my coach and my husband, Brad, who came up with the best strategies, who always knew what to say and how to say it to keep me on track and to guide me through the whole competition! Thank you Brad!! #teamt2. I competed on the floor as an individual, but it is a team effort to get there! Thank you to you all! You all are my Team!!   Anna
Whether you embrace CrossFit as a competitive athlete or as an athlete working towards being healthy and fit, the effort is still 100%💯 
*********************************************
SWEAT begins Sunday, 12 August at 8:00am  Ladies, it's not CrossFit. It is Fitness. No pre-registration. $15 per class. Come on your own. Come with a friend. No membership required. Just try it, you know you want to. 💦 💦 💦  For more information, make sure to follow our new page on Instagram (search: Top) t2_fitness_   (search: People) @t2_fitness_ 
********************************************
T2, Double T2 and T2's Dirty Dozen Challenge – hope it's going well.
Score sheets on the computer shelf.
**************************************
Girls Gone Rx and BAM, Saturday 8 September: gather your team and sign up. Workouts to be released very soon. It's getting close.
https://www.facebook.com/events/1815670758444395/
**************************************
CrossFit Specialty Weightlifting Course 15-16 September
https://training.crossfit.com/weightlifting
Lurong Summer Challenge Early Bird Sign Up runs through 27 August
Lurong Summertime Challenge: https://challengeseries.lurongliving.com/summertime18/
******************************************
FitAid: please pay for the cans you take
Grocery bags: still collecting, still making mats
******************************************
9:00am Saturday Community Class (Free – as many times as you want). This Saturday, come and meet our special community and coaches, and try a workout too. And the best thing, apart from the class being FREE, you don't need any CrossFit experience. In fact, you don't need any experience.
10:30am Members' WOD
******************************************
Congratulations Anna and Brad. #teamwork #community #fittestonearth #masterswomen35to39
Joanna
T2 CrossFit Team
******************************************************
*Outside The Box:
*From Matt Erisey: Tuberous Sclerosis Complex
Join Matt's Team
http://tsa.convio.net/site/TR/Events/Step_14?px=1240205&pg=personal&fr_id=1524
At two months old Issac was diagnosed with Tuberous Sclerosis (TSC), which is a disease that causes benign tumors to grow on major organs. TSC is the same pathway affecting more than a dozen diseases & disorders including autism and epilepsy. There is no cure for this disease but advancements are being made each year.  By raising awareness we are one step closer to a cure or better medical treatments.  Please consider joining our fight as a walker/runner on September 29th or by making a secure donation. 
Thank you for your time/consideration!
The event: Saturday 29 September North Park Harmar Pavilion 
http://tsa.convio.net/site/TR?fr_id=1524&pg=entry
*************************************
*From Beth Beck: Emmaus Community of Pittsburgh
Hi friends. A friend of mine has an intellectually disabled brother who gets so much love and care from this organization. I did this race last year and would love to get a group together to participate in the fall!
The event: Saturday, 20 October, South Shore River Park 
https://www.active.com/pittsburgh-pa/running/distance-running-races/emmaus-spirit-run-costume-5k-and-1-mile-fun-walk-2018
Thank you for reading the blog on the T2 webpage. If you would like to receive it by email, please scroll down to the bottom of the Home page and Join Our Mailing List by entering your email address.