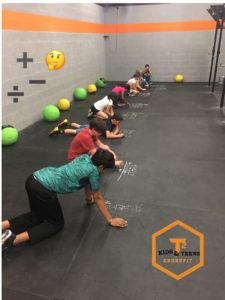 It's not the T2 CrossFit Kids.
T2 CrossFit Kids!!!!! It's fun, active and teaches them healthy lifestyles! Spaces open in our @t2crossfitkids kids, pre-teens, and teens programs! Come try the first class for free!!! Kids Mon/Wed 4:15-5pm, Pre-teens Mon/Wed or Tue/Thu 5-6pm, Teens Mon/Wed, or Tue/Thu 6-7pm! For more info call us at 412 277 5922 or email at office.t2crossfit@gmail.com

The T2 CrossFit Kids & Teens program isn't just about training our children to be stronger and how to live healthier lifestyles. It also teaches and encourages life skills … accountability, honesty, teamwork, self control, self confidence, responsibility, respect … to highlight a few.
*****************************************************
Ever wondered why gym bags smell so bad? Well, one of the reasons could be that the bag's owner has a pair of sweaty neoprene knee sleeves festering (definitely not drying) rolled up in the bag's dark recesses.
(Don't confuse knee sleeves with knee braces and knee wraps. Each have their own specific time and place for use and knee sleeves should not be used to try to fix an unstable knee.)
But first things first. Why wear knee sleeves? Should everyone wear them? Or just old people? Or just athletes who lift huge amounts of weights?
There are no definitive answers to these questions – there are times to use knee sleeves and times when you don't need to. The thinking is 'if you don't need it, don't use it', similarly with wrist wraps and weight belts. It is better to learn perfect form and strengthen the correct muscles from the get-go without assistance. As experience grows and more load is put on the knee, then knee sleeves may be an option.
My own personal experience fits in quite well with what I have read and in summary this is what I gleaned:
Neoprene knee sleeves come in various thicknesses. Depending on what you feel you need, will determine the thickness of the material you wear. 
You can wear knees sleeves all year round – they are not just for cold weather. Our knees have very poor blood supply; knee sleeves help keep them warm and increase the blood flow "through the joint".
Knee sleeves offer compression – this also helps with the blood flow issue but also helps to keep the patella and knee tracking in the correct way; it helps make you more aware of where your knee is going. (proprioception)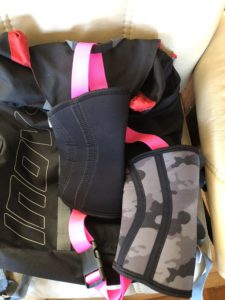 Knee sleeves offer only a little support – the neoprene by nature is a flexible, spongy material so will move as you do. (Knee sleeves are not knee braces and should not be used in place of a brace if that is what you have been told you need by a doctor because of an injury).
Knee sleeves provide cushioning during any movement when knees come into contact with the ground – eg lunges, burpees, knee push-ups.
But to get back to the smell. Air dry your knee sleeves. Tie them on to the outside of your bag using a custom made strap, or an old shoe lace. Either works fine. Wash them regularly and air dry them (no tumble dry). And when things get really smelly, extreme measures are required – Boil Them  or  Hot Water + Vinegar Soak Before Washing In The Laundry
**Links to several articles about knee sleeves are at the end of the blog.
*******************************************************
On Saturday, 21st July, Next Level Spine and Sports Injury Center are coming to T2 to do mobility assessment.  There is a sign up sheet at the box from today.  It will run from 9:00am-12:00 noon and they will be seeing two people every 15 mins. It is for T2 members. The sign-up sheet will be available until all slots are filled. A great opportunity to find out where you need extra work.
**********************************************************
Next Intro Class: Monday, 16 July. Call or email Anna. (412) 277 5922  http://t2crossfit.com/get-started/
*******************************************************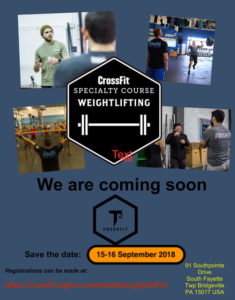 It has been confirmed –  CrossFit SpecialtyCourse: Weightlifting
DATE CHANGE: 15-16 September. 
More info and to register, click this link: 
https://training.crossfit.com/weightlifting
*******************************************************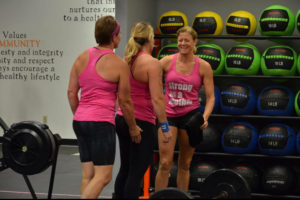 Girls Gone RX is back at T2 CrossFit – Saturday 8th September Early registration ends on Sunday, 15 July, that's this Sunday. Teams of 3 Badass Ladies: 4 Workouts  There is also a new category: BAD Teams (Bad Ass in the Making) more info: https://www.facebook.com/events/1815670758444395/ 
*******************************************************
FITAID: is not free. Please pay for the cans you take.
*******************************************************
Please keep bringing in your clean, used grocery bags. They will be collected and made into mats for the homeless. T2 is still collecting for the next couple of weeks. Thank you.
******************************************************
9:00am Saturday Community Class (Free – as many times as you want). This Saturday, come and meet our special community and coaches, and try a workout too. And the best thing, apart from the class being FREE, you don't need any CrossFit experience. In fact, you don't need any experience. 
10:30am Members' WOD
Joanna
T2 CrossFit Team
******************************************************
'Outside the Box': 
**Follow Anna and her sailing exploits in Gdynia, Poland at http://49er.org/event/2018-european-championship/ You will find her results, if you wish, by clicking the link, scrolling down a little and then clicking on the 49erFx results tab.
**I think I heard through the grapevine that some members are also training for a Spartan Race? Please let me have more details. Never done one and am interested in the process. 
**Exo Sleeves: T2 has a discount code (contact Anna) if you are looking to buy some and want to try this brand.
**https://www.crossfitinvictus.com/blog/how-to-wash-your-knee-sleeves/
**https://powerliftinguniversity.com/what-do-knee-sleeves-do/
**https://www.crossfitinvictus.com/blog/the-benefits-of-knee-sleeves/
**https://breakingmuscle.com/fitness/the-advantages-of-knee-sleeves-what-they-are-and-when-to-wear-them