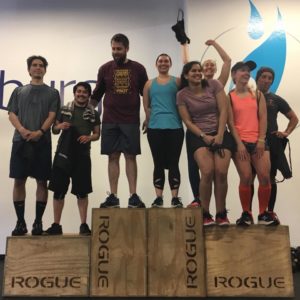 "Raise the Bar for PAAR" by Chris Mayhew, T2 Member (Report from "Outside The Box")
Saturday I entered a competition at Pittsburgh Fit. While I've raced bikes for 25 years I've never actually competed in anything athletic outside of that. Like everything in my life, bikes are involved. A friend of mine from BikePGH floated the idea months ago but we never followed up on it. Wednesday she messaged me about competing in Raise the Bar for PAAR.  I couldn't really back out since I'd floated the idea of Crossfit to her as a way to rehab some triathalon training injuries.
The location was Pittsburgh Fit. I'd heard of it via some cycling friends and actually have a client who goes there for some PT/personal training. It's in Wilkinsburg, near the Co-op. From the moment I set foot out of the car, people were really nice to me, much like Corinna was when I tried to find the front door to T2 many months ago. That gave me a good feeling about the whole experience, which turned out to be true. Every single person was encouraging and kind. Clearly this is a really special community.
The comp was 5 rounds. We had a solid plan for round 1, which was going to be good to us because it included running. After that it was mainly gut through. I'm so bad at looking at a workout and knowing what will go well and what won't. The stuff I thought would be a breeze wasn't and some rounds were harder than I ever could have imagined. I think I've flopped once or twice at T2 and I flopped twice in 5 WODs this time! Luckily my partner, Alex, was top notch and ended up picking up some serious slack for me on several occasions.
One really nice surprise was how well I was prepared for a comp, without realizing it. I knew every standard we needed to meet (or I knew to ask for clairification) and I could hear Anna's voice in my head during the movements. Brad is so great with work flow and setting up movements. We screwed up once but were able to warn our buddy team about it. It really didn't feel much different than 5 days at T2, just with more people and a lot less time between WODs! 
Thank you to everyone on the Facebook group or in person who asked about it and/or gave me advice. That really helped and it meant a lot to know people cared. Thanks especially to the 9a crew who are all awesome and inspiring. Turns out pre-performance nerves are the same across sports and I finally got to sleep Friday night thinking "9am is pulling for me, you can do this".
It was a really nice comp to get my feet wet, for sure. Nothing too crazy like a snatch ladder or pegboards and if you know me, you know I love a partner workout. And it's nice to know I even can compete, if I wanted to, again. Watching y'all slug through the Open was so inspiring but wasn't something I ever thought I could do. Best of all I won some orange shirts I'll be wearing on Tuesday when I get my nose back to the grindstone. 
(PAAR: Pittsburgh Action Against Rape)
(Ed Note: Chris actually ended up on the podium. 😊 Congratulations Chris)
**********************************************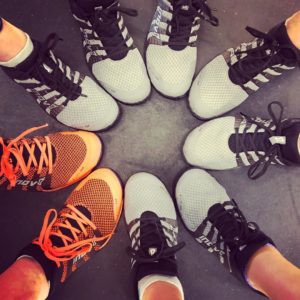 This past week, T2 had a visit from Inov-8 rep, Alex Clark. Members were able to try on different styles of Inov-8 shoes and make purchases if they wanted. There is also a link on our web page to find out about and purchase Inov-8 shoes. (Photo credit: Amy Jo Photography)
**********************************************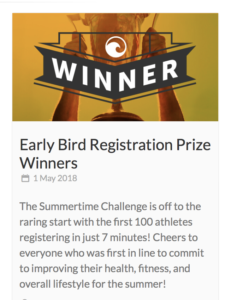 Registration is still open for the next Lurong Challenge. If eating more healthfully is part of your journey, this is a good way to start. Lots of information, a supportive community to help you through the dark times and visible and physical results at the end of it. Summertime Challenge Series  We also have a T2 private FB page dedicated to Lurongers where they can chat, ask questions, share recipes…… The Challenge itself begins on 14 May for 5 weeks. Read about it or ask Anna. Or ask our T2 participants.
T2 has already had some prize winners – Early Bird Registration – Ray Haspel, Jessica McNeely, Matt Erisey, Megan Doyle, Lindsey Erisey. Nice job, people. 😊 
******************************************************
CrossFit is for everyone. Got some doubts? Try our next Intro Class which begins on Tuesday 8 May. Contact Anna for more information via email  or call her 412 277 5922 (leave a message if she doesn't answer; she's probably coaching).
******************************************************
9:00am Saturday Community Class (Free – as many times as you want). This Saturday, come and meet our special community and coaches, and try a workout too. 
10:30am Members' WOD
Good luck to those T2 members who are running in the Pittsburgh Marathon, half and/or relay. Have fun; enjoy the experience.
Go Pens.
Joanna
T2 CrossFit Team
******************************************************
Members Involved in 'Outside the Box' & Charity Events:
**'Run For A Cure'**. Good luck Whitney!!!!!!! 
From Whitney Flemming:
I will be running the Pittsburgh Marathon Relay this year, 6th May, Sunday, as part of the "run for a cure" Pittsburgh group to raise money towards research to help find a cure for Cystic Fibrosis. https://www.crowdrise.com/runtocurecf2018/fundraiser/whitneyfleming1#the-story
**'My Voice' and 'My Bike'**
T2 member, Bruce Barger's son and his gym are hosting an event to raise money for the Variety Children's Charity on 5 May, Saturday. Your effort is only required for a 125m sled pull. "Support a local charity and win cash for the fastest man and woman. Saturday, May 5th: Show up any time between 10-2." For more info, click here Variety Children's Charity or speak with Bruce.
**Sunday Track**
Totally unofficial workout but fun, even when it snows. If you want to get your Sunday moving, meet the group at Jefferson Middle School track ready to go at 10am (warmed-up and with your workout ideas ready to implement).
#t2crossfit
Hashtag your IG photos from outside the box to share inside the box.
Please let me know if you have any events coming up that you would like to share. They don't have to be for charity. It can be just for yourself. Our T2 community loves to live vicariously through others.