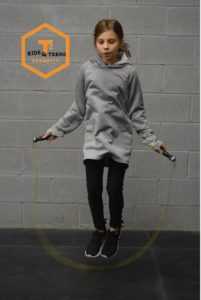 Our April @t2crossfitkids enjoys CrossFit for many reasons! "CrossFit challenges me each day. I have made new friends and I really like all of the coaches! I also really like the music!" Here are some fun facts about our April preteen: 
How long have you been doing CrossFit? About 3 months

 

What other sports do you play? Soccer

 

What are your favorite CrossFit movements? Double Unders and pull-ups

 

What are you working hardest to improve on? Stringing together 15 dubs in a row and my strength

 

Which athlete(s) do you look up to the most? My mom and @atunnicliffetobias
#t2crossfit #t2preteens #minibradletes #crossfitkids @t2crossfit @crossfitkids
This young lady is off to a great start on her journey, setting achievable goals. Notice she didn't say she wanted to Rx a workout; just improve one movement and her overall strength.
*******************************************************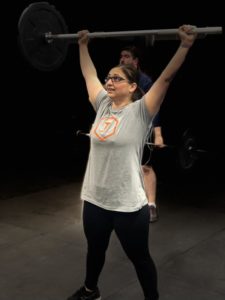 April T2 Athlete of the Month: Paty Khalil
1.     Tell Us About yourself:     My name is Paty/Patricia Khalil. I grew up in another country (Lebanon) and I moved to the States when I was in my 20s to continue my medical education. I have been living in Pittsburgh area with my husband for the last 12 years. I am a mom of 2 amazing little girls who keep me busy but quite entertained. I am also a kidney doctor (nephrologist) so I take care of patients who have weak kidney function or are on dialysis.
I enjoy hiking and reading either biographies or political books or silly romantic books that require absolutely no IQ whatsoever.
2.     How would your best friends describe you?     patient, focused and adaptable ( I am only mentioning the good things of course)
3.     What is one thing that people find surprising about you?     English was my third language growing up. I spoke Arabic and French as first and second languages.
4.     How long have you been doing CrossFit?     For 7 months
5.     What made you start CrossFit?     So I was already in the process of getting back in good physical shape and losing weight and I decided that I want other measurable goals besides the number on the scale. I also wanted to feel stronger. I researched and I felt that CrossFit could be it. It does not harm that I live 8 minutes away from T2.
6.     What is your favorite thing about CrossFit?     My absolute favorite thing is the community that CrossFit creates . It makes me feel supported.
7.     What is your favorite movement?     push press and BFSU maybe are my favorites .
8.     What is your least favorite movement?     Overhead anything
9.     What is your biggest accomplishment to date both CrossFit related and non-CrossFit related?     Well my biggest accomplishment in CrossFit is actually coming 5 days a week for the last 4 months and feeling that I could do each and every WOD ( talk about "scalability").
With non-CrossFit, my biggest accomplishment is actually keeping up with what 8 and 5 year old girls do these days !
10. What is your next goal?     My next goal would be not to finish last in the WODs 🙂 and maybe in like 10 years do a pull-up or a HSPU or DUBS .
11. What is your favorite WOD you have done so far?     I actually have to say and even though I complain a lot, I like the challenge in each WOD. I always look the night before at around 5:30-6 pm and see what it is.
12. Free write:     First, I do want to thank the coaches for their support and endless patience. You are the reason that this place is so awesome .
Second, I do want to give a big SHOUT OUT to the 9 am group who helped me a lot when I started and to the 6:30 am group who gives me the drive to show up every morning -especially the ladies: I Love our group texts 🙂
Third, I do want to say that CrossFit is for everybody and if I can do it then anyone can. CrossFit is for sure way out of my comfort zone but I am so glad that I started it. It is all about the discipline of the mind and the body.
(Ed note: Congrats Paty, another lady who is working the journey and getting results.)
**********************************************************
I am sure most people who actively take part in CrossFit and those who came and went, all heard and maybe even uttered the words, "Leave your ego at the door". It's hard to do but it applies to everyone – the newbie through to the most experienced athlete in whatever field. And yes, to you too!
Sometimes we get so wrapped up with PR's, the movements in workouts and Rx'ing that despondency sets in when we see a WOD in which there isn't one movement we can do as prescribed; every movement has to be modified to the point where it doesn't even resemble the original workout. You know what I am talking about? Do we quit? Go home? No. We re-focus on the progress we have made to get to this point. 
The 10 Fundamentals of CrossFit are really how we should measure our progress, not whether we can Rx a workout. Continue to improve the Fundamentals and the Rx will come.
Cardiovascular/respiratory endurance
Stamina
Strength
Flexibility
Agility
Balance
Coordination
Accuracy
Power
Speed
If you would like to read about a CrossFitter who refocused her assessments of progress and improvements (and what prompted my writing), follow this link: You'll Never Rx Anything
**************************************************
Registration is open for the next Lurong Challenge. If eating more healthfully is part of your journey, this is a good way to start. Lots of information, a supportive community to help you through the dark times and visible and physical results at the end of it. Summertime Challenge Series  We also have a T2 private FB page dedicated to Lurongers where they can chat, ask questions, share recipes…… The Challenge itself begins on 14 May and lasts for 5 weeks.
******************************************************
9:00am Saturday Community Class and 10:30am Members' WOD. This Saturday, how about bringing a friend to the Community Class and help him/her begin his/her journey back to wellness and fitness.
Go Pens!
Start tapering if you are running in the Pittsburgh Marathon. 
Joanna
T2 CrossFit Team
******************************************************
Members Involved in 'Outside the Box' & Charity Events:
**'Run For A Cure'**
From Whitney Flemming:  I will be running the Pittsburgh Marathon Relay this year, 6th May, as part of the "Run for a Cure" Pittsburgh group to raise money towards research to help find a cure for Cystic Fibrosis. https://www.crowdrise.com/runtocurecf2018/fundraiser/whitneyfleming1#the-story
**'My Voice' and 'My Bike'**
T2 member, Bruce Barger's son and his gym are hosting an event to raise money for the Variety Children's Charity on 5 May. Your effort is only required for a 125m sled pull. "Support a local charity and win cash for the fastest man and woman. Saturday, May 5th: Show up any time between 10-2." For more info, click here Variety Children's Charity
#t2crossfit
Hashtag your IG photos from outside the box to share inside the box.
Please let me know if you have any events coming up that you would like to share. They don't have to be for charity. It can be just for yourself. Our T2 community loves to live vicariously through others.