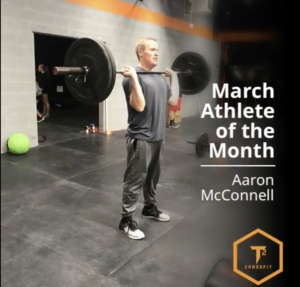 T2 March Athlete of the Month – Aaron McConnell
1. Tell Us About yourself: I'm 32 years old. I grew up in a small town on the border in southern Arizona. Went to school at University of Arizona for business. I lived a couple years in Texas and New Mexico before moving to Pennsylvania. I've lived in PA for just about 3 years now.
2. How would your best friends describe you? They would probably say I'm obnoxious, haha.
3. How long have you been doing CrossFit? Started in November 2017
4. What made you start CrossFit? I tried "traditional" gyms but couldn't really get into it. I have a good friend that's really into CrossFit back home. Then I kept seeing these T2 stickers on cars around the area and thought I would give it a try.
5. What is your favorite thing about CrossFit? There is always some challenge or movement to work toward.
6. What is your favorite movement? So far, I really liked split jerk.
7. What is your least favorite movement? Lunges and overhead squats.
8. What is your biggest accomplishment to date both CrossFit related and non-CrossFit related? CrossFit related I've gained a lot of mobility I didn't have before.
9. What is your next goal? Chest to bar.
10. What is your favorite WOD you have done so far? I love any WOD that doesn't involve squats or lunges.
11. Free write: I just want to say thank you to Brad, Anna and Paul for everything they have taught me so far. I originally started just to lose a few pounds but now I'm kind of addicted to CrossFit.
************************************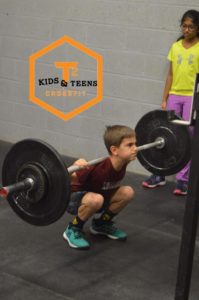 T2 Kids, Preteens & Teens  – Meet our March @t2crossfitkids Athlete of the Month!
1. How long have you been doing CrossFit? 18 months
2. What other sports do you play? Baseball
⚾ , basketball
🏀 and soccer
⚽
3. What is your favorite CrossFit movement? Back squats
4. What are you working hardest to improve? Double Unders
5. What athlete do you look up to the most? Mike Trout
This T2 Preteen says, "I like CrossFit because it pushes me and it's fun to do." #t2crossfitpreteens#t2crossfit #minibradletes #howdoyoulivewell@t2crossfit @crossfitkids @t2crossfit
*************************************
2018 Reebok CrossFit Opens ….. 18.4
Love the Opens or Hate them, you have to admit the workouts so far have delved into our inner self; and for some, have taken them to their 'dark place'. As Dave Castro and others have said all along, the Opens are not to train, they are to test your training. The Opens will spotlight your weaknesses and give you a whole bunch of movements on which to work and improve over the upcoming next year.
18.3 did what it was supposed to do …. separated the elite from the rest of us. Metaphor: the cream has risen to the top of the milk. But having said that, during 18.3, how many got further into the workout than they had initially anticipated? Who got their first double under? … their first pull up? …. first ring muscle up? All such an amazing feats and feeling. Progress.
***************************************
#t2crossfit : Hashtag your IG photos with #t2crossfit  If you post fitness/health related photos on Instagram, by hash tagging them, they will share on our computer at the gym. This would be really exciting at the moment if you are visiting other gyms around the country/world. Remember #t2crossfit #community
***************************************
"And That's A Wrap!" The last Friday Night Lights will be on 23 March. We would like to celebrate 18.5/the end of the Opens, with a 'bring a dish/share a dish'. All types of food are welcome; we will also have dishes from Girl Friday Cooking.
***************************************
CrossFit Speciality Workshop: Culinary Ninja Saturday, 7 April 2018  Please help spread the word about this workshop. It is about food and clean eating, not CrossFit. You just have to love food.  (Ed Note: the food you make is delicious.)
***************************************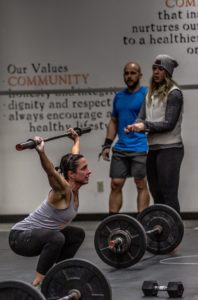 Saturday 9:00am Free Adult Community Class – open to members and non-members alike, all skill levels (zero to expert) welcome and encouraged. A little hesitant? Come with a friend.
**************************************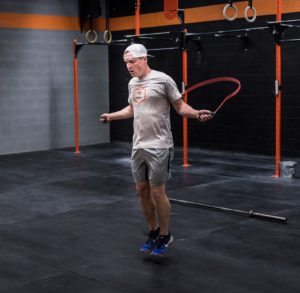 10:30am Members' Only WOD These are a lot of fun. Meet members whom you wouldn't normally see. Workout with a partner or in teams of 3. And don't worry, as always movements are modifiable and scaleable.
**************************************
Have a great weekend. See you on Friday evening for Friday Night Lights.
Joanna
T2 Team
(Most photos by Amy Jo and Wade Roth. Please follow the links to see the rest of their photos. They both capture the 'electricity' and intensity of what the Opens are all about.)
**************************************
Outside The Box + Charity Events
'Run For A Cure' 
From Whitney Flemming:
I will be running the Pittsburgh Marathon Relay this year, 6th May, as part of the "run for a cure" Pittsburgh group to raise money towards research to help find a cure for Cystic Fibrosis. https://www.crowdrise.com/runtocurecf2018/fundraiser/whitneyfleming1#the-story