February Athlete of the Month – Jen Yosef Tigue

1. Tell Us About yourself:
I was born and raised in Dubai and relocated to California with my family in high school. After graduating from the University of Utah, I started my career in the Energy industry and moved to Pittsburgh for work. My husband and I now live in South Fayette. 
2. How would your best friends describe you?
Competitive and ambitious
3. What is one thing that people find surprising about you?
I'm a Civil and Nuclear engineer 
4. How long have you been doing CrossFit?
3 years
5. What made you start CrossFit?
I wanted to try a more structured workout routine that pushes me every day.
6. What is your favorite thing about CrossFit?
I love the mental toughness, focus and discipline it creates for me. I also enjoy when my husband and I can wod together.
7. What is your favorite movement?
Back squats
8. What is your least favorite movement?
Rowing 
9. What is your biggest accomplishment to date both CrossFit related and non-CrossFit related?
Crossfit – Toes to bar and pull-ups
Non Crossfit – Co-founding a home improvement technology company.
10. What is your next goal?
Double unders
11. What is your favorite WOD you have done so far?
Cindy
12. Free write: (anything else you would like to say)
I want to thank the T2 coaches for pushing me and helping me get stronger. Really grateful to be a part of the T2 community and have met some amazing people! Also thank you for creating fun partner WODs on Saturday. 
(Ed Note: Jen was also one of the featured tech leaders/entrepreneurs by GeekWire at their recent reception, asking, "What makes Pittsburgh's tech scene special, and how it needs to improve?") 
***********************************************
T2 Rowing Clinic: this Saturday, February 10th, 12pm; coached by Bradletes, Brad Tobias; numbers capped at 24. Areas covered: proper technique and more efficient technique – getting more meters for your pull.
If you are interested, please email only Anna at office.t2crossfit@gmail.com (no messages or FB messages – this way she will have all names together in one place). One or two places left.
**********************************************
CrossFit Opens: Registration is open https://games.crossfit.com/article/2018-reebok-crossfit-games-season-schedule/liftoff
****************************************
Lurong Challenge Workout will take place on Saturday, 3 February, at 8:00am. Doors will open at 7:30am to allow you to warm up adequately; workout begins at 8:00am. Same thing with videoing – make sure you set up in plenty of time.
If you win a prize in the Lurong Challenge, please, please let me know. You deserve to have credit given for your supreme efforts.
*************************************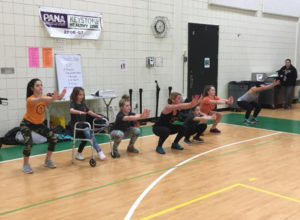 Last week was burpees. I hope that knowing why you should do burpees makes them a little more palatable. However, there are times when you just can't bring yourself to drop and give 10. In these moments, try Air Squats.
The attached article answers 17 commonly asked questions and helps to debunk some of the misinformation floating around out there about squatting.
Do squats really make your butt bigger? What squats really do to your booty & your body https://www.fitnessblender.com/articles/do-squats-really-make-your-butt-bigger-what-squats-really-do-to-your-booty-and-your-body
*************************************
Instagram Social Media – #t2crossfit
Would you like to see your photos on the screen at the gym? Now's your chance. If you hashtag your photo (fitness, healthy related) with #t2crossfit it will automatically go into the feed for the computer at the gym. It is a way to share what you do "outside the box" with your fellow members "inside the box" even if you are not 'friends' on social media.
**************************************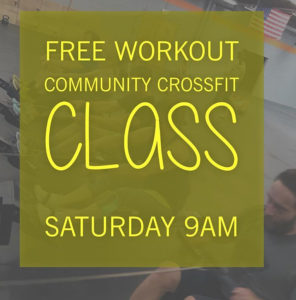 Saturday 9:00am Free Adult Community Class – open to members and non-members alike, all skill levels (none to expert) welcome and encouraged. A little hesitant? Come with a friend.
**************************************
10:30am Members' Only WOD: These are a lot of fun. Meet members whom you wouldn't normally see. Workout with a partner or in teams of 3. And don't worry, as always movements are modifiable and scaleable. (Jen is a great partner to WOD with.)
******************************************
CrossFit Specialty Workshop: Culinary Ninja Saturday, 7 April 2018 @ T2 CrossFit
*****************************************
Please be careful in the snow and ice. I know you can drive OK in those conditions, it's all the other people out there who have problems.
Joanna
T2 Team
*******************************************
Outside The Box + Charity Events
Track on Sunday – given the changeable weather being experienced in the Pittsburgh area at the moment, read snow, ice, freezing rain, rain and sun, track will resume in March.
Lift-A-Thon
From Dan Blevins:
31 March 2018 raising money for the Veterans Leadership Program. Registration is free but participants are expected to raise money for the cause. https://www.classy.org/event/veterans-lift-a-thon-presented-by-cocoa-elite/e158677
'Run For A Cure'
From Whitney Flemming:
I will be running the Pittsburgh Marathon Relay this year, 6th May, as part of the "run for a cure" Pittsburgh group to raise money towards research to help find a cure for Cystic Fibrosis. https://www.crowdrise.com/runtocurecf2018/fundraiser/whitneyfleming1#the-story
#t2crossfit – Hashtag your IG photos from outside the box to share inside the box.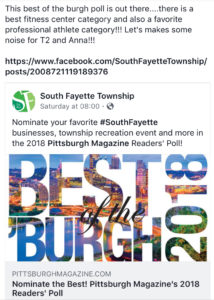 Nominate the Best! Pittsburgh Magazine's 2018 Readers' Poll: let's see if we can get T2 CrossFit and Anna recognized. Click the link and vote: http://www.pittsburghmagazine.com/Best-of-the-Burgh-Blogs/The-Best-Blog/February-2018/Nominate-the-Best-Pittsburgh-Magazines-2018-Readers-Poll/
******************************************
Paul & Joanna Update: Well we finally made it to New Bern NC, 3 months later than planned but safe and sound. Coming in yesterday from Morehead City, we encountered 25-30mph sustained winds with higher gusts and 3-4 ft waves. Fortunately the marina's waters were calm and partly sheltered from the wind. Now the work starts in earnest to get her ready for our summer trip up into the Chesapeake Bay.