2nd Annual Winter Shindig (aka Holiday Get Together/Party)
Thank you to everyone who came last Saturday afternoon. I hope everyone enjoyed themselves. The 'big floor games' were a huge hit with the younger members and siblings, so thank you for lending us those. Also a very big 'thank you' to everyone who donated a 'basket' and/or bought raffle tickets. The response in both cases was huge. So huge that we almost doubled our fundraising total from last year. This year you all raised $1,400 which I will be delivering to Animal Friends for them to put towards the Pets for Vets program. I am so proud of the T2 Community.
************************************************
Change the battery – I was reading an article today in which Apple admits to slowing down the processing in older iPhone 6s and iPhone 7s; not enough juice to immediately fulfill the demands of the most recent apps. However, there is a way around this – change the battery.
It got me thinking, as I was pounding and 'dying' on the trails with the dogs, that it would be so easy for us older athletes if we could just change our batteries and be up to speed again. Unfortunately this isn't possible so we have to take care of the battery we have.
If you are reading this, you are probably already on the way to preserving what you have – by adopting a healthy lifestyle. A healthy lifestyle is definitely a choice, sometimes a very hard choice but with a supportive, like-minded community behind you, it makes it a little easier. Exercise (scaling where necessary), rest, sleep, clean eating, social interaction/community, mental stimulation … all contribute towards a healthy lifestyle.
Which leads nicely into …..
http://business.financialpost.com/technology/apple-slows-some-older-iphones-because-of-flagging-batteries
***********************************************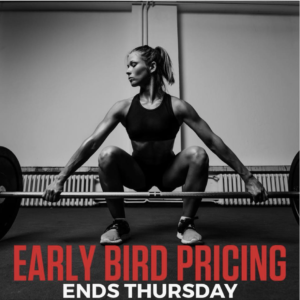 The January/February Lurong Challenge –
Thursday, 28 December is the cut off for the Early Bird Registration. Still on the fence? Not quite sure what it is? Speak with Anna or ask members at T2 who have participated in previous Challenges. It is definitely worth a try if you haven't done one before and doing it again if you have. We have the best, most supportive community to help you through.
*****************************************
3 words/short phrase – how would you express your experience at T2? What is it that encourages you to talk up your experiences here? Please keep jotting down your ideas and pinning them to the board.
***********************************************
Saturday Class Schedule: 9:00am Free Adult Community Class – open to members and non-members alike; no prerequisite skill level. A great way to get you ready to face the last minute shopping crowds at the mall.
10:30am Members' WOD – the penultimate one of 2017.
*************************************************
Last minute stocking stuffers – beanies and T2 CrossFit Gift Cards – for any value.
Do you wear inov-8 shoes? You can now purchase them through our website. Check out the link Shop inov-8 I believe the the discount code for the All Train shoes has been extended.
*************************************************
Next week's schedule: Monday, 25 December – closed
Tuesday, 26 December – 8:00, 10:00, 12:00, 4:00
Wednesday, 27 December through
Saturday, 30 December – regular schedule
Monday, 1 January – closed
Tuesday, 2 January – regular schedule
There will be T2 Kids & Teens on Wednesday, 27 December
************************************************
Have a safe and wonderful weekend/Holidays. Eat, drink and be merry but also be careful.
Go Steelers. Let's see if we can not make the last throw of the game an interception unless we are doing the intercepting.
Joanna
T2 Team
The every changing weather forecast has temperatures hovering around freezing with a few possible snow flakes. What awesome running conditions. 10:00am at Jefferson MS on Sunday.
The Little Hats, Big Hearts appeal is still going. Wade Roth donated some yarn if you would like to make a hat or two.