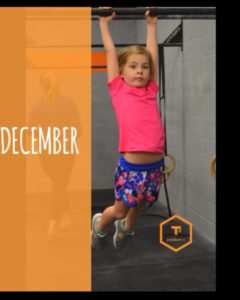 T2 Kids' December Athlete!
1. How long have you been doing CrossFit? 7 months
2. What other sports do you play? Ballet, snowboarding, soccer and swimming
3. What is your favorite CrossFit movement? C- Swings
4. What are you working hardest to improve? Pull ups and jumping rope
5. What athlete do you look up to the most? Big Coach (aka Anna) because she is really strong!
This T2 kids athlete says that @t2crossfit is the best Crossfit in the world! It is fun and I like to play the games at the end of the class! #t2crossfit #crossfitkids #minibradletes #athleteofthemonth #howdoyoulivewell #stronggirlsclub @crossfitkids
*********************************************
To Tone Or Not To Tone: If you are still on the fence about whether or not to tone up your muscles (a little or a lot), you may find this short article, Muscle Mass: A Woman's Best Friend an interesting read. Yes, it is directed to women but the benefits are the same regardless, and it tends to be women who are the ones usually more apprehensive about the whole 'muscle mass' issue.
"There is no one way to define beauty. But there's also no denying that a healthy body (regardless of shape or size) is a beautiful body. Muscle mass, derived from strength training, is the only tissue with the ability to shape and tone one's body. So building that muscle mass gives any woman her best bet at achieving the shape she was made to rock."
Four benefits (but not limited to these): "Fat Loss; Strength; Youthful Appearance; Beautiful Body" (see above) It's easier if you have a supportive community around you.
*********************************************
2nd Annual Winter Shindig: it's almost here. I am excited; I hope you are too. The T2 Team is looking forward to greeting you all. Bring your appetite to help devour the delicious food being provided by Hazelnut Catering (T2 member Stacy Jordenoff's company) plus the side dishes shared by our members, and be ready to hone your game skills. There will be plenty of games from which to choose. Or just come and chill and meet the members whom you never see because they come at the opposite end of the day.
To our members who have volunteered to lend us their games, thank you and please feel free to bring them in any time from now. We will find space to store them.
If you are donating a basket for the raffle for "Pets For Vets", those too maybe brought in any time. It would be really helpful for everyone if you would print a list of the contents/description of your 'basket'. I will staple it to the raffle ticket brown bag for all to see. Thank you.
It goes from 2:00pm to 4:00pm. If you can only make it for a few minutes, that is perfectly fine. We would rather see you for just a short while than not at all and if you are late, I promise there will be no burpee penalties.
**********************************************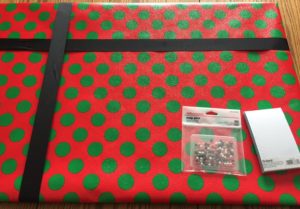 3-Adjectives   – words to describe a noun
Beginning at the party and continuing until Saturday, 23 December, we are asking you to share 3 adjectives that you feel best describe T2 CrossFit and our community. There will be cards, pens, pins and a present posterboard. Write your name on the back of the card, your 3 adjectives on the front and pin it to the board.
Our intention is, by sharing your 3 adjectives on our social media sites with appropriate photos, we can encourage others to feel more at ease about taking the first step to a healthier them; help them take the hardest step, the one in through the door.
**********************************************
Saturday Class Schedule: 9:00am Free Adult Community Class – open to members and non-members alike.
10:30am Members' WOD: Yes, this will still take place. If you do this one, save lunch for when you come back at 2pm.
*************************************************
Lurong Challenge: With all this talk of food, and how you juggle good eating habits with the delicious food in front of you, it's good to have a healthy food/diet focus just ahead. The Lurong Challenge isn't a diet per se; you still get to eat. What it is, is nutrition, fitness, lifestyle and accountability in a fun and engaging nationwide competition. What does this mean? Check out their link: Lurong Living Challenge Series or speak with Anna.
*************************************************
Did you see the new beanies? They are extremely warm. Would make great stocking stuffers. Also, T2 CrossFit Gift Cards – for any value.
Do you wear inov-8 shoes? You can now purchase them through our website. Check out the link Shop inov-8
*************************************************
Looking ahead schedule: Monday, 25 December – closed
Tuesday, 26 December – 8:00, 10:00, 12:00, 4:00
Wednesday, 27 December – regular schedule
Saturday, 30 December – regular schedule
Monday, 1 January – closed
Tuesday, 2 January – regular schedule
************************************************
We have just had the first of, I am sure, many snowfalls for the winter. Please be careful when driving and walking in these slippery conditions.
Go Steelers.
See Y'All on Saturday.
Joanna
T2 Team
As far as I know the track crew will be there on Sunday, though depending on the weather, it might be the coffee crew meeting at the track.
The Little Hats, Big Hearts appeal is still going. Wade Roth donated some yarn if you would like to make a hat or two.
30-secs bursts of grinning during a workout might very well help improve your performance (NY Times) (brought to our attention by Beth Beck)