At this time of year we put ourselves under so much stress to be perfect – perfect decorations, perfect presents, perfect food, perfect ugly sweaters …. It got me thinking about, dare I say it or will I be struck down, REST DAYS. And I have to admit I actually took a rest day this week (well almost a rest day; I went to the gym for the strength portion but didn't WOD). I did feel better for it.
Why should we rest? While we workout, in whatever shape or form, to get stronger, our muscles suffer micro-tears and it is the rebuilding of these tears that builds the muscle. If we don't give our muscles and immune system adequate time to complete these repairs, then more than likely, injuries result.
Here are links to two articles about Rest Days. The first, although written in a light style, contains very good advice. The second is by an endurance runner who is promoting the FitBit. T2 is not promoting the FitBit but the words of wisdom are quite appropriate.
"Why CrossFitters Hate Rest Days" J F Wodfather
"6 Reasons Why Rest Days Are Important" Dean Karnazes
So as you are stressing, running around the mall with arms full of packages, weaving in and out of all the other stressed people, stop, take a deep breath and remind yourself that this is your Rest Day.
****************************************
And talking of Holidays, if anyone would like to share their favourite recipe, either print a copy and put it in the Recipe folder at the gym or email me and I will print it off. I was listening to NPR's kitchen/cook show the other day and they were talking about how traditional Thanksgiving fare tends to be a little bland/mild in flavour. If you have a recipe to spice things up a bit, please share. I enjoy my food either way.
****************************************
Hours for Thanksgiving Break
Wednesday: Normal Schedule
Thursday: Closed*
Friday: 8:00, 10:00, 12:00, 4:00
Saturday: normal
The Turkey Trot (5K and/or 5 mile) will be posted as the given workout for Thursday. Even if you don't run a Turkey Trot, you might like to walk/run some distance and record it. That way next year you can look back and compare and see what a badass you were this year.
******************************************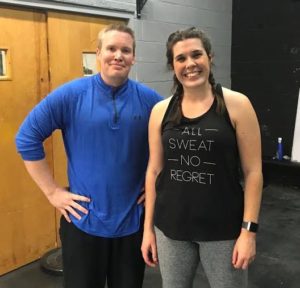 Intro Class: the most recent class has just finished. Congratulations to Aaron and Steph. Please welcome them into our T2 community and help them feel at ease.
******************************************
Saturday: 9:00am Free Community Class – no experience needed and all levels of fitness and abilities accepted. A good way to start off the holiday season before all the sweet indulgences get going.
Saturday: 10:30am Members' WOD
Monday, 4 December: 6:00-7:00pm new Intro Class begins. Or arrange a 1-on-1 with Anna. Click this link to contact her.
Saturday, 16th December: T2's 2nd Annual Winter Shindig. Make a note of the date (will be afternoon'ish). More details to follow soon.
******************************************
Go Steelers.
Have a safe and wonderful weekend.
Joanna
T2 Team
****Social announcements from our Facebook pages. The following are open to members and non-members alike.
Little Hats, Big Hearts: If you knit or crochet and would like to participate in Little Hats, Big Hearts, please follow this link. Patterns are included in the link. The hats are also for preemie babies. There are a couple of specific requirements for the Heart Foundation hats but if you just wish to create a hat, I am sure it will be appreciated. T2 member, Katlyn Taueetia, has volunteered to be the collection point. I will put out a collection box.
Sunday track workout: BYOE
Krush Clothing: Bring a dish to share if you like. And BYOB. Contact Dana Tecza for more details.
Skate into the Holidays: More info, contact Phil Henry.