Did you remember? Or were you one of those who turned up an hour early last Sunday because you forgot to set your clock back 1 hour?
For some, this is a very difficult time of year. The shorter daylight hours, in and of themselves, can have a really adverse effect on one's mood; can cause depression, SAD (seasonal affective disorder) and if your job requires you to arrive at and leave work in the dark, it can be even more depressing. Here is a link to an article which highlights 6 things you can do to help prevent/ease the symptoms of SAD. "6 Things You Can Do Right Now To Feel Less Miserable In The Dark Days Ahead"
Sunshine : Exercise : Light Box : Eat the right stuff : Sleep : Schedule
****************************************
Congratulations to everyone who ran the Timed Mile on Wednesday. Whether it was your first ever, your umpteenth one, you PR'd or were way off, it was still hard. However, the adults were outdone by the T2 Kids & Teens.
****************************************
If you have ever done a Hero WOD, you know how difficult they are. The T2 Kids & Teens completed "Jerry" this week (or mini "Jerry" depending on abilities).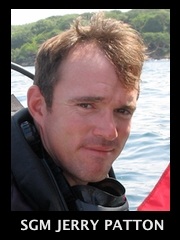 Sgt Major Jerry Dwayne Patton, 40, died on 15 October 2008 during High Altitude High Opening (HAHO) training while assigned to Army USSOCOM preparing for deployment to Afghanistan. Jerry is survived by his wife Molly and his sons Chad, Cody, Chase and Connor. (First posted 9 May 2010)
FOR TIME:
RUN 1 MILE : ROW 2K : RUN 1 MILE
****************************************
Saturday: 9:00am Free Adult Community Class – no experience needed and all levels of fitness and abilities accepted. A good way to start off the holiday season before all the sweet indulgences get going.
Saturday: 10:30am Members' WOD
This week we have had several Task Force Phoenix members and new members join us. Please make them welcome and help them to feel at ease. Thank you.
Monday, 4 December: 6:00-7:00pm new Intro Class begins. Or arrange a 1-on-1 with Anna. Click this link to contact her.
******************************************
Go Steelers.
Have a safe and wonderful weekend.
Joanna
T2 Team
*******************************
It was brought to my attention that some people are not on social media and so miss some of the social announcements made on our discussion page. I will do my best from now on to include them here in the blog. The following are open to members and non-members alike.
Sunday track workout: most Sundays at Jefferson Middle School track, Mt Lebanon. Start time varies between 9:00am and 10:00am. Someone will post the time on the RxGym comment page (the one where you record your weights and WOD times).
Krush Clothing event: if you are interested, contact Dana Tecza or just turn up.