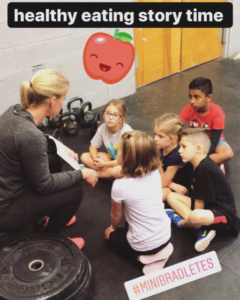 It's never too soon or too late ….. The @t2crossfitkids class learned about making good choices when it comes to food! #t2kids #foodpyramid #storytime #t2crossfit #minibradletes @t2crossfit @crossfitkids
Even if your children aren't in the T2 CrossFit Kids program, it is a great idea to discuss good food choices. I know it is easier on your own, but sometimes take them with you when you go grocery shopping.
*******************************************
There is no 'I' in team and it took a team to get through R.A.W. Training's Fall Brawl last weekend.
The most obvious members of that team were the 11 athletes who competed. Also fairly noticeable was the large number of people toting T2 logos around the arena, cheering and supporting, offering encouragement and wisdom and they ranged in age from a few months (Ed's and Mal's little girl) through to old farts 60+, all part of the same team. And then from a distance, the members who turn up every day and work their butts off (literally and metaphorically) to be a better person today and then tomorrow.
Of course, none of this would really happen without the coaches, in particular, Brad @bradletes who programs, trains and pushes us all just enough to make us feel uncomfortable/out of our comfort zone.
Congratulations to all T2 athletes; all finished in the top 15 in their categories. And congrats to Anna and Steph Jackson for taking 1st overall.
*******************************************
From Anna/Picked up and shared by The CrossFit Games …. just in case you haven't heard,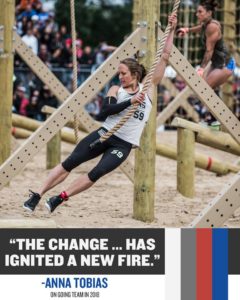 "Five-time CrossFit Games athlete Anna Tunnicliffe Tobias is going team in 2018:
"These past 5 years have been such an amazing experience as an individual competitor. In my first trip to the Regionals in 2013, I never would have thought I would have finished second and qualified for my first #CrossFitGames, let alone 4 more after that. They have been some of the most fun years of my life, and now I want to share that fun with others. This year I'm competing team with my T2 CrossFit team! I'm super excited for the change and it has ignited a new fire in me to be the best I can be!"
*********************************************
Hopefully when it comes to looking into the depths of your gym bag for the elusive 'xxx', you will more easily find it because of the new and improved lighting in the Reception area. No, the 'flat panel' boxes in the hallway were not flat screen TV's; they were the new lights. Anna and Paul put them up earlier this week in between weightlifting sets and WODs.
*********************************************
T2 Kids & Teens:
Monday, 30 October, Bring A Friend and if you would like, wear a costume. Make sure that your costume won't get in the way of your workout though.
Sign-up sheet for kids' t-shirts. See Coaches Dana or Jax for info. Parents need to sign the sheet.
*********************************************
T2 Members:
Tuesday, 31 October – Costume, dress-up, different attire to normal ….. time of day is not an excuse.
Wednesday 1 November – Bring A Friend Day
Monday, 6 November – Intro Class begins (or 1-on-1 at a convenient time for you and coach)
*********************************************
And the LuRong team has been having successes too. Obviously everyday with their clean eating etc, but last week T2 had winners in the WODs too, Ryan Estabrook, Melinda Boyd and Christine Rossi. Congratulations.
Saturday, 28 October – doors open 7:30am warmup; 8:00am WOD. Thanks again to Paul Sebastian for making sure last Saturday went without a hitch.
Final measurements sessions will be on Friday, 27 October afternoon and Saturday, 28 October morning.
**********************************************
Saturday, 28 October
9:00am Free Community Class If you have never tried this class, for whatever reason, you should. And bring a friend too to share in the love.
10:30am – Members' WOD If you haven't been to this class because …. you feel intimidated, you think you won't be good enough blah blah blah, absolutely don't feel like that. As with the weekday WODs, the Members' WOD is scaleable and modifiable. It's a great way to meet members whom you would normally never see because you come at different ends of the day. It is a lot of fun; you will surprise yourself.
**********************************************
If you are taking part in a Halloween parade this weekend and/or going trick or treating, be safe.
Go Steelers.
Have a safe and wonderful weekend.
Joanna
T2 Team