Because I am a little disorganized, being away on the boat and with questionable internet, I wasn't able to include these photos of our OG T2 Kids & Teens last week. Seven (one was missing from the photo shoot) of the 'Original Gangsters' are still with us one year later and loving every minute, well at least after the fact.  They were asked to comment on their experience and these are their responses:
"What I love most about T2 Kids is probably the support from everyone when you are working out."
"Seeing my friends and sweating …. but I don't like running."
"Seeing myself get stronger and being able to do things that I couldn't before."
"Favorite bit – the strength portion of class, aka lifting heavy!"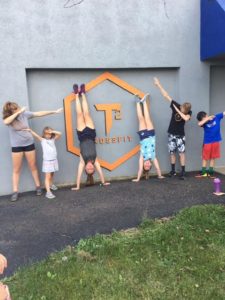 "My favorite thing about T2 Kids would have to be the people and the environment that you're in. Everyone is really supportive and really nice and I feel like that's a big thing!"
The thing I like best about T2 Kids & Teens, seeing our young members grow in confidence in their own abilities – physically, mentally, emotionally, socially – and in their interactions with their peers and those older and younger than themselves.
Thank you to our Kids & Teens and to their parents for encouraging them.
******************************************
Next week, Tuesday 3 October and Thursday 5 October, are "Bring A Friend" Days. Your friends doesn't have to have CrossFit experience, they don't have to have attended a Saturday Free Community Class, they just have to have the "desire to try". Workouts will be modified to accommodate all levels of fitness and abilities. We want this to be a non-threatening experience for them. Any class time; no heads-up needed unless you want to let the coach know ahead of time.
*******************************************
Intro Class begins on Monday 9 October, 6-7pm for two weeks. If you would like to learn the basic moves of CrossFit, this is an ideal way to do it – small group, at your own pace, supportive environment. For more info, contact Anna via email or by phone 412 277 5922 or just turn up on Monday 9th
********************************************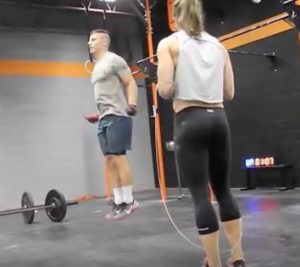 I have signed up for the RXSmartGear Jump Rope Dubs clinic. Have you? It will be a lot of fun. Saturday 14 October, 12:30-3:30pm. You don't have to be a T2 member; you just have to want to learn how to do double unders/do them more efficiently. (Anna and Ed team wodding.)
********************************************
Have you ever wondered why your coach sometimes seems to – roll his/her eyes, bites his/her tongue, just looks as though despairing, …… This article might help shed some light for you: 10 Ways to Annoy Your Coach
I am accepting contributions for "10 Ways Your Coach Annoys You" for next week's blog. Email me at joanna.tunnicliffe@gmail.com with your 'beefs' about your coaches.
********************************************
Don't forget:
7:30am Saturday, doors open for Lurong Warm Up; 8:00am WOD
9:00am Free Saturday Community class
10:30am Members' WOD
Saturday, 7 October – South Fayette Chili Cook-Off
Saturday/Sunday, 7-8 October all day – CrossFit Specialty Weightlifting Course
Tuesday 31 October – Halloween costume not mandatory but preferred.
*********************************************
'Before'
Had to share
'After'
Enjoy your weekend.
Joanna
T2 Team
*********************************************
Paul and Joanna Update
We are now in Georgia. Had a long day – 8hrs 25min – and the dogs still won't pee on the boat. Our plan is to be in Savannah by Friday, get the boat prepared for haul-out and repairs and repainting and then travel home to Pittsburgh for a few weeks while the boat is in dry dock.
We did have a rather scary moment today about 4 hours into our trip. One of the engines started losing revs and then would pick up, die and rev until it finally just died. Ok, now what? Fortunately it happened in a deserted stretch of water with plenty depth. We drifted for a bit while Paul pushed and pulled things in the engine room. Then after a few tries, the engine restarted and ran without another murmur for the rest of the day. Fingers crossed for tomorrow. We even touched the Atlantic Ocean. We made it to Savannah.