T2 CrossFit Kids & Teens: We are a little late in celebrating this but our T2 CrossFit Kids' program is one year old. The first Kids' WOD was 7 September 2016. We had 11 members spread through 3 classes. Now we have a waitlist for two of the classes and the third class is almost full. All of this is down to our exceptional coaches, Dana Tecza and Jax Campos. The Kids keep coming back because they love their coaches. And Coach Brad and Coach Anna too. The Kids work themselves as hard as the adults, 'die' after the workouts and then smile and chat about it all with each other, their parents and their friends outside. Our T2 CrossFit Kids community is second to none.
*****************************************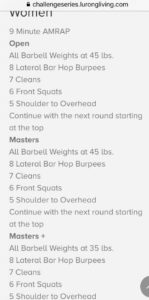 LuRong Challenge: first workout is posted. T2 CrossFit's Lurongers will be gathering for 8:00am WOD kickoff on Saturday (doors open at 7:30am for you to begin warming up)
*****************************************
As mentioned last week, new t-shirts are in. These are not pre-ordered, so if you would like one, see one of the coaches.
Segue (pronounced segway) – T2 Kids and t-shirts, we will put together an order; these will be pre-ordered. Anna will put a sign-up sheet on the computer shelf. They will be t-shirt style only but in kids and youth sizes. The shirts may be ordered for children who are in our program and children who are not in the program but whose parents are members. In either case, parents just have to sign up on the sheet.
*****************************************
Mark Your Calendar:
** Sunday, 1 October 2017: There is an OUTWOD event happening at Arsenal Strength. It is a charitable fundraiser to benefit Proud Haven, an organization that provides services to homeless LGBTQ+ youth in the Pittsburgh area. Anna will be attending to show support (Not competing). More information about the event,  registration etc, click here. And you could always contact Brooks DiFiore, Owner/Head Coach of Arsenal Strength. (PS, you don't need to have CrossFit experience)
** Saturday, 7 October – South Fayette Chili Cook-Off: Last year we participated; this year we will compete. Paleo chili with Paleo trimmings is just the best. Come out and vote.
** Saturday/Sunday, 7-8 October all day – CrossFit Specialty Weightlifting Course – coached by Fred Lowe. For information speak to Brad or Anna and/or go to the T2 CrossFit site here.
** Saturday, 14 October 12:30-3:30, Rx Method for Double Unders. Register through the link on our website. You don't have to be a T2 member to participate.
*****************************************
Next Intro Class begins on Monday, 9 October. To find out more about the Intro Class contact Anna through our website or just drop in at the gym.
*****************************************
9:00 FREE Adult Community Class (if you are doing the Lurong Challenge WOD, why not stick around and do the Community class too? Just a suggestion.)
10:30 Members' WOD
*****************************************
Have a safe and wonderful weekend.
Joanna
Team T2 CrossFit
*****************************************
Paul and Joanna Update
We are still in Jacksonville. Trying to find a quality boatyard to repair our boat is proving rather difficult. One yard said, "… yes but we can't fit you in until January." Another yard sent back a quote today 3x the price of the other quotes we have had – price gouging.
Anyway, we eventually found a yard in Savanah GA who will begin work on 1 October so we had the dilemma of staying in Jacksonville another week or moving up to GA and staying there a week. We chose Jacksonville because there is a Starbucks here. Oh and CrossFit Decisions 0.6 miles from the marina. We went last Saturday and I went again on Monday. Found a few muscles we had forgotten about. It was fun though, 'throwing' kettlebells and barbells around again. Will probably go once more before we move on.
We are also keeping an eye on Hurricane Maria to see where she plans to make landfall.