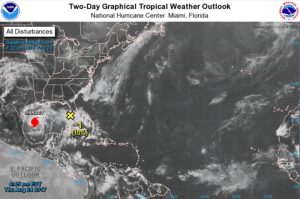 I understand that it is hot and humid and at times, very rainy in Pittsburgh. As bad as it may seem, please keep in your thoughts the people in Texas who are having to deal with Hurricane Harvey.
********************************************
Two main topics this week but first the calendar of events:
**Girls Gone Rx: Saturday 9th September – there will be no Community Class or Members' WOD that day.
About the Girls Gone Rx competition, don't be intimidated by the movements. The WODs are designed so that if you have a weakness in one movement, your teammates are able to pick up the slack. So if you are on the fence, jump down and register.
**LuRong Living Challenge Series continues; the next challenge begins on 18th September, runs for 6 weeks and concludes on 29th October. Read about it and registration is open at this link, https://challengeseries.lurongliving.com/champ17/   or speak with Anna or Teresa Ashley if you are not sure.
**The next Prep Class will begin on Monday 11th September.
**CrossFit Specialty Weightlifting course, here at T2 CrossFit: 7th – 8th October
**If anyone is interested in going to see a UFC fight on 16 September at PPG Paints Arena, see Anna and/or flyers and sign up sheet at the gym tomorrow for details. Tickets will be discounted if 10 or more people go.
**********************************************
Now the more fun stuff.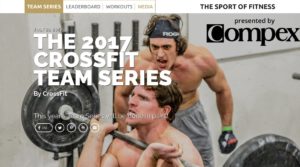 You may ask, "After the CrossFit Games, what is there to live for?" Well, the answer is the CrossFit Team Series. Sign Up.
This year it is partners; can be boys, girls, or mixed, your choice. Details about the series and how to register which is already open and ends on Monday 25th September at 5pm PT, click here: https://games.crossfit.com/article/2017-crossfit-team-series/teamseries/2017
T2 already has several teams signed up. Talk to Brad or Anna to see if it's right for you. It's a lot of fun to watch and if you ask those who took part last year, they will tell you it was a lot of fun participating.
***********************************************
T2 CrossFit Kids, Preteens & Teens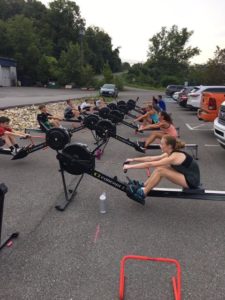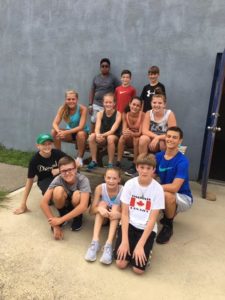 They have excelled themselves this summer. They have continued to turn up and work extremely hard despite the heat and humidity. Thanks to the flexibility of Coaches Dana and Jax, some of our young athletes were able to get in their workout in a different class and then go on to their summer sports event.
Some of our Teens athletes have been working with Coach Brad and although they thought at times they wouldn't make it, they all did.
While those Teens were working with Coach Brad, we had several other Teen athletes join us. Some of them are staying on with us too into the Fall.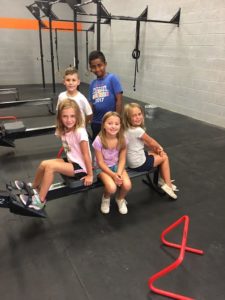 There is still a waitlist for Preteens and Teens and the Kids class is almost full. If your child's name is on the waitlist we will contact you as soon as he/she is at the top of the list and there is a spot open.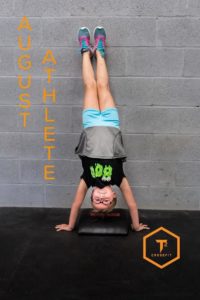 Our Athlete of the Month:
Meet our @t2crossfitkids August Athlete!
1. How long have you been doing CrossFit? 3 weeks- #newbie
2. What other sports do you play? Tennis and Gymnastics
3. What is your favorite CrossFit movement? Handstand Push-ups
4. What are you working hardest to improve? Overhead Squat
5. What athlete do you look up to the most? Simone Biles
@t2crossfit @crossfitkids #t2crossfit #t2crossfitkids #minibradletes #crossfitkids #howdoyoulivewell @waderoth87
Have a safe weekend. If you are traveling please be careful.
Joanna
T2 CrossFit Team
******************************************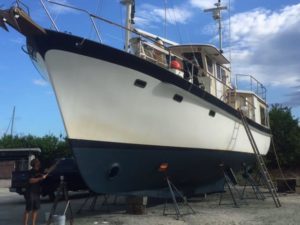 Paul and I hauled the boat on Monday, scraped off all the barnacles, well most of them, and the limpets and loose paint, replaced a couple of through-hull fittings, repainted the bottom and back in the water on Wednesday. Still in Fort Pierce FL.