A day late and a dollar shy with the blog. Actually, almost 2 days late, so 2 dollars shy.
*******************************************
Wrap up of CrossFit Games from Anna:
This was my 5th year competing at the CrossFit Games and although it definitely didn't go as planned, I can walk away from this year saying I gave it my all, given the circumstances. I struggled in a few events in which I should probably have done better and surprised myself in other events in which I did better than I had expected.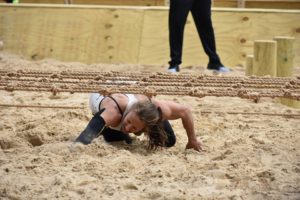 But my big take away – this is sports and as frustrating as it can be at times, providing you give it your all and leave it all out there, then you have nothing to feel bad about.
The venue was new to us all and honestly, I really liked it. Madison threw all sorts of new things at us weather-wise that we never saw in California.  We saw rain, we saw cold, and we saw hot…and all of it was humid. But also venue-wise, it was very cool to have everything onsite.  It allowed more fans to watch the events and as an athlete, it was great having fans cheering us on through every event this year.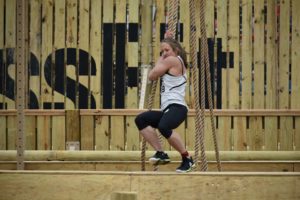 The event was four days long, at least scoring events took place over four days. We did have one day where we were able to practice the Obstacle course (O-course) for 5 mins, and on Wednesday we had a time trial for the bike cyclocross race.  The time trial was for seeding for the race on Friday morning.
The days were long this year. Every day we had to get there early in the morning and we weren't out of there until late in the evening.  And we weren't finished when we got home; the evening wasn't done.  We had to eat, and do recovery to get ready for the next day.  Recovery included all sorts of things such as stretching, Normatecing, icing, stimming, etc.  But it's part of the game and I enjoy it all.
We had a full range of events this year encompassing all aspects of fitness.  We had the heavy lifts, we had the endurance events, we had sprint events, and the standard CrossFit style workouts, but also included were strongman movements, and "athletic" movements.  It definitely tested all of our areas of training and ability to adapt quickly to new tasks thrown at us.
Of all the events, there wasn't really one that I disliked.  But I did have a few favorites.  My absolute favorite was the 2223 Interval workout.  For those of you who don't know what it was, it was as follows:
In 2 min, complete :
2 20′ Rope Climbs
7 Cal Ski, then
as many reps as possible (AMRAP) Overhead squats @105#
rest 1 min
Repeat 2 min
rest 1 min
Repeat 2 min
rest 1 min
Repeat as a 3 min AMRAP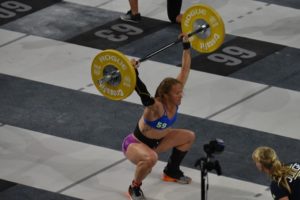 The goal was to complete 75 Overhead squats as fast as possible with the remaining time you had in each of the AMRAPs. I wasn't in the top heat and I ended up only posting the 9th fastest time, but I won my heat and was the first person to complete the workout within the time limit, and having the whole collusium cheering was pretty cool.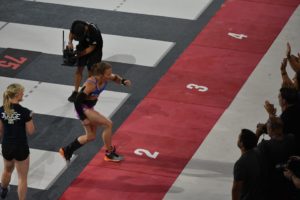 My other favorites were the O-course (finished 2nd) and the cyclocross (finished 4th) but not just because I did well, but because they were different and a lot of fun.  I also really enjoyed the hay bale clean burpee workout and the strongman, even though they were by far not good finishes.
So this year has come to a close and now it's time to start planning and getting ready to begin training for the 2018 season. I'm taking this week off and will slowly get moving again next week once I have recovered and had a chance to relax for a few days..and then it's back to it!  I can't wait!!
****************************************
Thank you again to Paul S, John H and everyone for keeping T2 running smoothly and for everyone's patience during Anna's and Brad's absence.
****************************************
Just around the corner:
Girls Gone Rx Competition to be held here, at T2 CrossFit, Bridgeville, on Saturday 9th September 2017. More information here , registration details here and standards here.
Please spread the word. The WODs are out so you are able to see if you will be able to meet the standards. Get your team together.
If you are available to help out, please sign the sheet on the computer shelf; even if it is for half a day, just state whether am or pm.
*******************************************
**Next Intro Class will begin Monday, 14th August at 6:00pm.
*******************************************
The next LuRong Challenge is gearing up to start again. More details next week.
*******************************************
Two new events happening at T2 CrossFit:
8/9 October: CrossFit Specialty Course – Weightlifting coached by Fred Lowe. For prerequisites and to register click this link CrossFit website.
and …
10 November: Rx Smartgear Jump Rope Seminar – registration details to follow.
*******************************************
Saturday Free Adult Community Workout: 9:00am
Saturday Members' WOD: 10:30am
Have a safe and wonderful weekend.
Joanna
T2 Team
(Photos credit: Justin Kirit – I stole them from his Facebook page. Thanks Justin)