Day one is in the books! It was an up and down day results wise but I had fun and gave it my all.
The day started with the run-swim-run event. Brad and I had a plan and I stuck to it and so we were happy with the result that we came away with.
But the 'funnest' (if that's a word) event of the day was the bike ride! We had a fast heat!! After yesterday's time trial we were seeded into two heats. Our heat was the second heat to go and we had the top 5 times from yesterday's qualifiers in it and it was fast. Unlike yesterday's one lap time trial, today's race was three laps of the track. We had some rain that came down during the first event so the course was little wet, but nothing too bad and didn't really affect the course. The top 5 seeds were given front row to start the race. We took off and kept the lead all around the course. I fought hard and pushed and ended the race in 4th in my heat and our heat had the top 7 times in the race, so i ended up 4th in the event.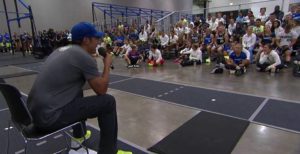 The final event we didn't know what it was until about 12:45. We had to do the CrossFit Wod 'Amanda' but of course there was a twist. It was 'Amanda 45'. It was standard Amanda but with two additional rounds added to the beginning of the wod, a round of 13, and then a round of 11, before heading into the 9-7-5. The muscle ups and the squat snatch weight remained the same. It was a fun event. I'm not sure how I ended up and I'm sure it wasn't a fantastic time, but my goal was to finish the event the best I could and I did that.
I haven't checked the results; my goal is to keep pushing as hard as I can each WOD and see where I end up at the end of the weekend. I thank everyone for their support from both here and afar!!
Thanks, Anna