This is my fifth Reebok CrossFit Games and it sounds like it's going to be the most fun yet!! We are getting to do all sorts of new things and I'm super excited for all of them.
We are in Madison, WI this year, instead of Carson, CA. As always, we had check in
on Monday
where we got our clothing and shoes. The colors this year are pretty sweet, although no orange  🙁
On Monday
evening we had our Athlete dinner at a local restaurant about 5 minutes walk from our hotel. We started to eat and then Dave Castro (director of the CFG), entered and gave us some details about some of the workouts for the week.  He only dropped hints on two workouts, which were ones that were already released, but gave us more details for them.  The first workout he gave details about was the muscle up/clean ladder event, for which he released the clean weights, but not what type of muscle ups we are doing.  The second event he gave us details about was the bike event. Up to that point we didn't really know what to expect, and then they showed us a video of what we were going to do and it was cyclocross-style event. We are going to do three laps of a 1.5 mile loop for time.
But to get seeded for that event, we had to do a time trial, which was held today.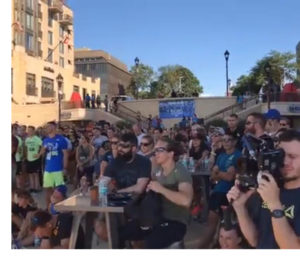 First though, let's check in with
Tuesday's
activities. Our T
uesday
started with orientation where we were walked through the details of the run, swim, run event, our first event
tomorrow
, and the obstacle course, the first event
on friday
.  We took a walk around the venues to see where we would be walking to get to each competition floor, and then we wrapped up orientation with a five minute test run of the o-course (obstacle course).  The course was so much fun…biggest lesson learned is to not let go of the cargo net until you are ready…yes i fell from the top..but i'm ok.  Just typical Anna antics.
From there, we went home and rested up, did some recovery, and then walked to the Edgewater hotel on the other side of the city to have the athlete reception where we were able to hangout with other athletes, grab some food and then hear some more details on some events.  We are doing some strongman stuff, and also some running, and hay bale clean and burpees, or something like that.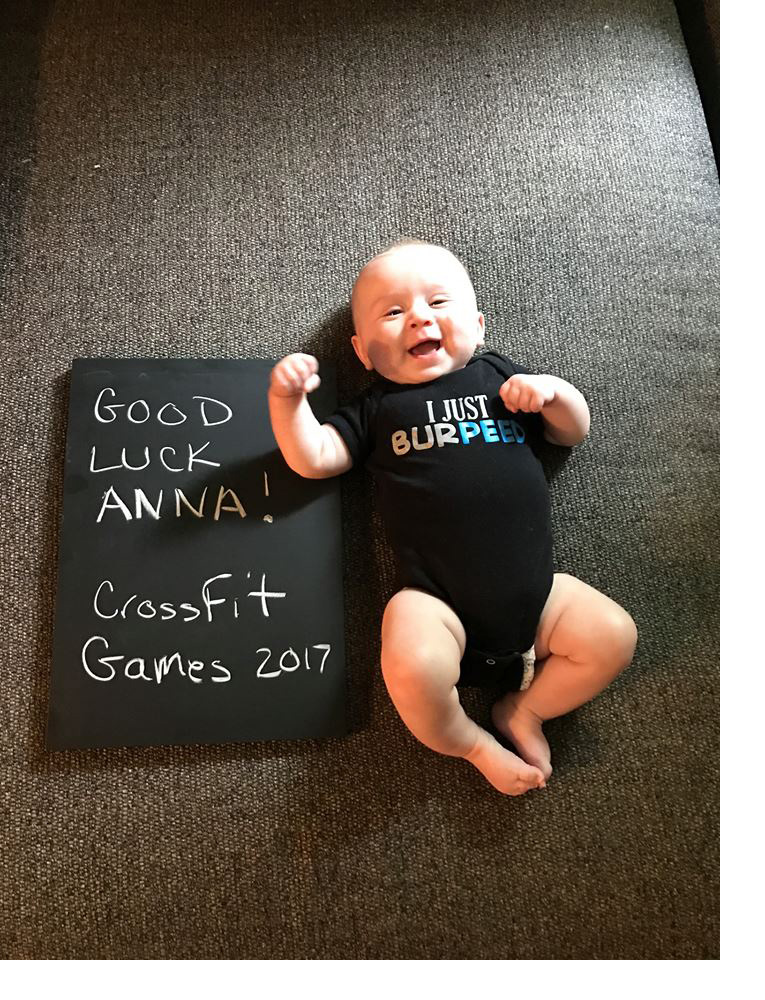 So back to the fun part…today's time trial. We got fitted for our bikes and then were able to do a test 400m run where we got to test two of the obstacles that we would see on the big course.  From there, we moved to the big course where we were allowed one practice lap, and then it was time trial time. We were divided into groups of 5 based on our ranks coming into the games out of Regionals.  Ultimately, this didn't matter, as the goal of it was to get a good time to seed you into a good position for tomorrow's race.  The goal was to finish with a top 10 time and we did that by finishing the course with the 4th best time.
The course was a ton of fun with lots of cutbacks and a couple obstacles along the way, and as the course went on I got more and more comfortable with them.
The race
tomorrow
is three laps so it will change the game a little, but I'm pretty excited for the chance to do it three times.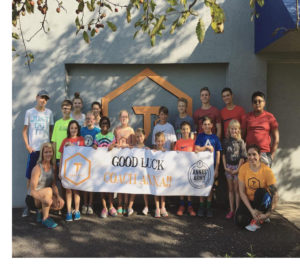 But first
tomorrow
we have our run, swim, run event.  It starts with a 1.5 mile run, a 500m swim and finishes with a 1.5 mile run. From there we get about an hour or two recovery before the bike ride!
Tomorrow
is going to be a fun day! I'll do my best to write about the day, but be sure to follow along if you get the chance.
Thanks, Anna
There is also a mobile App: 2017 Reebok CrossFit Games (I think) which you can download to your phone and follow along there.
Hope this helps.)