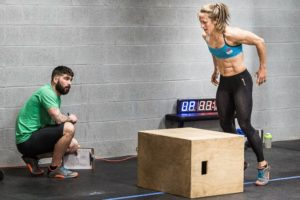 Can you believe we are in the last week of July? It seems as though we have just finished the CrossFit Opens. Well, not really, but you know what I mean.
And the mention of the Opens leads me nicely into the Games. Brad and Anna will be leaving on Friday evening sometime but the class schedule for tomorrow, 28 July, will be the same as normal, and so will Saturday. However, Monday 31 July-Monday 7 August, there are some changes. See the photo here and see the board at the gym. Note particularly, if you are an evening person, the changes to the evening schedule. And on Thursday, 3 August, there will be no 9:00am class.
Thank you for your patience. We wish Anna and Brad every success. Safe travels to everyone who will be travelling to Madison WI. Have fun.
******************************************
T2 Kids Athlete of the Month:
1) How long have you been doing CrossFit? 4.5 months
2) What other sports do you play? Basketball and Lacrosse
3) What is your favorite CrossFit movement? Inchworms
4) What are you working hardest to improve? Double Unders
5) Which athlete do you look up to the most? Coach Anna, Coach Dana, Coach Jo and Coach Jax …. And I really like Coach Brad
This T2 PreTeen athlete says, "I love CrossFit because I have made so many new friends and we have a great time!"
******************************************
Pistols – you either have them or you don't and based on Wednesday's skill work, you will know how close you are to having them. You can improve your chances by practicing these simple everyday pistol drills to improve your ankle flexibility.
Air Squats with heels on plates (start with 2.5lb plates)
Air Squats with toes on plates
Do these until you get below parallel in your squat (without losing good form).
Sit in the bottom of a pistol, even if it means leaning against something to prevent you from falling over.
Practice these regularly and next time pistols come up in skill work, you should see huge improvements.
********************************************
**Girls Gone Rx: Getting closer. I hope you are gathering your team.
Compete for a Cure! Our all-women competition encourages fun and fitness while raising awareness for Breast Cancer.
Girls Gone Rx Competition to be held here, at T2 CrossFit, Bridgeville, on Saturday 9th September 2017. More information here , registration details here and standards here.
If you are available to help out, please sign the sheet on the computer shelf; even if it is for half a day, just state whether am or pm.
*******************************************
**Next Intro Class will begin Monday, 14th August at 6:00pm.
*******************************************
Saturday Free Adult Community Workout: 9:00am
Saturday Members' WOD: 10:30am
Have a safe and wonderful weekend. And again, adjusted schedules, safe travels.
Joanna
T2 Team