A day early, I know; might not get it done tomorrow. Didn't want to be late and have to do burpees.
Battle of the 'Burgh on Saturday 15 July. Starts at 8:00am at CrossFit Iron City in the Strip District. T2 has two teams competing and for one or two members, it is their first competition.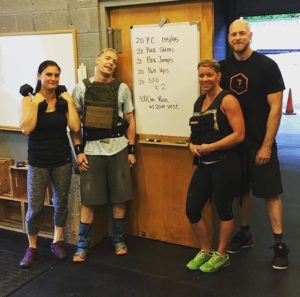 Team T2 CrossFit: Sara Wulff, Dana Tecza, DJ Mercuri, Mike Mercolini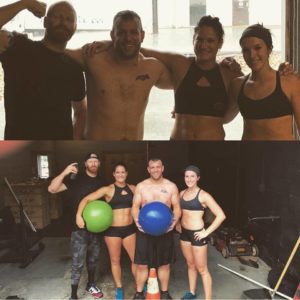 Team T2 CrossFit Orange: Jen Hinds, Kate Hazy, Matt Miller, SPM (Matt Lenart)
Wish them luck if you see them at the gym and if you can get down to The Strip on Saturday, go cheer them on.
More info here: Battle of the 'Burgh
*********************************************
Reminders:
**Price for Anna's Army CrossFit Games shirts $17.50. They are in. If you ordered one, see Anna. We will charge your account unless you would rather pay cash or cheque.
** Handstand Clinic for Beginners has been rescheduled for Sunday 23 July 10:30-12:30. The class is full but there is a waitlist so sign up with Anna just in case a spot opens up.
**Girls Gone Rx: Compete for a Cure! Our all-women competition encourages fun and fitness while raising awareness for Breast Cancer.
Girls Gone Rx Competition to be held here, at T2 CrossFit, Bridgeville, on Saturday 9th September 2017. Get your teams together. More information here , registration details here and standards here.
Registration is open. Early Bird Pricing through July 15th – this Saturday.
Use Promo Code Burgh to save $30
https://www.competitioncorner.net/events/553
******************
Ladies, if you would like to be involved but don't feel ready to compete, we are looking for volunteers to help with equipment set up, judging, admin duties and general help.
Guys, unfortunately you are not allowed to compete but you are allowed to help.
Please sign up if you are free that day. If you are able to help for half a day, that's fine, just make a note of whether it is AM or PM. Thank you all in anticipation of making our first competition a huge success. Sign-up sheet is on the computer shelf.
*******************************************
**Next Intro Class will begin Monday, 14th August at 6:00pm.
*******************************************
A housekeeping note: Thank you to those who follow this protocol. Unfortunately, though, I have to report that since we began offering FitAid, approximately 20 cans per month go unaccounted for.
If you pay cash, the cans are $2.50 each. Put your cash in the envelope on the shelf. (I can't spell.)
If you need/want a FitAid but don't have cash, put your name on the sheet provided with the number of cans taken and we will charge your account. For credit card purchases, the minimum cost is $6.00 (2 cans). We have to do this because the fees we are charged per transaction are nutz.
This is an 'honor system'; please use it as it should be used. Thank you.
*******************************************
Saturday Free Adult Community Workout: 9:00am
Saturday Members' WOD: 10:30am
Have a safe and wonderful weekend.
Joanna
T2 Team
Footnote: Paul and I would like to say a huge thank you to everyone for making T2 CrossFit such a wonderful community. We will be gone for a few weeks, well maybe months. We will miss you all but you will always be in our thoughts and very close to our hearts. I will post blogs every now and then and share the link on our pages.