And so, we are back at Friday eve and blog time. I hope everyone has had a good week, making progress with all their strength and skills.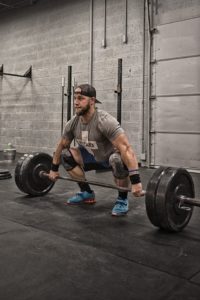 Occasionally I include in the blog, practice tips to help improve skills. Today's is to help with the Power Snatch. Yes, that lift where the bar starts on the ground and then …. boom …. it's is magically up above your head. It's called the Burgener Warm Up. Coaches Brad, Anna and Paul take us through the drill during warm up but it is also something that can be done on one's own, if, say, you are a few minutes early for class, have a spare pvc pipe lying around at home, in the office…..
Hopefully, early next week, there will be a poster on the wall that will explain all the steps and lead you through the progression of movements. (photos: Wade Roth Photography)
********************************************
Amy Jo Bader, asked me if I had mentioned to her about icing one's neck. T'wasn't me but it did make me curious. I googled the subject and got several links to articles expounding the virtues of placing an ice cube in the 'hole' at the base of the skull.
According to Chinese medicine, this spot, commonly used during acupuncture, is called 'feng fu', and has connections to many different areas of health.
It sounds almost too good to be true, all the benefits that can be derived from taking the time to 'ice cube one's neck'. I am willing to try but all the articles I read said that you have to 'place the ice cube on your neck for 20 minutes'. Not sure that I have an ice cube that will stay frozen for 20 minutes.
This is a link to one of the articles: https://www.littlethings.com/ice-cube-on-neck/   You decided.
Please remember that this is not a recommendation over traditional medicine/health practices; it is just a point of discussion.
********************************************
In short:
* Intro Class begins on Monday, 1 May. If you would like to encourage a friend to try CrossFit, this is an excellent way to introduce them.
* Sunday 21 May – Gymnastic Clinic (in-house) with focus on handstands (push ups, holds and walks). There are a couple of spots still open if you would like to attend. Let Anna know if you would like one of those spots. Nominal fee: $25
* Sweatshirts and sweatpants: almost everyone has claimed the pre-ordered sweatpants but there are still a few extra pairs available.
* Regionals Shirt order: deadline extended to tomorrow, Friday evening. Please note, there is no XS in the women's shirt.
* LuRong Summertime Challenge will be beginning in 2 weeks. Registration is still open. If you are still undecided as to whether or not this challenge is for you, speak with Anna, Teresa Ashley Albani, or any of the members who have participated in previous challenges.
* The Kids' Room has a new wooden box, courtesy of Paul Tunnicliffe, to hold the pvc pipes. And in anticipation of it becoming warm in that room, a new ceiling fan has been installed.
* And just to let you know, last week's Mini-Thon at South Fayette HS, raised over $100,000, well above their original goal.
*******************************************
If you are looking for a local 5K to walk, run or roll, on Saturday 29 April, Katlyn Taueetia's brother is organizing an event in South Strabane Community Park. The proceeds go for Transitional Paths to Independent Living.
The link for the race is: http://www.trpil.com/main/calendar/walkrunroll2017
*******************************************
9:00am Saturday FREE (spread the word) adult community class open to all shapes and sizes.
10:30am Members' WOD
*******************************************
Dare I say it again? Go Pens. Oh, I just did.
Have a safe and wonderful weekend.
Joanna