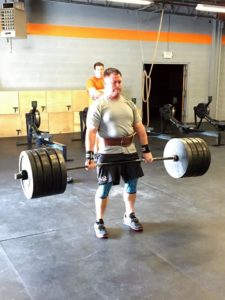 After what seemed like an eternity, the Dead Lift cycle finally came to an end. On Wednesday, it was if people made a special effort to get to the gym just to see how far up the weight ladder they could go. And boy, did they go far. There were some flat-out huge weights lifted. There were also some huge weight-to-body weight ratios lifted too. On the flat out heavy weights lifted, Katlyn Taueetia lifted 355# and Joe Yost managed a mere 515#. Congratulations to all who exceeded their expectations.
******************************************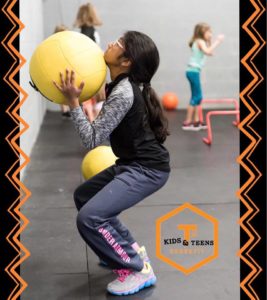 T2 Kids, Preteens & Teens
Our @t2crossfitkids April athlete of the month!
How long have you been crossfitting? 6 months
What other sports do you play? I dance (ballet, jazz and tap). I also play the piano; that is not a sport but gives my fingers exercise!
What is your favorite CF movement? Burpees and push-ups
What movement are you working to improve the most? Knees to Chest
Which athlete do you look up to the most? Anna Tunnicliffe
I love crossfit because it is fun and makes you strong! @t2crossfit #t2crossfitkids#crossfitkids #howdoyoulivewell #minibradletes  @waderoth87
We do still have a waitlist for our Preteens and Teens classes. We are moving through the list at the moment as some of our athletes leave to take on other sports for the Spring/Summer season. Every young athlete may try out our CrossFit Kids program with one free visit. If he/she likes it, then we will add the name(s) to our waitlist. They can try out the class now, even though our classes are full; there is no need to wait for an opening to try out. Just let us know ahead of time that your child will be visiting.
Our Kids class has open spots so if your child is on the border between Kids and Preteens, we might well be able to accommodate them in the Kids class. Come and speak with us to find out more information.
Last Saturday, T2 hosted Girl Scout Troop 60005 for their Fitness badge. They did a warm up, a workout, a treasure hunt (complete with 'dragon') and parachute games. A fun time was had. #strongandcourageous
*******************************************
2017 Lurong Living Summertime Challenge begins on 15 May and runs through 18 June (5 weeks). Registration is open and the Early Bird discount finishes 24 April. Speak with Anna or Teresa Albani Ashley for more information and explanations. Also, if you do sign up for the Lurong Challenge let us know because T2 has a closed group Facebook page where we discuss recipes, bad days, good days, failures and triumphs. Also, workout details and schedules are shared on this page too.
*******************************************
Parking: over the course of the next couple of weeks, weather permitting, we will be painting some new lines on the parking lot at the 'back' of the building (the side you see from the expressway). The lines will be perpendicular to the fence. This will give us two sets of parking spaces with turning space in between the sets.
*******************************************
New members – if you have a Facebook account, T2 has a private T2 Discussion Page where all sorts of stuff is shared. To be invited to the page, message Jax Campos, Anna Tunnicliffe Tobias or me and we will sort you out.
*******************************************
Saturday's Free Community class will be at 9:00am. Come for your first time; come for the umpteenth time. Every time you will be welcomed.
Members' WOD: 10:30am
*******************************************
T2 CrossFit and its members send their condolences and sympathies to the Rooney family at the passing of Dan Rooney today.
*******************************************
Have a wonderful and safe weekend.
Joanna