We began this week at the gym with the doors open because it was so warm. Tomorrow, Friday, it is supposed to snow; April showers with an additional punch. Please be careful driving, and walking, if the snow accumulates at all.
**************************************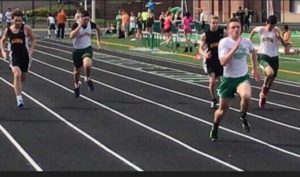 Going to brag about our T2 CrossFit Teens. Two of our teens are representing their school track team and, are putting up fantastic performances. At their first meet, last week, one won the 400m, and the other won the 800m (his first ever track race). This week, their successes continued with 1st's and 2nd's over a variety of distances.

Congrats to all our kids, preteens and teens who take part in other sports. CrossFit, by its nature, makes one all round stronger which then transfers over to other sports.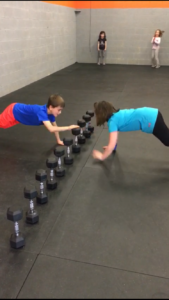 And a fun shoulder warm up, core strength, control of movements activity for all ages.
***************************************
As Spring follows Winter so Regionals follow The Opens. And the Regionals for the Mid Atlantic region this year will take place Friday-Sunday, 2-4 June at the Georgia World Congress Center, 285 Andrew Young International Boulevard Northwest, Atlanta, GA 30303. Some members have already booked their flights and hotel rooms. If you are thinking about going, post on the Discussion page, or let me know and we'll make sure you are kept in the loop as to what is going on.
If I remember correctly, screening online is a pay-to-view. Can't remember the company's name at the moment but the Games website will have the necessary links at the appropriate time.
If you are able to go to Atlanta, this is the link for the tickets' site: https://www.cuetoems.com/cfregion_2017/Tickets.aspx?l=ATL09FA6AF1
Whether you cheer from near or afar, Anna will hear you and appreciate your support.
***************************************
Intro Class finished this evening. Please make welcome and introduce yourself to our new members, Chris and Kristy Spain. They will mostly be attending the evening classes. Please look out for them.
And, look out for the new 15lb plates that arrived today – black, bright and shiny.
****************************************
Paul wanted a recipe included this week. And this is the one he found. I think he is dropping hints. I haven't tried it yet but I will. The opening line of "The secret of this recipe is in the liquid: …" is my kind of recipe. I love the gravy/juices/stocks that come from slow cooked meat. And it's cooked in a slow cooker. Perfect. So if you fancy a bit of Balsamic Roast Beef, here you go:https://paleoleap.com/balsamic-roast-beef/
****************************************
Saturday's Free Community class will be at 9:00am. Come for your first time; come for the umpteenth time. Every time you will be welcomed.
Members' WOD: 10:30am
****************************************
Finally, we are looking to put a picnic table outside the Kids, Preteens, and Teens door as a safe place for them to sit and wait if they are early for class and likewise as they wait for their rides home after class. If anyone has a serviceable picnic table that they no longer use and would like it to go to a good home, please send us a picture and brief description to t2crossfitkids@gmail.com
Thank you.
Have a safe and wonderful weekend.
Joanna