Have you heard the statement circulating the world, "Strong is the New Beautiful"? Well, last weekend, one of our members showed she is both strong and beautiful, and humble and fun to be around. We are very proud of Pooja Shetty.
"I did this totally whacky thing over the weekend by participating in the Pride of Asia Beauty Pageant and bagged the "Most Charming" award. The highlight of the pageant was me doing a deadlift with 175 lb." Pooja Shetty
I asked her what the organizers said when they asked her what special talent she was going to share during the show. She told me that they all expected her to say she was going to dance or sing (that's what all the other contestants were going to do). No, she said, I am going to deadlift 175lb 3 times. Talk about surprised.
Pooja says that this was her 3-rep max and that she has been stuck at this weight for a couple of weeks. I think after last weekend's performance she will be moving up to the next weight. Congratulations Pooja and good luck with the 180/185lb new 3-rep max and 200lb for your 1-rep max.
************************************
Hydrate, even when it's cold outside. Chugging a bottle of water 5 minutes before the workout begins is not going to help during the workout. You need to be regularly drinking of plenty water during, at least, the 2 days before an event for it to be effective. So basically, drink plenty of water every day.
Something I read a while ago and which got me drinking at least 2 glasses of water a day (I do drink more than 2) was, upon rising drink a glass of water with a teaspoonful of honey and a teaspoonful of apple cider vinegar (preferably including the Mother). Apparently it is most efficacious if drunk 30 minutes before eating. That doesn't happen in my case but at least I know I am off to a good start.
The link is for an article which discusses some theories about apple cider vinegar and honey: (http://doctoryourself.com/honey.html)
*************************************
Over the past few weeks, we have had an overwhelming response for membership in our T2 CrossFit Kids & Teens program. As of right now, both our Preteens and Teens classes are full and have waitlists. There are still a couple of spots open in the Kids class but we have had several enquiries/tryouts by kids. We are waiting to hear back as to whether or not they will be joining our community.
****************************************
17's Opens
Our Friday Night Lights for 17.1 and 17.2 have been a roaring success. Last week, there were many firsts – first muscle ups followed by several more. Congrats to Janelle, Whitney, Arielle, Nicole T and Dana (not first MU, but first in a WOD).
And lots of first pull-ups and first chest to bars.
I would also like to thank the members who, so far, have provided post-WOD treats, Dana Tecza, Leah Roth and Michelle Garlitz. I won't be there for this week's FNL so my tub of cookies will be absent. Sorry. If someone else would like to share a tasty treat or two, it does make the evening even more special. No pressure, but thank you in advance.
************************************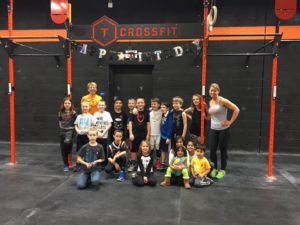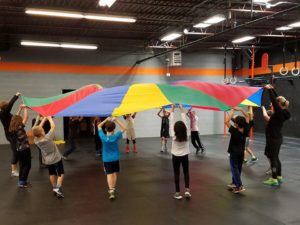 We had another first over the weekend. The son of a member of our T2 community turned 8 years old and asked if he could have his birthday party at the gym. So Coach Dana and I donned our thinking caps and put 16 kids through a warm-up, games, a bear hunt and a Birthday WOD, courtesy of Coach Brad. They all left tired and smiling so I think it was a success.
*************************************
During the summer, T2 CrossFit's Kids & Teens class hours will move from the evening to morning beginning Monday 19 June.
9:15-10:00am Kids
10:00-11:00am Preteens
11:00-12:00noon Teens
Email Anna or me to let us know if you would like your child's name to be added to the waitlists. t2crossfitkids@gmail.com
*************************************
Saturday's Free Community class: 9:00am as usual. Last week, it was huge. Let's see if we can do it again. And you are invited to come every week; every week it is FREE.
Members' WOD: 10:30am
17.3 if you can't get there for FNL: make sure to contact Brad or Anna to see when a good time would be to 'get it done'.
*************************************
Have fun this weekend. If you are travelling, stay safe. And if you are completing 17.3 away from T2, remember we are cheering for you from afar.
Joanna