17.1 is finally done and all scores will be validated soon so your position for round 1 will be soon settled. 17.2 will be announced this evening at 8:00ET. Follow this link if you want to watch it live and get some ideas from the elite athletes who will perform right after the announcement: https://games.crossfit.com Hopefully it won't include burpees or boxes.
And not to be out done, the T2 Kids & Teens did a modified version of 17.1 (Keeping it in the family: Dana and her daughter)
*******************************************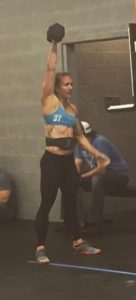 I know we have all moved on from the LuRong Challenge but I have to share some good news. T2 CrossFit member Dan Blevins won the Before and After picture competition. And I understand he is sticking with the new life style. Congratulations Dan.
Also, keeping it in the family, Anna Tobias and I, Joanna T, were age group winners for the Resolution Chipper Retest. We are helping to save postage for them; put it all in one parcel.
*******************************************
Recovery from intense workouts is very important. Coaches Brad and Anna offer these simple tips. Use them wisely.
Warm up very well.  Although this is pre-wod, it will help the muscles you need for the workout be ready to go.
When you are done, lots of water and protein shake and some food.  Try and balance the food with protein, carbs and fats.  It doesn't have to be a lot of food, just something to give your body fuel to start repairing itself.
Also stretching after the wod and ice if necessary.  I know for the most part you have to judge the heat following you, so have some clothes to put on so you don't get chilled, and stretch whenever possible before the next heat starts and right after!
*******************************************
FitAid: we have been offering this service, on an honor system, now for a few months and generally it seems to be well received. I would ask, though, that if you take a can, please put cash in the envelope or charge your credit card (minimum 2 can purchase) or write your name on the yellow pad and the number of cans taken (minimum 2) and I'll charge your card for you. Thank you.
*******************************************
This time last week, we had the big doors open and it was almost time to turn on the fan. This week it's a little different.
But the warm weather got me thinking about being outside and my lack of use of sunscreen. Then, low and behold, this article popped up in my Inbox (strange how that happens). "Sunscreen 101: Find the one that fits your needs"
There are two types of sunscreen basically, ones that sit on the skin (zinc oxide and titanium dioxide) and ones that are absorbed into the skin.
The zinc oxide and titanium dioxide are effective as they block the sun's UV rays. But you have to have complete coverage and they tend to be greasy. You do, however, know when you need to re-apply this type of sunscreen, when the gaps start appearing in the coverage.
The problem with the sunscreens that are absorbed into the skin is that they need to be applied at least 20 minutes before venturing out into the sun to give your skin time to do the necessary. And because you can't actually see the coverage or lack thereof, you forget to reapply it at regular intervals.
Another interesting piece of information I gleaned from this article is that the sunscreens with added Vitamin A may very well do more harm than good. Manufacturers advertise that Vitamin A as an 'anti aging wonder' but studies show that excessive intake of Vitamin A can cause Vitamin A toxicity which has all sorts of unpleasant side effects, one being that it might actually promote the development of skin cancer.
So
I looked at Vitamin A sources. Obviously there are supplements and it is added to some milk. And processed foods. Naturally occurring Vitamin A sources happen to be in a lot of the foods we eat, if we are 'clean eating': sweet potato, carrots, dark leafy greens, squash (particularly butternut squash), romaine lettuce. For more information of Vitamin A rich foods, here is a link. What I am trying to say here is that probably you get all the Vitamin A you need through clean eating. You more than likely don't need supplements and you probably don't need the additional Vitamin A that manufacturers add to their products. It's the added doses that will potentially tip the scales the wrong way. Just be aware.
Summer is coming. Be smart when outside even if it is cloudy.
********************************************
Friday Night Lights and 17.2: 4:00pm-done Bring an after-WOD treat to share if you like. Come and cheer even if you are not registered. It's a great atmosphere.
Saturday FREE Community Class: 9:00am Everyone welcome – non-members and members alike.
Saturday Members' WOD: 10:30am
********************************************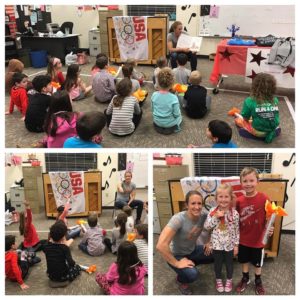 Coach Anna took her Olympic gold medal and her reading skills to South Fayette elementary school on Thursday. She shared her dreams and journey to the Olympics and beyond and hopefully encouraged these young, future stars to work hard and follow their dreams too.
********************************************
Have a wonderful weekend. Stay safe. Good luck with 17.2
Photos: Wade Roth Photography, Amy B Photography, members of T2
Joanna