People and pictures make up most of this week's blog. I know they do normally but not quite like this week.
Let's begin with our community. Not until the last person finishes, do the others leave.
The tenacity of our members, young and older, never ceases to amaze me. These two T2 CrossFit Kids & Teens are great examples.
T2Teens Athlete Spotlight
How long have you been doing CrossFit? 2 years
What other sports do you play? Soccer and Track
What is your favorite crossfit movement? Handstand Push-Ups
What movement are you working the hardest to improve? Double Unders
Which athlete do you look up to most? Carli Lloyd
@t2crossfit @t2crossfitkids @crossfitkids #t2teens #t2crossfit #howdoyoulivewell #crossfitkids photo: Wade Roth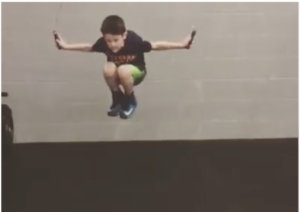 Which leads nicely into our little jumper. Double unders is a skill that eludes many adults so we start them young at T2 CrossFit. This 8 yr old has been trying for several weeks now to get a double under. Yesterday he got not just one but 3. There will be no stopping him now. Look how high he jumped.
And our T2 community would like to welcome our two new members from the Intro Class, Ray Haspel and Chris Holoman. If either or both should happen to be in your class, please say 'hi' and make them feel welcome.
Our next Intro Class will begin on Monday, 6 March. For more details contact Anna at office.t2crossfit@gmail.com
********************************************
Final few hours for the Lurong Resolution Challenge. Make sure to contact Anna to get your final measurements and weights. All results need to be entered by 11:59pm Monday night.
Have heard that many inches and pounds have been lost in and around the gym over the last 5 weeks. I hope nobody else finds them! Final retest WOD – Saturday at 8:00am, doors open at 7:30am
******************************************
Business as usual: On Monday even though it is Presidents' Day.
Our Free Adult Community Workout will be at 9:00am on Saturday.
******************************************
Thursday, 23 February at 8:00pm EST, the first of the 2017 CrossFit Games Opens workouts will be announced. You can watch it live on the CrossFit Games site https://games.crossfit.com
Business not quite as usual: Friday, 24 February: Morning classes and 12:10 class will be as normal. There will be no 'normal' classes/WODs from 4:00pm onwards. We will be holding Friday Night Lights and everyone who can possibly make it and has registered for the Opens will complete 17.1 with all the support of their fellow athletes. Even if you have not registered, please come along to cheer on those who have.
******************************************
And finally, a Save The Date.
Sunday, 2 April, 2:00-4:00pm Krush Clothing will be visiting T2 CrossFit. We are planning a short workout that everyone (adult) will be able to do, a little bit of eating and a lot of shopping. More details to follow.
Stay safe. I hope the ice doesn't melt during the Winter Classic at Heinz Field this weekend.
Joanna
T2 Team