It snowed today in case you hadn't noticed. Kudos to those who braved the elements and came to the gym. Please, though, when conditions are bad, make sure you stay safe. (The picture shows the beautiful Allegheny Passage.)
**********************************************
T2 CrossFit likes to share the challenges, triumphs and achievements of our members. Here are some: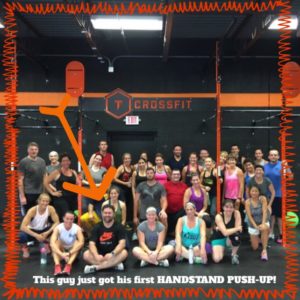 Ben Hall, after trying for over 2 years, finally got his first handstand push up. If you see him at the gym, tell him 'congrats'. He'll be using them in WODs very soon now.
Nicole Paloney has just graduated from one double under to 11. Consistent practice is paying off.
In gym class at school recently, some of our Teen members were put through their paces on certain benchmark movements. I am excited to say that two of them finished top of the class in push-ups. And, the same two were in the select group that completed the required number of sit-ups (75) within the time limit.
And just to show what well-rounded Teens we have, two of them are taking the lead roles in the upcoming musical at South Fayette Middle School. If you would like to go and see it, it is 23rd, 24th and 25th February. (I'll try to find out more info and post it on the Community Board at the box. I have been told it is 1hr 30min long.)
*********************************************
Germs, Bugs, Cooties, whatever you want to call them, are circulating everywhere at the moment. In an attempt to curtail their spread, please take a few seconds to wipe down any equipment you use, even if you are not sick or feel like you might be getting sick. I have placed cartons of wipes by the jump ropes and the Crossover Symmetry. There are always the ones on the wall by the barbells too. Thank you. Let us know if they run out.
********************************************
2017 LuRong Resolution Challenge is about to enter its last week. However, we have the last workout this Saturday before the retest benchmark workout next weekend. Stay strong, my friend. Keep the sugar at bay at least for one more week. Between Anna and I, we will post times and days for measurements and weigh-ins for next week on the LuRong Discussion Group page and on the whiteboard at the gym.
Gym opens at 7:30am on Saturday for warm up; 8:00am WOD heats begin.
Please continue to share your favorite recipes. The Recipe binder will not be hidden away once the Challenge has finished. Clean eating begins as a 5-week challenge; it continues as a life style.
*********************************************
2017 CrossFit Opens begin on Thursday, 23rd February when the 17.1 will be announced. On Friday, 24th February, we will hold Friday Night Lights beginning at 4:00pm. If you have registered, try your best to come then to complete the workout along with everyone else. If you haven't registered, come and cheer and see what it is all about. There is still time to register: https://games.crossfit.com
***********************************************
Saturday Community Workout: as always FREE, 9:00am
Members' WOD, 10:30am
***********************************************
Stay safe. Stay warm. Have a great weekend. See you at the gym.
Joanna
T2 CrossFit Team