Kids, Preteens & Teens
Our Kids, Preteens & Teens classes are almost full which is all very exciting. Actually, we have now had to implement a Wait List for the Preteens' class. We would love to include all the Preteens who wish to attend our program but in order to preserve the quality of the coaching, the experience gained and the safety of the children, we feel it is necessary to cap class sizes.
If your Preteen would like to join our program, please email us at t2crossfitkids@gmail.com with your child's name and age and as and when openings occur, we will contact you. Names will be considered on a first come/first served basis.
*****************************************
This is a fairly local CrossFit-style competition held in Fairmont, WV, about 1hr 30min from T2 CrossFit, down I79. It is a fun one to watch and has the dreaded "stone lift" as part of the 3rd qualifying workout. It is the movement about which competitors talk and reminisce. And dare I say, fear. Lifting round (no edges around which to hook your fingers), heavy stones is no easy feat and has beaten many a strong athlete.
Still, stones aside, T2 CrossFit has several athletes competing so if you see them at the gym, wish them luck. And if you would like to go and watch, cheer them on and experience a CrossFit-style competition, here is the address Layne Performance Center, 35 Coal Bank Hill Road,
Fairmont, WV 26554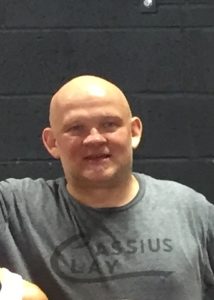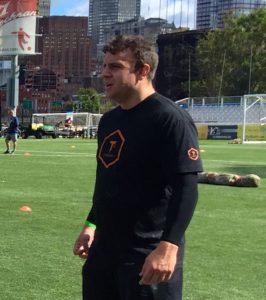 Our athletes: Matt Miller, Paul Ferdiani, Matt (Sweatpants) Lenart.
***************************************
2017 LuRong Resolution Challenge
LuRong Resolution Challenge is having a throwback workout this week … from 2015. Seven minutes of 5 Front Squats and 7 Burpees over the bar. We, or at least I, have become so accustomed to having scaled weights and movements for workouts, when this one was announced, I thought there was an error. All ages in each Level will be front squatting the same weight. Agh! So for women whether you are 18yr or 70+yr, Level 1: 35lbs; Level 2: 65lbs; Level 3: 115lbs. This is why we train for the unexpected.
We will be holding the workout at 8:00am on Saturday; gym will open at 7:30am to allow for warm-up.
****************************************
Building Update
For the early morning and late evening crews, we have had a corner light installed on the 'front' side of the building, to light your way to and from your car. We commissioned Chris Capozzi's  company to do the work for us and they did a great job. Hope it helps. (You spoke and we listened.)
****************************************
The CrossFit Opens: begin on 23 February 2017. No pressure to sign up but … although the workouts are hard, it is fun. And you don't have to be super fit or strong to do them. Check out this video, Open The Arterys, if you are still wondering whether or not you should sign up. Even if you don't sign up, plan on coming to the gym on Friday evenings to cheer on and lend your energy to everyone else who does.
One more thing, whether or not you sign up for the Opens, consider taking the Judges Course because not only will it give you a greater appreciation of the movements you do every day but you will also be more qualified to judge your fellow athletes if needed.
*****************************************
Community
Please continue to spread the word about our FREE Saturday community workout at 9:00am. Come and keep this group company.
If you are not going to compete in or spectate at the Winter Chiller, come on Saturday at 10:30am for the Members' WOD; preparation for the Opens. Or just a good workout.
If you would like to introduce a friend to CrossFit, our next Intro Class begins on Monday, 6th February, 6:00-7:00pm. Check out the Intro info and Register Request here.
*****************************************
Coach Paul Sebastian braved the crowds at the new Whole Foods last week and came away with several 'gift cards' that he brought to the box to share with members. If you come and workout, we will give you one while supplies last. Let's share the love, though, with all members so please only take one per household. Thank you. And thanks Coach Paul.
******************************************
Be safe. Have a wonderful weekend. I hope the Superbowl is worth watching.
Joanna
'Excuses and Gains will never be Friends'