South Fayette Twp PTA Family Fitness night, Thursday 26 January 2017 at the South Fayette Twp Elementary School. And what a night it was! Not sure of the final count of people who came through our station but we must have had around 30 (adults and children) in every group and there were 6 groups. I know this because for every group all 20 ab mats were being used in WOD 1 with more people starting with WOD 2.
Special thanks to Dana Taylor-Tecza, Michelle Garlitz, and one of our T2CrossFit Preteens and one of our T2CrossFit Teens,  Taylor Tecza and Maggie Garlitz for giving up their evening to be the demonstration team, guided by Coach Anna.
*****************************************
Dylan A Mary is leaving for Army Boot Camp and basic training on Monday. If you don't see him in person, please send him thanks and best wishes on the T2 CrossFit Facebook page. (Dylan is front and centre with the 9:00am platoon.)
*****************************************
Liz Polovina is taking her CrossFit rowing skills to the Indoor Row Sprints tomorrow, Saturday, to try to PR her 2K time from last year. She is hoping for very close to 8 min. Sending her positive vibes through the stratosphere. Pittsburgh Indoor Rowing Championship
*****************************************
A couple of new community things at the gym: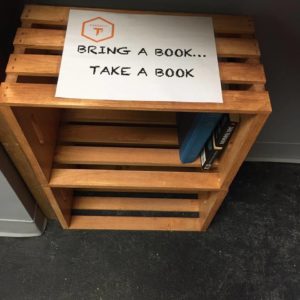 *T2 Community 'Bring A Book, Take A Book' shelves are under the computer, next to the FitAid 'fridge. If you read a book and then have no-one to pass it on to, bring it in, put it on the shelf and you might find another one to take.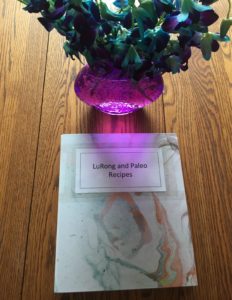 *LuRong and Paleo recipe folder will be on the computer shelf tomorrow. The idea of this is that you print off a copy of your favourite recipe, put it in the folder and if people want a copy, they can take a photo of it and then print it out at home. There will be a copy of the N'oatmeal raisin cookies in there. Please make sure to name the source of the recipe. Give credit where credit is due.
****************************************
LuRong Resolution Challenge, Karen meets Annie, will take place tomorrow (Saturday) at 8:00am sharp. It is a long one so things will be starting on time. Be ready to go.
*******************************************
Introduction Class begins again on Monday, 6 February. Even if you are not new to CrossFit, sometimes it is good to revisit the basics of CrossFit movements. In the small group environment and non-hurried atmosphere, you will have plenty of time to reassess your techniques and to have them tweaked to be more effective by Coach Anna.
*******************************************
And on to the CrossFit Opens. If you have done them before, you know what Coaches Brad, Anna and Paul are talking about when they announce "registration for the Opens is open" and what a buzz there will be on Friday nights when we all gather together to 'get done 17.1….17.5'
If you are new or haven't done the Opens before, it is an event (spread out over 5 weeks) where CrossFitters around the globe all do the same WOD, log their scores and compare their performance against everyone else in their age category. The CrossFit Games introduce a scaled option 2 years ago which made the workouts more doable for the weekday athlete and more competitive for the Rx athletes.
On Friday nights during the Opens, a good number of gym members will gather from 4:00pm onwards to complete the workout and to cheer on everyone else there. There is a huge community spirit and people come away amazed at what they really can do when they have the total support of their fellow members.
If you do decide to register, here is the link: https://games.crossfit.com/cf/login?returnTo=%2Fregister%2Fathlete&flow=games
Judges' course: https://oc.crossfit.com/course?id=12
*******************************************
FREE Saturday Community workout as usual at 9:00am
Members' WOD at 10:30am
******************************************
Be Safe. Have a wonderful weekend.
Joanna