I think this is some sort of irony or coincidence but I am open to correction. Earlier this week, I was reading an article about "1 degree of change" and yesterday, Paul and I were polishing the boat and talking about summer cruising.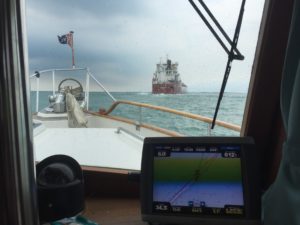 The "1 degree of change" article (chalkandsteel.com) spoke about a ship sailing on the ocean on a set course. If the helmsman/woman altered course by just 1 degree, the change wouldn't be noticed immediately. It wouldn't be noticed even after a few miles. However, over the course of the voyage, that 1 degree of change makes a huge difference as to where the ship finishes up. And if the navigation is done correctly, the ship will make landfall safely.
How does this "1 degree of change" relate to us athletes? Our 1 degree of change is a course of action planned with our coach to help us navigate safely towards our goals by changing/adding one thing at a time (little alterations). At first, noticeable change will be minimal, e.g. kipping timing, an additional strength protocol to improve lifts; over the course of the journey (keep records), huge gains will be seen. 1o of change!
***************************************
LuRong Resolution Challenge: workout tomorrow, Saturday, at 8:00am. Doors of gym open 7:30am to allow for warm-up. The workout will be held in heats, with athletes judging each other. If you wish to go for the prizes, please bring a device with which to video yourself.
***************************************
CrossFit Standards on Movements/Judging: a useful tool to help you with your own standards and when judging others, as we do in the benchmark WODs, is to take the online CrossFit Judges Course. It is $10. You don't have to do it but you might find it helps. Here is the link: https://oc.crossfit.com/course?id=12
****************************************
When T2 Kids, PreTeens and Teens came to class on Wednesday, they all got really excited – they now have their own jump ropes and the clock is on the wall – no longer at risk of being knocked off the bench. They work really hard, strengthening and building muscle in a safe and planned way. And sometimes, they just hang around, though what they don't realize is that they are building strength and stability in the shoulder girdle to help with pull ups, push ups, and all the other ups. And downs. Classes are nearing their cap so if you are still on the fence as to whether or not to enrol your child, please do so as to avoid disappointment.
***************************************
Our Free Saturday Community Workout will be at 9:00am as usual, back in the main room. And the 10:30am Members' WOD is back at its regular time too.
Thank you for your patience and cooperation last Saturday.
***************************************
Steelers vs Patriots?
Have a great weekend. Be safe.
Joanna