Common Misconception About CrossFit
Misconception #1:   You have to be in shape to start.
Misconception #2:   You have to be competitive.
Misconception #3:   I can't because of a physical limitation.
Misconception #4:   CrossFit makes women to bulky.
Misconception #5:   I don't have time/It's to expensive.
For further explanation, call us, email us, or even better, come and visit us.
**************************************************
Saturday, 14 January 2017 – Important Stuff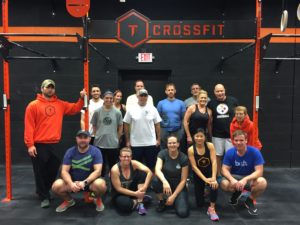 The schedule is slightly rearranged because of the Jon North Lifting Seminar. The Members' WOD will be at 8:00am and will be a community workout style WOD. The Community workout will be at 9:00am as usual. Both workouts will be in the back room.
Members, if you plan to workout, please come to the 8:00am class unless you are bringing a guest, in which case, then come to the 9:00am Community class. If you still have questions about this Saturday, ask Brad or Joanna. We will set you straight.
****************************************************
T2 Kids, PreTeens & Teens
Some may have heard that Coach Stacey has left T2 CrossFit and as such is no longer coaching our Kids, PreTeens & Teens. We would like very much to thank her for her time with us and for her help in getting our program up and running.
Given that the K,PT&T's program has grown so much over the last few weeks, we decided that to best serve our young athletes, we would have two coaches in all classes. By having two coaches with each class, the athletes have, in effect, double coaching opportunities.
Our coaches: Coach Dana has been teaching Kindergarten for 12 years in the Mt Lebanon School District, a long time keep fit enthusiast. She has been doing CrossFit for 3 years and coaching for 2 years.
Coach Joanna was a Physical Education teacher (K-8th) for many years before moving to Mt Lebanon, has been doing CrossFit for just over 3 years and coaching on and off for just over a year.
Both Dana and Joanna have their Level 1 and CrossFit Kids qualifications. Brad will continue to program and oversee all aspects of our growing program Please say 'hi' if you see them in the building.
**************************************************
Athlete Spotlight: T2 Pre-Teens
1. How long have you been doing CrossFit? 1 year
2. What other sports do you play? Soccer
3. What is your favorite crossfit movement? Pistols
4. What movement are you working the hardest to improve? My back squat and left leg pistols
5. Which athlete do you look up to most? Coach Anna
She enjoys spending time @t2crossfit with her sister and Dad.
Her favorite actress is DJ Tanner! #crossfitgoals #family #t2crossfitpreteens #minibradletes @crossfitkids @t2crossfitkids
*******************************************
Athlete Spotlight: Dylan A Mary (T2 Adult)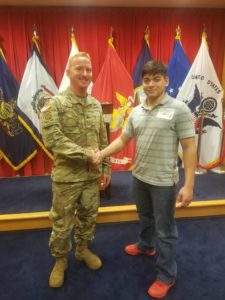 "As many of you know already, I have decided to enlist in the U.S. Army and was sworn in today. Joining the Military has been in the back of my head for years now but I have never had the 'kick in the ass' to motivate me enough to get moving. These past two months have been life changing and many life lessons learned. After everything that happened, I felt that 'kick in the ass' and that now is the right time. I would like to thank my family and all my friend who have always been there for me! You guys mean the world to me! On another note, I am leaving for Basic Training on January 30th 2017 in Fort Benning, Georgia. I will be an Infantryman. I also got a $20,000 sign on bonus! #ArmyStrong"
Dylan has been a CrossFitter since August 2015 and has been with us at T2 CrossFit since we opened in June 2016.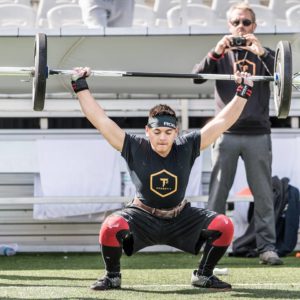 It has been a pleasure to watch him grow in the young gentleman he is now and he says that, "… and I wouldn't have the drive and confidence to do this without everyone at T2 supporting me!" which is wonderful praise indeed for us.
I did ask him if he would like to share a titbit of information that we don't know about him. He thought for a while and came back with, "Well, I will be 7th generation in my family to serve."
To Dylan, on behalf of T2 CrossFit and our members, thank you. Be safe. And come and visit whenever you can.
To Dylan's family, thank you.
************************************************
LuRong Challenge begins on Monday. No more cupcakes for a few weeks.
*************************************
Wodapalooza Miami Fitness Festival 2017
Coach Anna is in Miami, again, but this time for CrossFit, the Wodapalooza Fitness Festival, to be precise. There is the link to the schedule of events (featuring our very own Anna) https://thewodapalooza.com/news/2017/2017-schedule-overview
Good luck to Anna, Christy Adkins and Gretchen Kittleberger aka Team Mid Atlantic Mavens.
****************************************
Have a great weekend.
Go Steelers! (sorrynotsorry; just had to)
Joanna
Team T2 CrossFit