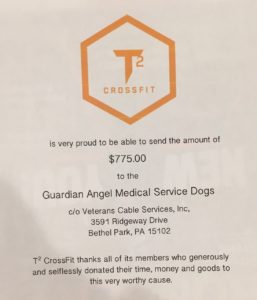 What can we say? (Rhetorical question) Thank You. Huge Thank You. Mega-galactically big Thank You. You are an amazing family/community. Yes, that figure is correct. You raised $775 for the Guardian Angel Medical Service Dogs. Our local contact for the charity, Tony Accamando, Jr. is hoping to come in tomorrow for the noon+10 class to personally thank our members. If you can make it to noon+10 to meet with Tony, I am sure he would love it. When I told him how much you had raised, he was speechless.
I think our first Winter Shindig was a success. I certainly had a lot of fun. The food was fantastic and what a selection of side dishes. My only regret – I just didn't have enough room to taste all of them. But I have come up with a cunning plan for next year; I will leave out take-home bags. The younger members were kept occupied with super-sized Jenga and helping to draw the raffle tickets. The adults had Corn Hole and pleasant company.
Speaking of the raffle, there is still one prize unclaimed. If you have ticket #…1630 you have won Home Improvement #2. Bring in your ticket to claim your prize.
*******************************************
Last week, I suggested that you try to get just one movement, double under, off your check list before the end of the year. Here is another tip to help you get there.
Quite often, when we are trying our hardest to turn the rope fast enough to get under our feet twice before we hit the ground again, we have a tendency to allow our elbows to move away from our bodies. As a consequence, our hands move further away and usually upwards. The effect of this 'drift' is that it effectively shortens the rope, making it that much more difficult to cleanly turn the rope under our feet.
If you think this might be one of your problems, then try this tip from Robby (ChalkandSteel).
"…. grab a pullup band, a rope or anything you can use to tie around you.
Here is what it will look like:
Once you tie that band or rope around you…what I want you to do is to try and do some double unders with it on.
It's going to feel funny at first…but trust me.
What this drill does is forces you to keep your arms in tight to the body which helps to relax the shoulders during the movement.
After just a few times of doing this drill you'll feel a big difference in your double under posture which will put you in a much better position to successfully do double unders." (Robby at www.chalkandsteel.com)
*******************************************
If you are or someone you know is, looking to improve lifting technique and maybe even PR, in the Snatch and Clean & Jerk, Jon North from The Attitude Nation will be holding a Lifting Seminar at T2 CrossFit on Saturday, 14 January. You don't have to be an expert to attend this seminar. And you don't have to be a member of T2 CrossFit. So if your friend lifts and you would feel more comfortable if you came as a team, then sign up and bring them along. Even better, The Attitude Nation is offering 10% discount off their seminar price if you sign up before 25 December, coupon code SANTA. Sign up at their website www.theattitudenation.com
You will learn tons and it will be so much fun.
**********************************************
T2PreTeens Athlete Spotlight
1. How long have you been crossfitting? 3 months
2. What other sports do you play? Soccer, baseball & basketball 🏀
3. What is your favorite CrossFit movement? Backsquats!!!
4. What movement are you working the hardest to improve? Pull-ups
5. Which athlete do you look up to most? My Dad
This @t2crossfitkids athlete says he really enjoys CrossFit and his coaches. He likes competing with his friends and getting stronger. He knows it's going to make him better in his other sports. #committofit #t2crossfit #t2crossfitpreteens #minibradletes #workhardplayharder @crossfitkids @t2crossfit
(Ed's note: he can already do double-unders. Come on Dad and Mum.)
**********************************************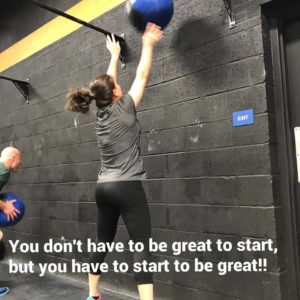 Free Saturday Community Class – start your New Year's resolution early. Nothing wrong with that. It's only 45-60 minutes but it is so good for you. And if you wait until the New Year, you will find another excuse to leave it until "next weekend". Just come.
*********************************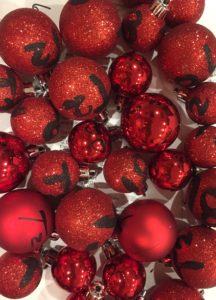 Oh my gosh, I nearly forgot – our 12 Days of Baubles
Friends after New Year's Day,
And other things besides;
Keep them safe I have to say
For numbers drawn may coincide.
(I make no excuses; I'm no poet laureate.)
*****************************************
Stay warm. Stay safe.
Joanna
T2 CrossFit Team